Ecuador – in this relatively small country we expect wildlife watching, beaches, more Andean cities and much more.
After a 32 hour bus ride from Lima we made it to Cuenca, Ecuador. During the bus ride Jens´ nephew Linus was born and we were quite excited, looking at the pictures all day. His birth day also got a spot in our passports now with the exit stamp of Peru and the entry stamp of Ecuador.
Cuenca is a small colonial city which lies at 2.300m (again!). It reminded us a lot of Sucre and Arequipa. It feels like each South American country got one city like this.  We stayed here for three days. You can see the city in just one day, but there are a few things to visit in the area.
Historic center of Cuenca
Cuenca is a city to just walk around and enjoy life. There are many different squares and markets. We have never seen as many churches as in Cuenca. There is a church at almost every corner. La catedral at Parque Caderón is especially beautiful and huge!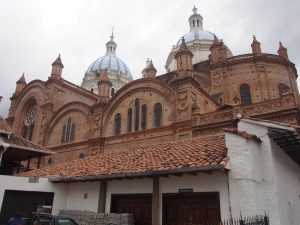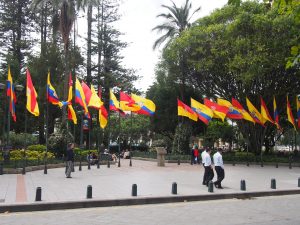 Did you know that the famous panama hat is originally from Ecuador? Due to the fact that it had been transported through the Panama Canal it became famous under that name. We had actually believed that it was from Panama as well. In Cuenca, we visited a museum and found out how the hats are made. A "superfino" hat can cost more than $300! Jens and Sandra´s dad had bought one in Mexico a few years ago and we noticed that we got them for a really cheap price there.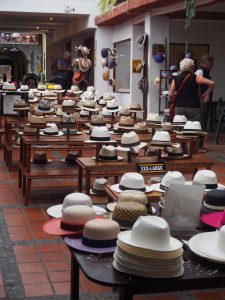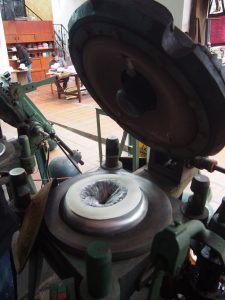 Ingapirca
One more inca ruin… Ingapirca is really small compared to anything we have seen around Cusco and Machu Picchu but it is supposed to be one of the most important ruins in Ecuador, so we wanted to see it as well. There is also something new to learn at every inca ruin, so it is always worth it. Ingapirca is a mix of the Inca culture and the Canari, who had lived here long before the inca. They had been fighting over the location for 10 years. When the incas didn´t win, they married a Canari princess to an inca prince and ruled the site together. It is the only place in the inca empire that was shared with another culture. You can see the mix of cultures in the architecture and temples. While the inca admired the sun, the canari admired the moon. So there is one temple for each.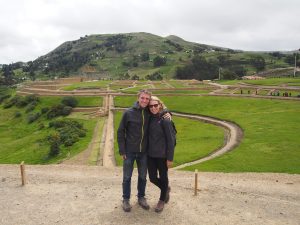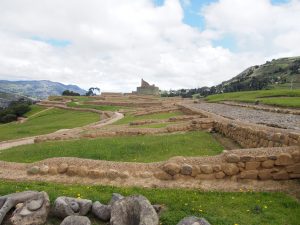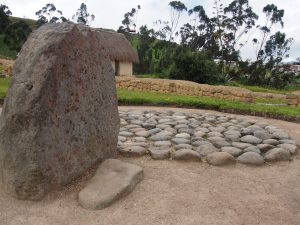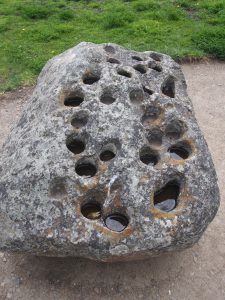 Sunday markets in Gualaceo and Chordoleg
We read about three sunday markets in Gualaceo, Chordoleg and Sigsig, so we wanted to visit at least some of them. So we got on a one hour bus to Gualaceo on sunday morning. We expected a small village and were surprised to find a rather big town. Unfortunately nobody knew about a sunday market here… At least we found a restaurant serving hornado, a whole roasted pig, which Jens wanted to eat since the day we entered the country. So the drive to Gualaceo was worth it for that 😉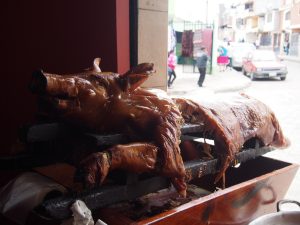 We didn´t want to give up, so we went on to Chordoleg, which was just a 10 minute drive from Gualaceo. This small village is famous for its gold and silver jewellry. Here we finally found a small market and many many jewellry shops. Sandra had to buy some ear rings here, so that we didn´t go on this trip for no reason 😉 Overall we didn´t really understand why the non-existent sunday markets were recommended in Lonely Planet. However, it was nice to see a town and a village out of the tourist zone. Even though we didn´t get what we expected, it was a nice day out of the city.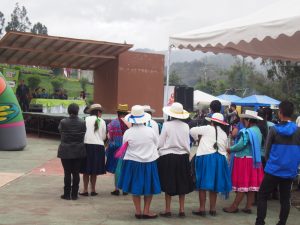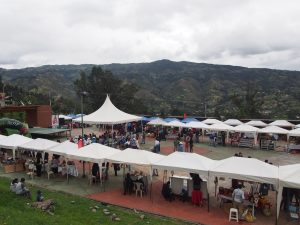 In the afternoon of the same day we met with Dani and Moi, a couple we met during the tour to Uyuni for the first time, and then again in Bolivia, Peru and now in Ecuador! It was nice to catch up.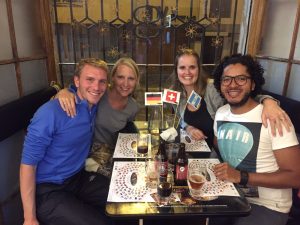 Our next stop is Guayacil, from where we fly to the Galapagos Islands! We are really excited about this part of our trip!