Arenal Volcano in Costa Rica last erupted in 1968 and since then had a constant lava flow until 2010. Sandra had seen it already, and when we both came here five years ago it was unfortunately too cloudy to see the volcano at all. Even though it is not active anymore, Arenal is still an impressive sight. In the area there is also a lot to do.
After Tortuguero we picked up our car and started our road trip to La Fortuna. The roads aren´t the best and we got lost on the way… It took a while to reach our destination, but we made it 😉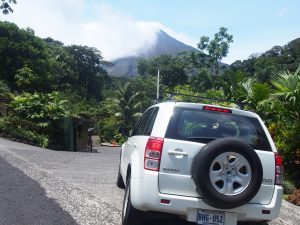 Seeing the volcano is like gambling. It can be cloudy for days and then suddenly it can be clear for a view minutes before it disappears again. This time we were really lucky. We had an almost clear view for a whole day! The lava flow had always been on one side of the volcano. When you drive all the way around it, you can see that it is black on one side with the lava traces and totally green and covered with trees on the other side.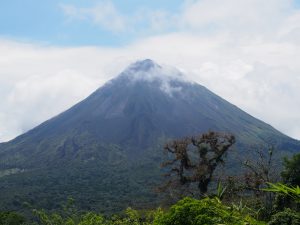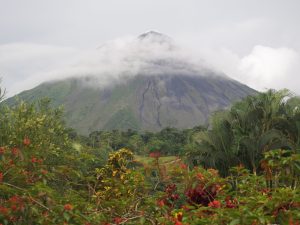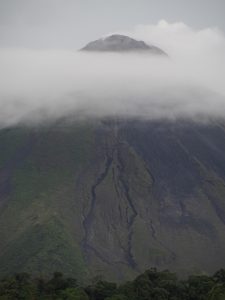 Sky Trek
Coming to Costa Rica without trying ziplining is almost impossible. There are hundreds of agencies and ziplines throughout the country. Sandra, who had tried several ones, especially loves the Sky Trek with views of Arenal Volcano. There were 7 ziplines in total.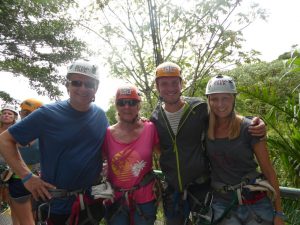 You start with the highest one – 200 meter above the ground and high above the trees. The views on this one were the best – with our clear view we perfectly saw the volcano as well as Arenal lake. It was just hard to enjoy it, because the first one was also the scariest.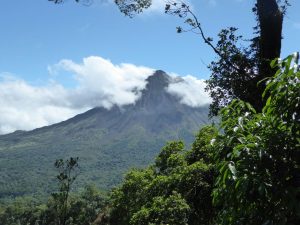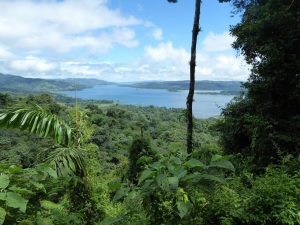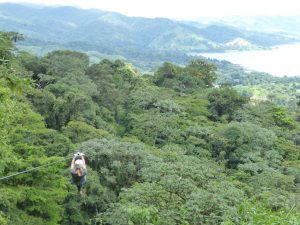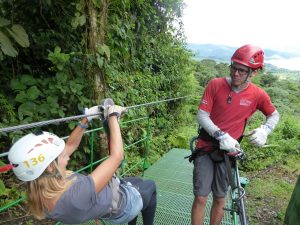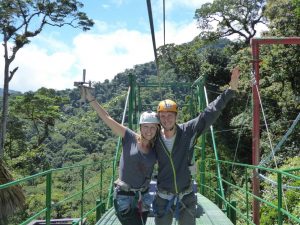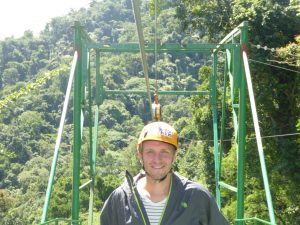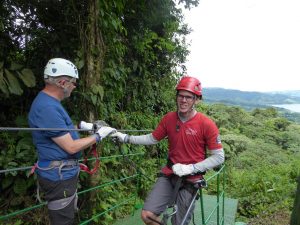 We are especially proud of Sandra´s mom. She was brave enough to overcome her fear of heights and joined us for the adventure. On the first cable she went with a guide, but she did the rest on her own!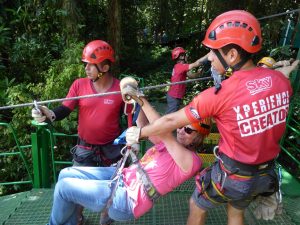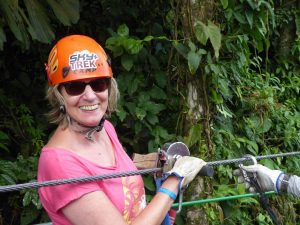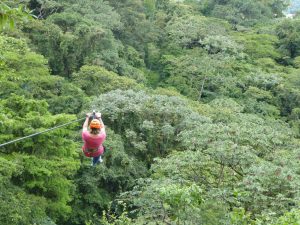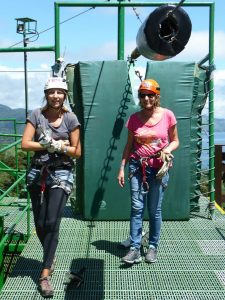 The last cable was the longest – 760m. It was also pretty fast! In total, the tour was about 2,5 hours and it was a lot of fun. With the perfect views it was spectacular and we loved every minute of it. Afterwards we enjoyed the volcano views from the terrace.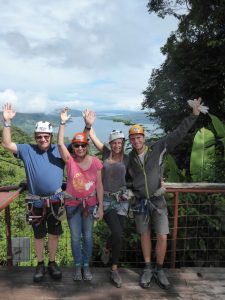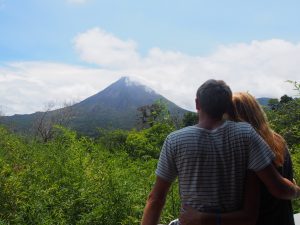 Catarata Rio Fortuna
After the action we needed a swim. So we went to Rio Fortuna Waterfall. We were a little worried about Sandra´s parents, because 5 years ago it was a steep and sweaty climb down to the bottom and back up.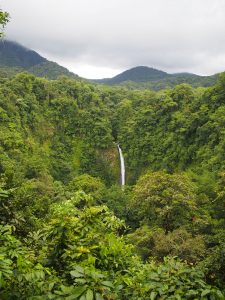 Now, it is really easy with a simple staircase. Instead of climbing up 30-45 minutes, you reach the top in 10 minutes. There are definitely more people now and it is less adventurous, but it is still worth it for the view and the swim in cold water.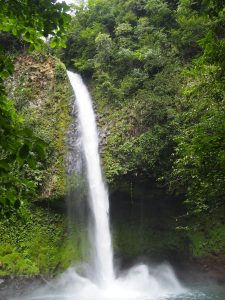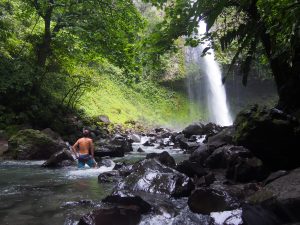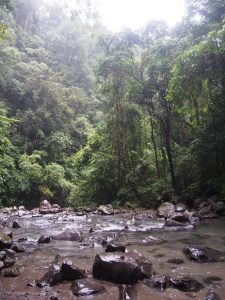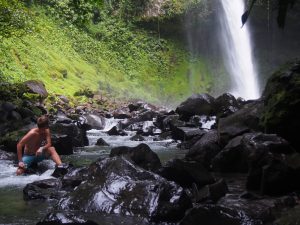 Hot springs
Even though the volcano is not active at the moment, there is still hot and mineral-filled water emerging from the ground, heated by magma or lava. There are several commercial hot springs in the region. We were lucky to have some in our hotel, so we have been able to relax there every night.