Costa Rica – home to tropical rain forest, volcano´s, deserted beaches and more species per 10.000 sq meters than anywhere else in the world – and my second home. This is Sandra´s view of a beautiful country.
Costa Rica was our last destination on a long journey around the world. And coming here was already like coming home. Not only for me, but also for Jens, who came here with me 5 years ago for the first time and got to know my country, family and friends.
In 2008 I came here for a 6-months internship. The experiences and the people changed me forever. It was my first longer time abroad and paved the way for more trips to discover the world. Costa Rica was always my favorite country. I love the nature – it is just green wherever you go and there are so many animals that you don´t even need a guide to spot them. And I also love its people – the ticos are very proud, always smiling, helpful and very laid back – Pura Vida!
Coming back after our ten months around the world and especially after five months in Latin America was special. I was wondering if these other countries changed my view on "my" country. The answer is yes. After seeing the world, you see things clearer than before.
Costa Rica is still one of the greenest countries I have seen and a paradise for nature lovers and hikers. I love the diversity, the beautiful flowers and plants, and the efforts to be sustainable. 25% of the country are national parks (unfortunately very expensive for foreigners).
Costa Rica got the worst infrastructure we have seen in a while, especially considering the amount of visitors per year (almost 3 million tourists in 2016, compared to 4.8 million inhabitants). The roads to many touristic areas are horrible. And there are very often no public buses running directly. You often have to return to San José or take an expensive minibus. We have never seen that in any other country, getting around was always easy.
It is also a very touristy country. People approach you in English anywhere. And even though Costa Rica has its own currency, you can pay in Dollar everywhere. You often get terrible exchange rates when you want to pay in local currency. This unfortunately reduces the country´s charme and makes it exchangeable. We have met many backpackers in South America who passed through Costa Rica quickly, because it was too expensive. If we wouldn´t know and love the country already, we would have done the same.
The cities in Costa Rica are just ugly 😉 But you don´t come here for the cities, you come here for the nature.
The ticos are still some of the friendliest people in the world and they are definitely the friendliest we have met while travelling through Latin America. People always tried to help us, smiled and were happy to see us. They are also very proud of their country. Pura Vida is not just a slogan, it is a way of life.
The most important reason to visit Costa Rica again and again are our friends and family, who make each and every visit very special. I lived with the most amazing family in the world. Arriving to Maruja and Mario´s house is always like coming home. And everytime we leave there are a lot of tears 😉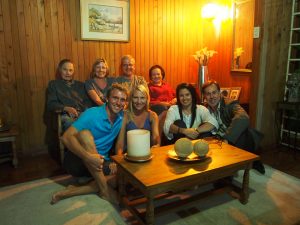 When we arrived to San José, we spent two days with Andrea and Picio (Maruja´s daughter), who took us on a mountainbike trip (even though I never wanted to do that again after the death road).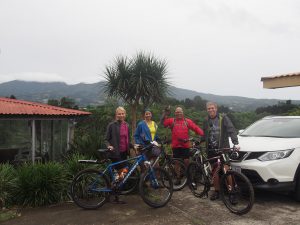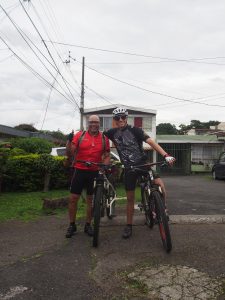 They even came to La Fortuna and entertained my parents for a day while we went to Rio Celeste. Even though Picio doesn´t speak English and my parents don´t speak Spanish, they had a great day together.
Marcia, Maruja´s daughter, spent a day with us at Irazu Volcano. We even showed her some parts she had never seen. Later we met with her daughter Heike. Heike has spent one year in Germany a few years ago and was always welcome in our house. She is part of our family and was as excited to see my parents as I was to see her family.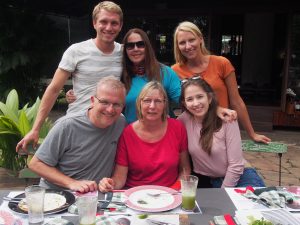 On my parents last night we all went out for dinner to a place with a nice view of San José. It was great to unite my two families.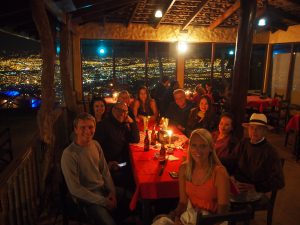 Of course I had to see my Costa Rican sister, Maria José. Finally I met her boyfriend – they are a great couple! Hopefully we will see them soon in Germany.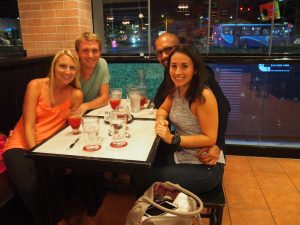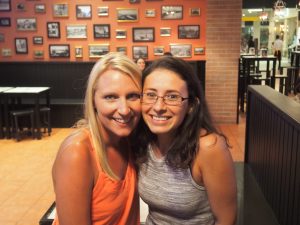 We also met some former colleagues from my internship who became friends!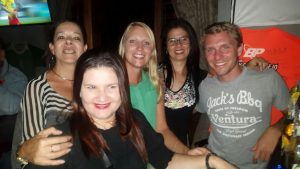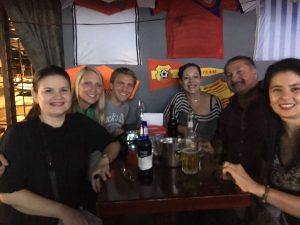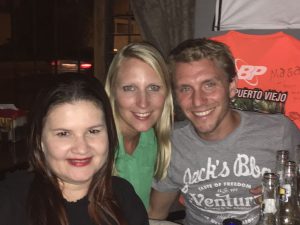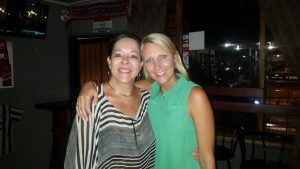 This definitely wasn´t our last visit to this beautiful country – we will be back!
Muchas gracias por todo a mi querida familia y amigos. Como siempre ha sido un placer y una visita con muchas emociones. Nos vemos pronto! PURA VIDA!