Parque Nacional Volcán Tenorio is a misty, magical place of cloud forest and especially famous for the icy-blue Rio Celeste. There is a nice walk through the national park along the river, passing the waterfall.
We heard a lot of stories about this place before we went. Many people told us that driving to the entrance of the national park was the worst road they had ever seen. The walk itself was supposed to be really muddy and difficult. When we got here, we were wondering all along the way whether we were in the wrong place. The last part of the road was bumpy, but we have definitely seen worse. And the trail itself was just a simple walk for us, even though it was rainy and muddy. Maybe we are used to too much after Ciudad Perdida.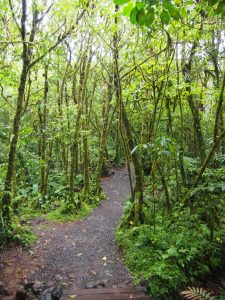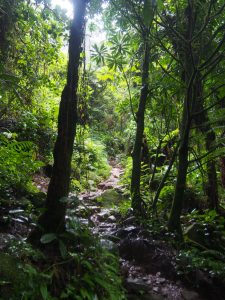 After about 30 minutes we reached the waterfall. We had never seen such beautiful colours at a waterfall. The water was really light blue and the surrounding green of the trees was a nice contrast. The only thing disturbing the idyll was the terrible smell of the sulfur content in the water. In the past it was possible to swim here, but it is not allowed anymore.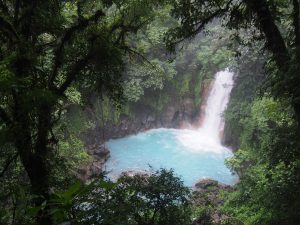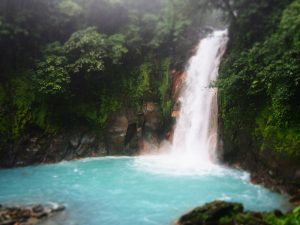 The particular colour of the river is formed at a specific point called Tenidero. Here, Rio Buenavista and Quebrada Agria, two not coloured effluents, mix. The pH change in the mixing point increases the particle size of a mineral called aluminosilicates in Rio Buenavista. A fraction of this mineral reaches the bottom of the river and explains the white colour. The majority of the mineral remains suspended in the river and is the reason for the sky-blue colour. In the sun light, the effect is even stronger. It was raining when we were here and it was already impressive. Have a look at the pictures from all possible angles 😉 This text was copied from a sign inside the park, we just didn´t know how to explain in our own words…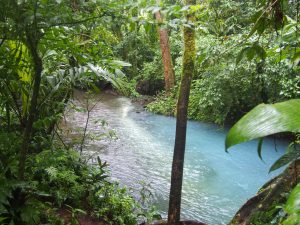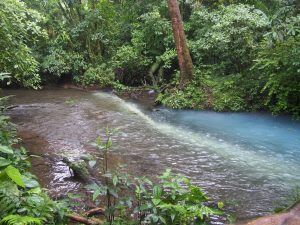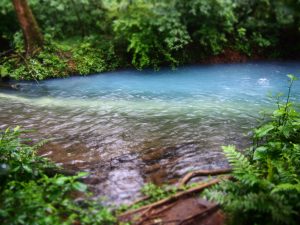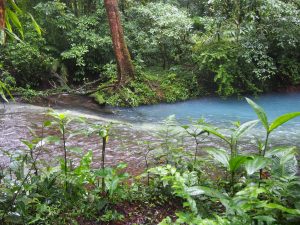 Along the trail we passed the river several times and each one was beautiful.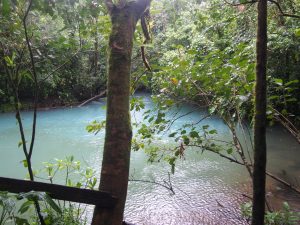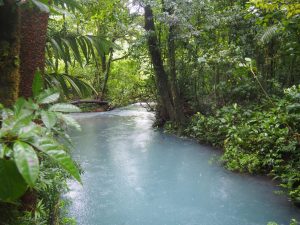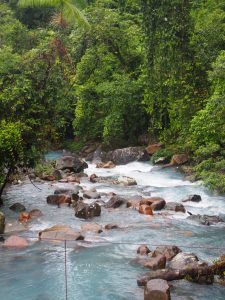 At one bubbling spot the sulfur smell was unbearable.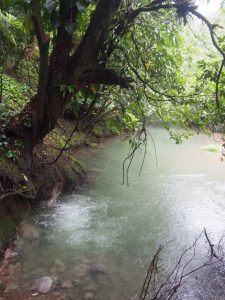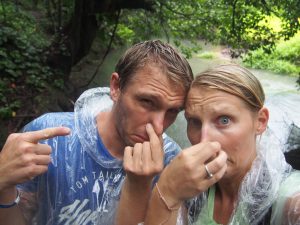 This day trip from La Fortuna was definitely worth it!