Welcome to Peru! After one beautiful month in Bolivia we finally had to leave… We crossed the border at Titicaca Lake and took a bus to Arequipa – the white city. The colonial city center reminded us of Sucre, but even more beautiful. The scenery with snow-covered volcanoes in the back is even more impressive. You can see most of the city in one day, but it is nicer to enjoy it for a few days.
Monasterio de Santa Catalina
We hadn´t really planned to enter this monastery because the entrance fee was quite expensive. In the end we went, and it was definitely worth it! The monastery, founded in 1580, is a city within the city. It measures 20.000-sq-meter and we have never seen anything like that. There are different patios, streets, a huge kitchen and even a "swimming pool".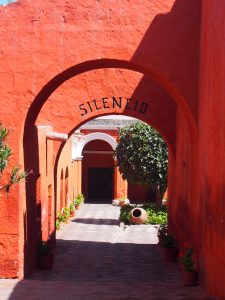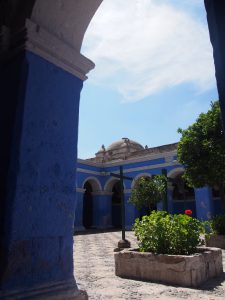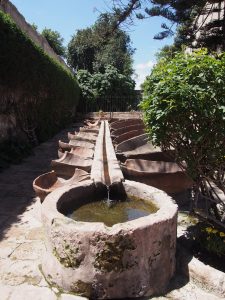 The nuns had small apartements or rooms, depending on their family´s wealth. Today, around 20 nuns still live in one part of the monastery.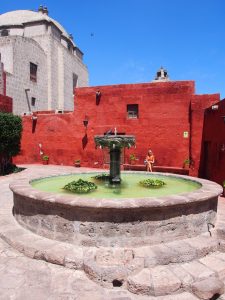 Plaza de Armas
The main plaza is the heart of the city. With its big cathedral and the volcanoes in the background you can sit here forever contemplating the scenery and people. Tourists and locals meet here. The first thing we noticed was that there was a lot of police. Robberies are very commom here, but with the police you feel really safe.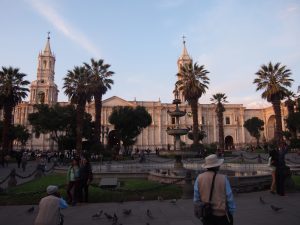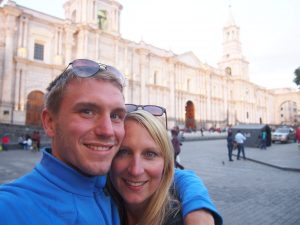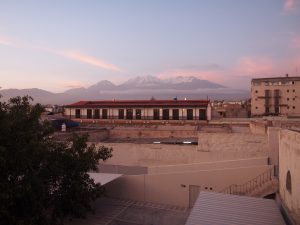 The market
The mercado San Camilo looks much more organized and cleaner than the markets in Bolivia. The fruits are amazing and we bought too much on our first day here 😉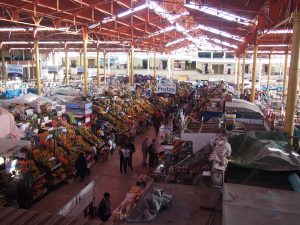 But the best thing was the queso helado – "cheese ice cream". When we heard about it for the first time, we thought that must be disgusting. But when we found out what it was, we had to try. It contains milk, vanilla, coconut and cinnamon. The traditional way of preparation is to fill all ingredients into a big pot which lies in a bowl of ice. Then the whole pot is stirred until the liquid freezes on the bottom.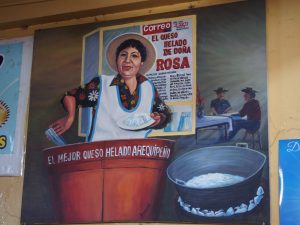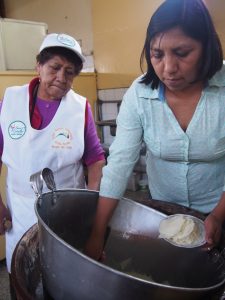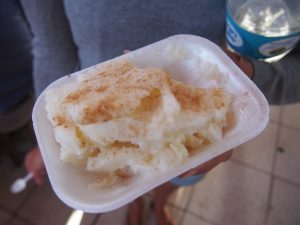 We heard it´s a speciality of Arequipa, but we hope to get it somewhere else in Peru.
Iglesia de La Compania
This Jesuit church has an impressive building but its most interesting detail is inside. On the wall, there is a painting of the Last Supper. But it includes some local details. For example, they drink pisco instead of wine. But even more funny is the food – they eat cuy (guinea pig), a local specialty!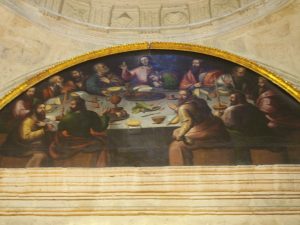 Peruvian Cooking Experience
Since Peru is the first culinary highlight in South America, we had to go for a cooking class here. We already enjoyed some local specialties and were happy to finally have good food again! One of the highlights is ceviche – a dish with raw fish. We had to learn how to make it! We were lucky to get a private class at "Peruvian Cooking Experience" in a beautiful environment and cooked ceviche as well as pescado a lo macho – fried fish in a spicy tomato sauce.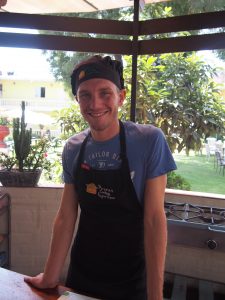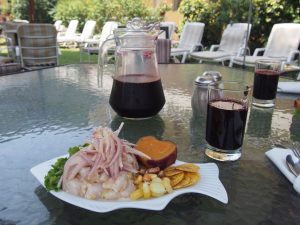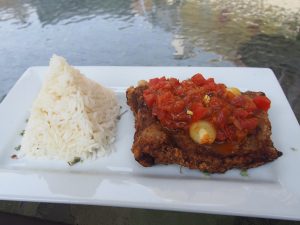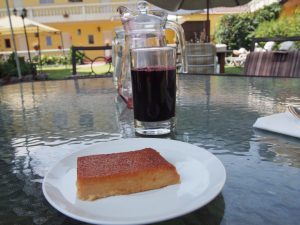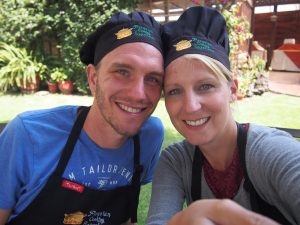 Here are some further impressions of the city: