There are two ways to get from San Pedro de Atacama to Uyuni in Bolivia. You can either get a direct bus or go on a three-day jeep tour. The tour takes you to high altitude and includes some of the most beautiful places of our planet. Volcanos, lagoons, geysiers and at the end the biggest salt flat of the world – Salar de Uyuni. On the way you see thousands of flamingos and other birds, alpacas and lamas. This blog is more about pictures than about words.
As a start of the tour we had to go through Chilean and Bolivian immigration. That was already one of the funniest experiences. The Chilean border is in San Pedro and is pretty easy. We had to wait a while to get our stamp, but it wasn´t too unusual. The unusual part was that after officially leaving Chile, we got on a car and drove one hour to get to the Bolivian border. So which country were we in in the meantime? The Bolivian boarder was just a small house in the middle of nowhere. There was a long queue as well, but it moved really fast. When we got in, we knew why. The officer didn´t even look at our passports. He just asked where we were from and stamped the passports. He then asked whether 30 days would be enough for our trip. When we said we didn´t know yet, he just gave us a 60-day visa! Usually you have to go to an immigration office to extend you visa.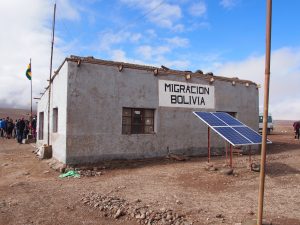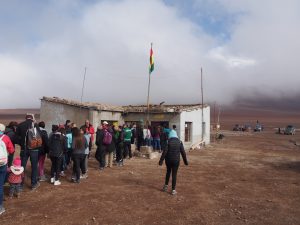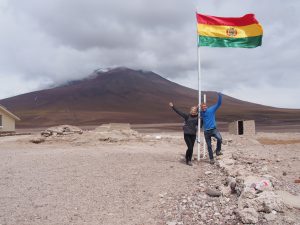 On our first day the weather wasn´t perfect, and it was really cold at the high altitude. The boarder was at more than 4.000m already and we only went higher that day. We stopped at Laguna Blanca, Laguna Verde (which we didn´t see at all due to the fog) and Desierto de Dalí. But the two highlights of the day followed in the end.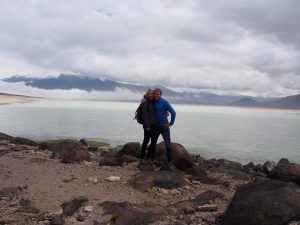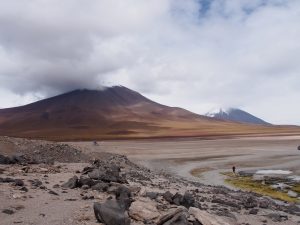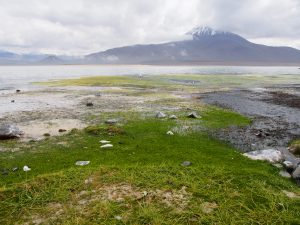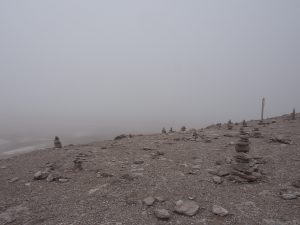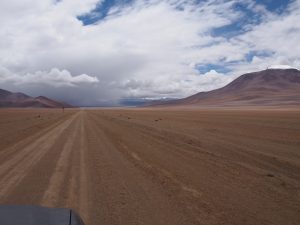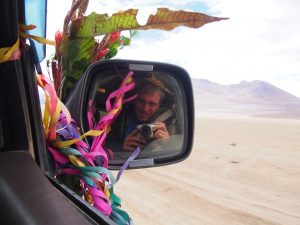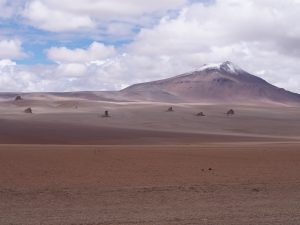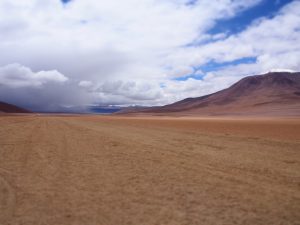 The 4.990m high Geysier Sol de Manana was really impressive.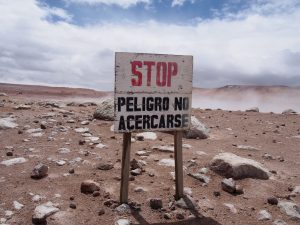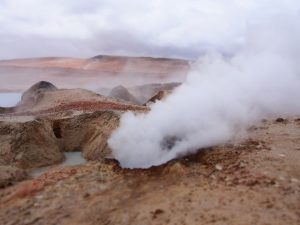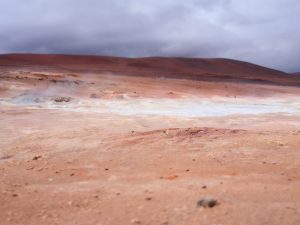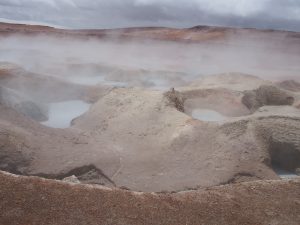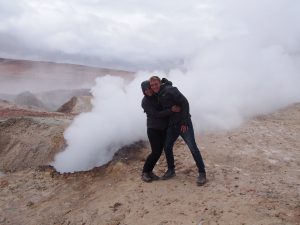 After a late lunch at the hostel we stayed for the night, we went to Laguna Colorada. This was one of the most beautiful places we have ever seen. The pictures don´t do it justice. The place is so colorful, with the volcanos in the back, the lagoon with its small white salt islands and its kind of red color, thousands of pink flamingos, a green stripe of grass with alpacas. We went there just shortly before sunset, so the colors were even more beautiful. Sorry for the overload of pictures, we just couldn´t decide…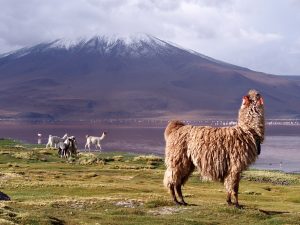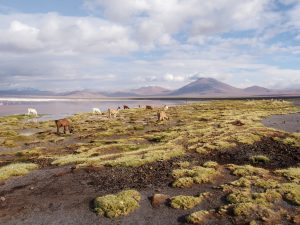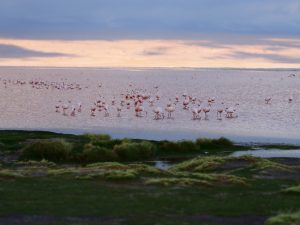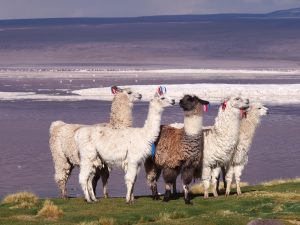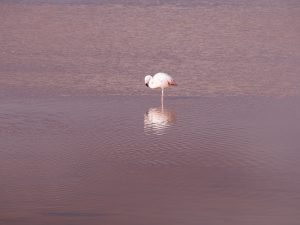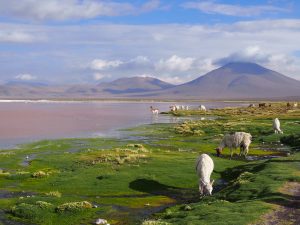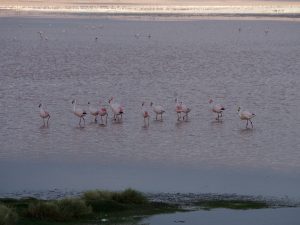 We stayed in a hostel at more than 4.300m of altitude, and a few people of our group got really sick with vomits and headaches. We seemed to be the only ones taking the altitude serious, since we learned much about it during our trip to Nepal. Here, people are just taken up to really high altitudes without letting them know about the risks. We actually chose the company because they promised to carry oxygen just in case. Well, they didn´t. They didn´t even care about people suffering from altitude sickness. This was the only downside of our trip.
The next day was really sunny. We first visited Arbol de Piedras, a formation of volcanic stones.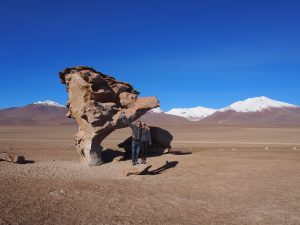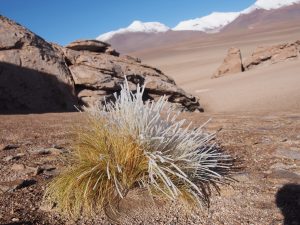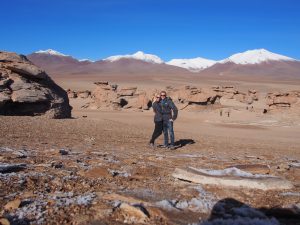 Three more lagoons followed, all beautiful with the reflexion of the mountains.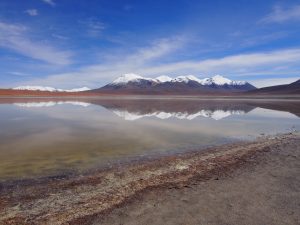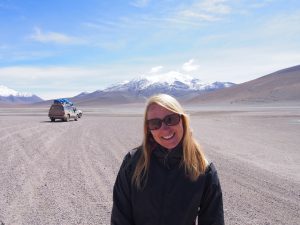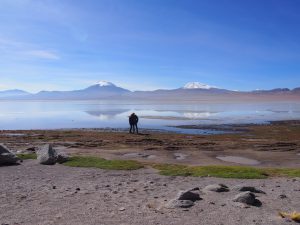 We then had lunch at Valle de Piedras, where Jens had to climb the rock looking like a sheep.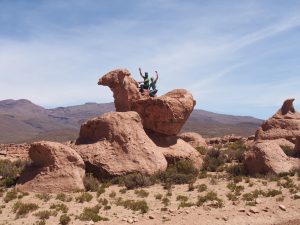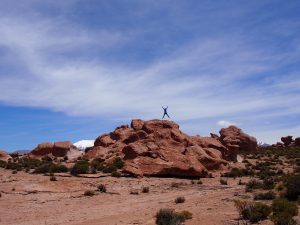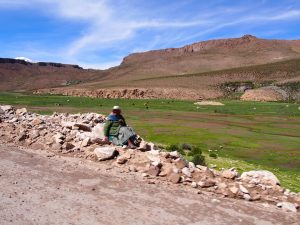 In the afternoon we visited San Agustin, a small village in the mountains living mainly of quinoa plantations. It was nothing special and Putre in Chile has been more beautiful. Then we went to rather dreary Julaca. The "sight" there was the train passing and transporting minerals. We didn´t really know why we went there, but we got some great pictures 😉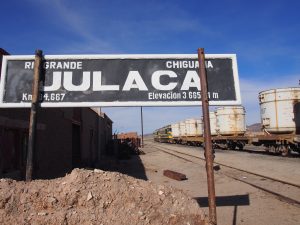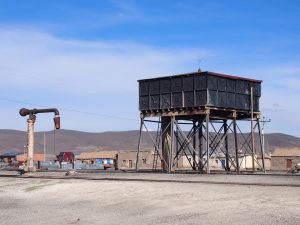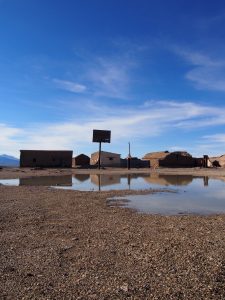 This night we slept at a salt hotel. The walls, the beds, the tables,… everything was made out of salt. At least it was covered with salt, because the walls looked quite normal from outside. It was actually really nice and we finally had hot showers and our own room. Unfortunately they turned off all lights at 9:15pm without any further notice, so we were forced to go to bed. At least we finally had a beautiful sky of stars.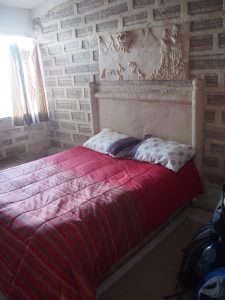 The next day shold usually start with a sunrise on the Salar de Uyuni and then we should have crossed it with our jeep. Unfortunately there was at least 40cm of water on the salar, so it was impossible to cross. We still got up early for a sunrise, but then had to drive around the salar to get to Uyuni.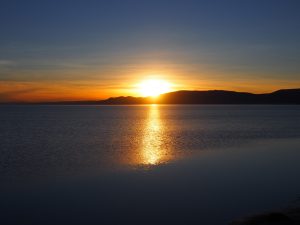 We stopped at the cementery of trains as well as a market for souvenirs before. We didn´t buy much because we thought this would be an expensive place. But if you ever come here – prices and qualities are not bad, and we haven´t seen such a variety of souvenirs anywhere else in Bolivia so far!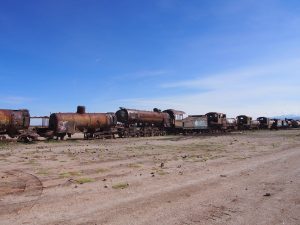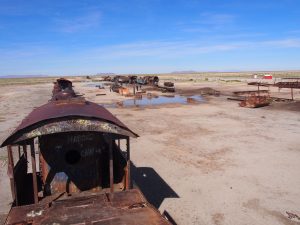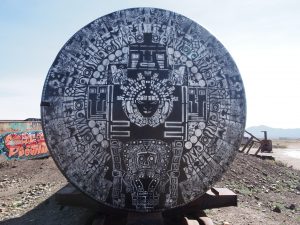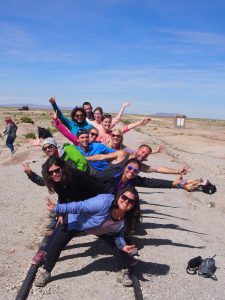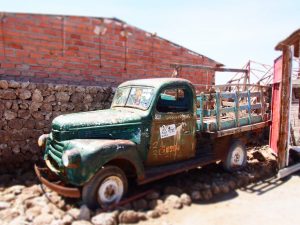 Then finally we got to the salar! With some water on it, it is even more beautiful. There is a reflexion on the water and the place just looks endless, melting with the sky and turning it all into one white desert. The funny pictures are the best part of it!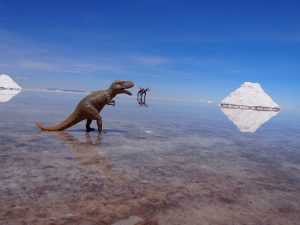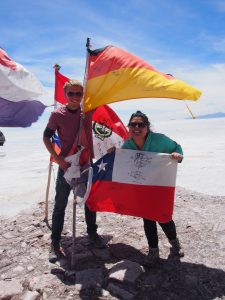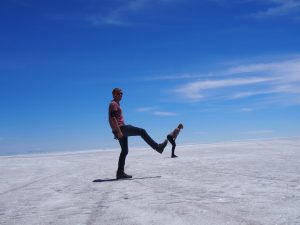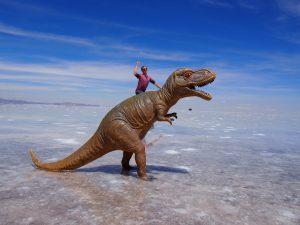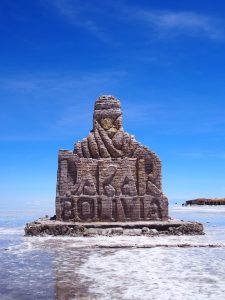 After millions of pictures and a quick lunch in Uyuni we said goodbye to our group and left to Potosí (3 hours away). We arrived really exhausted but full of great memories and experiences.