Galapagos – one of the destinations we have been looking forward to the most on our trip. And it didn´t disappoint us. Being at Galapagos feels like going to a huge zoo – we have never been at any place in the world where we had been able to interact that closely with animals in the wild without really disturbing them. When you just saw giant tortoises and snorkeled with sharks, rays, sea turtles, sea lions and many more, and then suddenly a dolphin jumps really high out of the water, you feel like this must be a dream. It is hard to find the words to describe this place. We spent 10 days in this paradise and were more than sad to leave…
Galapagos – these volcanic islands have one of the most fragile ecosystems in the world and are home to some species that you won´t find anywhere else in the world. It was here that Charles Darwin started to develop the theory of evolution by natural selection.
There are two different ways to travel Galapagos. You can either take a multi-day cruise or travel the inhabited islands individually. Since cruises are really expensive (from $900 for a 4 day cruise) we decided to do it individually and combine it with some day tours. This was the best decision! There are four inhabited island on Galapagos – Santa Cruz, San Cristobal, Isabela and Floreana. We visited three of them. Each island is different with its own flora and fauna. These were our highlights:
San Cristobal
The offical capital of Galapagos is San Cristobal island. Still, the village is smaller and more relaxed than Santa Cruz, which got the bigger airport. We landed at San Cristobal. On our first day, we took the boat right away to Santa Cruz, but came back at the end of our trip. When we waited for our boat at the pier we watched the many sea lions resting on the rocks. Our first encounter with these beautiful animals and we couldn´t imagine how close we would get to them later on our trip!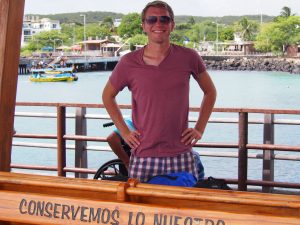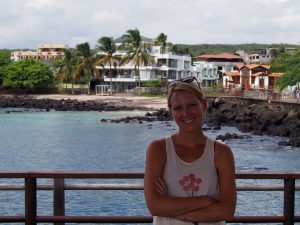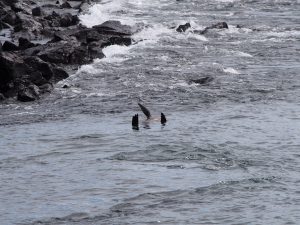 At night, hundreds of sea lions sleep at the beaches of San Cristobal. It is funny to watch how they try to find a spot in the early evening. The sounds they make are really funny as well.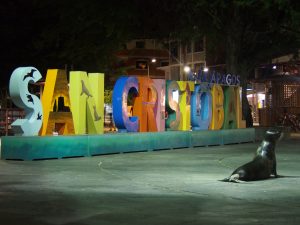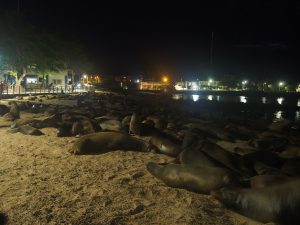 Centro de Interpretacion
The interpretation center at San Cristobal explains the history of the Galapagos very well. It explains how the islands were formed and how life evolved here. It also shows the human history on the islands and the conservation efforts of today.
Cerro de las Tijeretas and Tijeretas Bay
Right behind the interpretation center a trail starts which lead to viewpoints on Cerro de las Tijeretas and to Tijeretas Bay. We spent half a day snorkeling here and it is the perfect spot to swim with sea lions! We saw so many and they were playing with us all the time. Sometimes it was scary because they came really close from behind. Some were even bigger than us.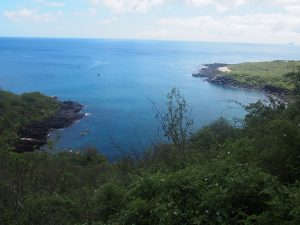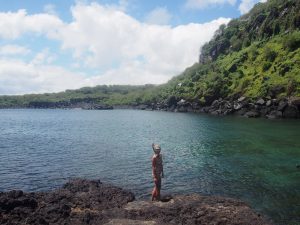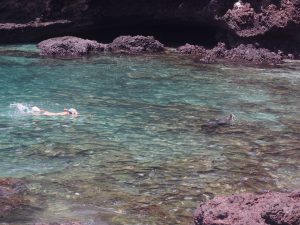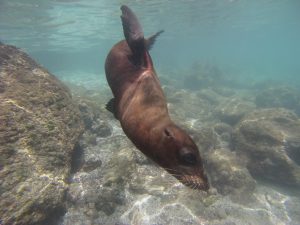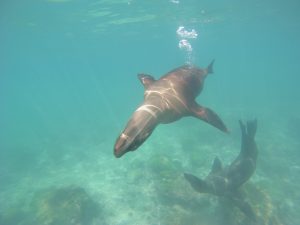 Along with the sea lions swam some marine iguanas and later some pelicans started hunting right next to us. When you are in the water, you just hope they don´t think you are their next meal 😉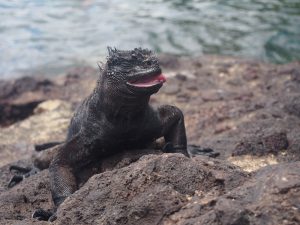 Isla Isabela
Definitely the most beautiful of all islands! The village is really small and quiet and there isn´t as much tourism as on Santa Cruz or San Cristobal. The beaches are beautiful and the snorkeling is excellent – you can do a lot of it on your own here.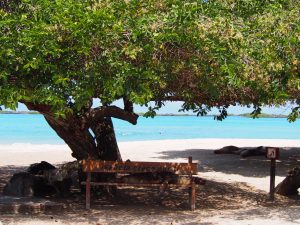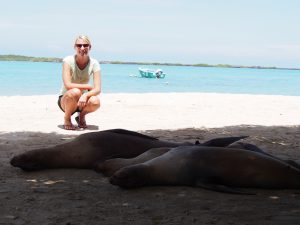 Concha de Perla
This snorkeling spot right in town is amazing! Come here at 7 am and you got it to yourself, and stay all day to see almost all of the Galapagos´ sealife. To get here a wooden path leads you through mangroves. Sometimes sea lions lie in your way and you have to pass them carefully. Marine iguanas also rest on the path all the time.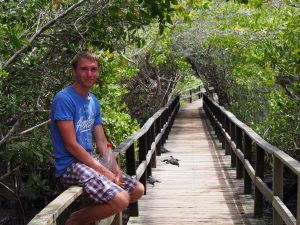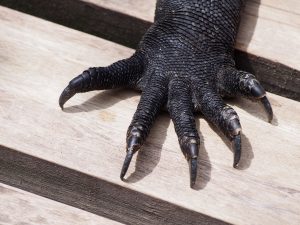 On our first day here, we followed a sea turtle for about one hour. One morning, there was a group of at least ten black-tip sharks hunting. They were still quite small and usually don´t attack people, but it is a little scary when a hungry shark swims right at you. Later that day, one penguin found its way to this nice spot. When Jens was in the water, a sea lion chased it and they passed him really close.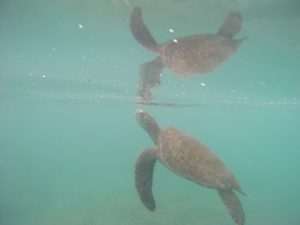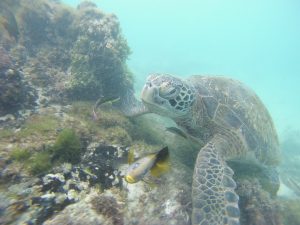 Los Túneles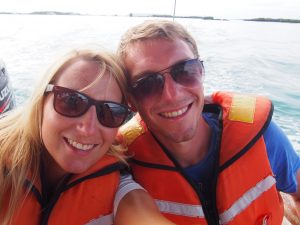 One of the two tours we booked while on Galapagos was to Los Tuneles for snorkeling, and it was the best thing we have done here! The spot is formed by convoluted lava formations standing between mangroves and the sea. The area is a resting place for many fish. We haven´t seen that many amazing animals in one spot anywhere else in the world, not even at the Great Barrier Reef. On our way to the place, we already saw a sea turtle popping up every 100m. There must be hundreds or thousands of them!
We got into the water and snorkeled in a group of 10 through the little caves and tunnels formed by lava.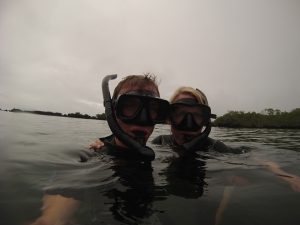 Suddenly our guide told us to dive into one cave – once in their we saw a group of 10 sharks resting on the floor! There were also some swimming in the area and when Jens screamed "shark, shark, shark – right behind you!" Sandra got a little scared 😉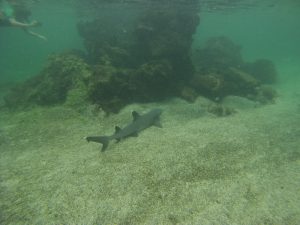 Right next to the shark cave a huge ray was resting on the floor. It looked like a rock.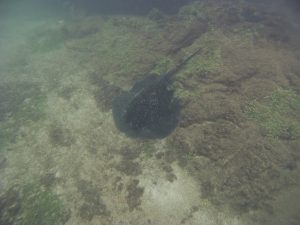 A few minutes later we saw a group of golden rays swimming. We were able to follow them for quite a while, which was fascinating.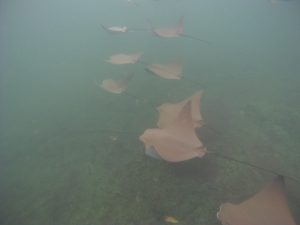 Sandra´s favorite were the really huge sea turtles that we saw. Unfortunately the pictures don´t really show their size, but they were at least 1,20m long. Swimming with them is just incredible! They stay under water for about 15 minutes, eating and swimming around, and then they get to the surface for some air. The don´t care that you are swimming right there, and that way you get really close (but you should never touch or disturb them, of course).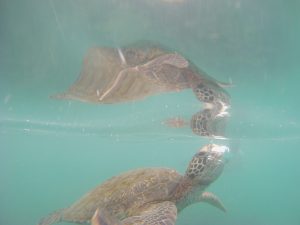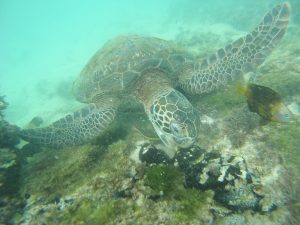 We also saw some really colourful fish and one more ray which we couldn´t identify.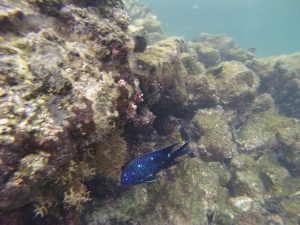 We got back on the boat after 1,5 hours that felt like 5 minutes. From here, we drove to another snorkel spot. On the way we stopped by a rock where we saw two penguins! On the same rock, a marine iguana was lying in the sun. After a few minutes, a sea lion showed up and lay down right next to them. In the background, there were two blue-footed boobies on another rock. Only in Galapagos you can see that many species together like this – something we experienced many times more during our stay here!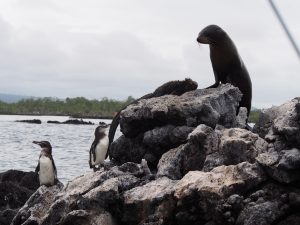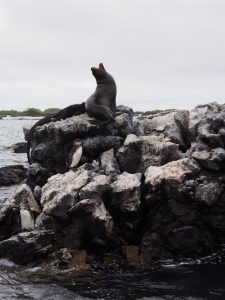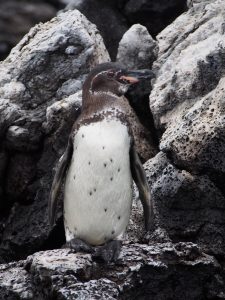 At our second snorkel spot we tried to see some penguins in the water, but we didn´t. The view here was great and we saw some more sharks, colourful fish and even a crayfish.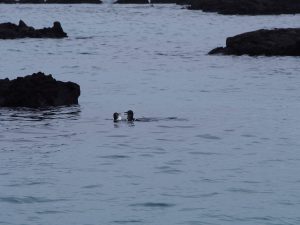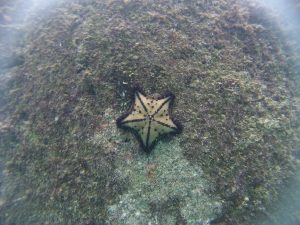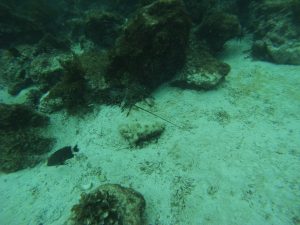 After another 30 minutes in the water we got off the boat on top of the lava formations to see the incredibly cute blue-footed boobies nesting. We never thought we would be so fascinated by birds, but these were so funny. The male birds have the funniest courtship dance, lifting their blue feet into the air and spreading their wings. We could watch them for hours. We also saw a few female birds nesting.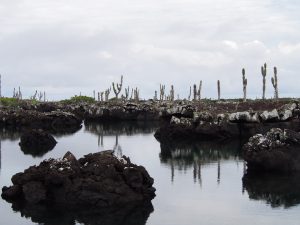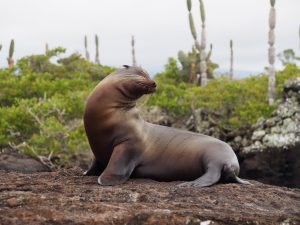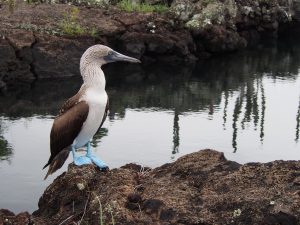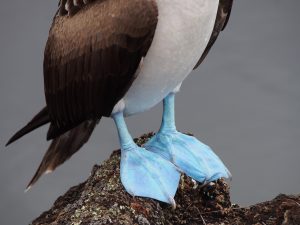 The boobie dance in four steps: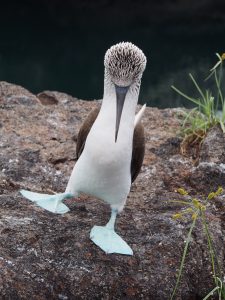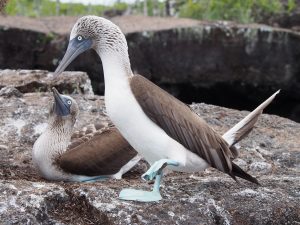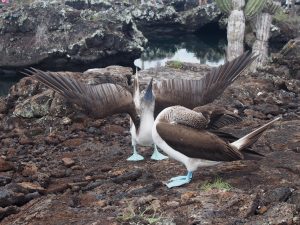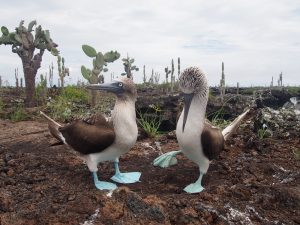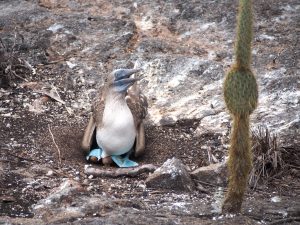 Centro de Crianza de Tortugas
There is a wooden path that leads about 1km towards the turtle breeding center. The path itself is worth the visit! You pass a lagoon with lots of flamingos in the water. Their colours are amazing!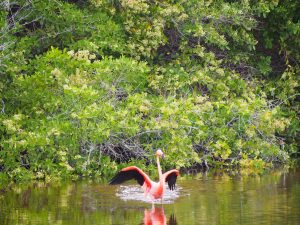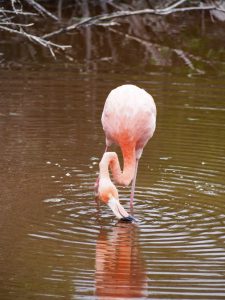 At the breeding center itself we saw our first giant tortoises, even though they were not in the wild. Some turtle species are endangered because they had been hunted for centuries. These breeding centers try to increase the number of turtles by caring for them during their first years of life, until they are released into the wild.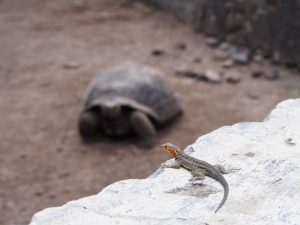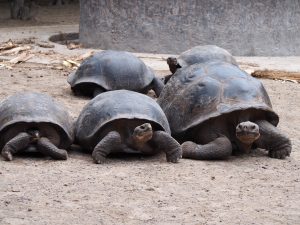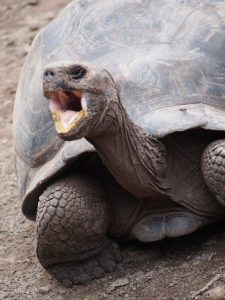 Trail to Muro de las Lagrimas
This 6km trail leads to the wall of tears, built by convicts under harsh conditions. It stands as a memorial to the islands history. The trail has a lot of stops like lagoons and beaches, and you can spend a whole day here. Unfortunately we didn´t have time to go all the way, because it was already quite late when we started to walk.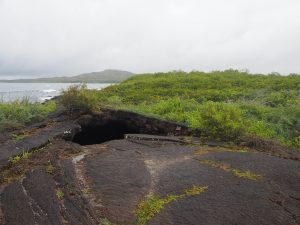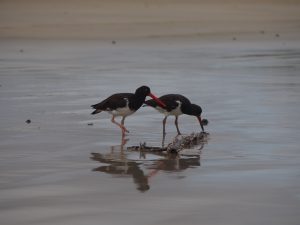 We were really sad to leave Isabela after three days – it was paradise! We could have spent a week at Concha de Perla or the beautiful beaches. On the bumby boat ride back to Santa Cruz we saw some dolphins jumping high into the air just right next to our boat! We couldn´t believe it! After everything we had just seen at Isabela, these dolphins were like a dream! These kinds of things just don´t happen – except when you go to Seaworld…