Santa Cruz
This island has the largest developed town at Galapagos. We didn´t like the town too much because it was too busy and crowdy. On the other hand, it got the cheapest hotels, restaurants and supermarkets. A visit to Santa Cruz is also obligatory due to all the beautiful tours and excursions that start from here.
Seymour North Island
The second tour that we booked was the one to Seymour Island. The island is located just north of Santa Cruz and just a 45 minutes boat ride away. It is a nesting place for many different kinds of birds. We never thought we would spend $145 for a tour to watch birds, but this one was worth it. At the moment, blue footed boobies were nesting here. We didn´t see them danicng the way we did at Los Tuneles, but this time we even saw a baby. Furthermore, the frigatebirds nest here at the moment. The male with its red front that he fills with air and looks like a balloon is just fascinating. We spent about 1,5 hours just admiring these birds as well as many land iguanas. Just look at the pictures and you will know why they are so fascinating: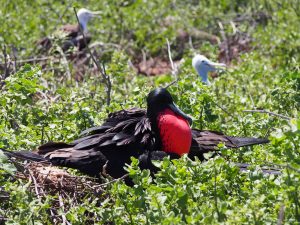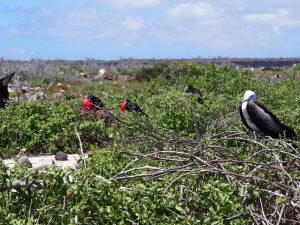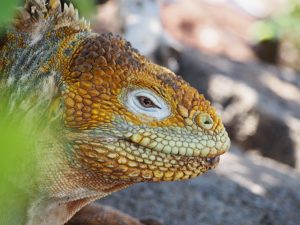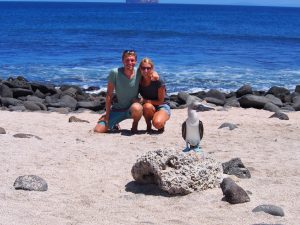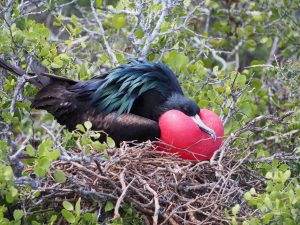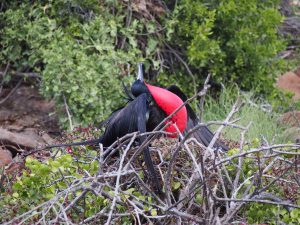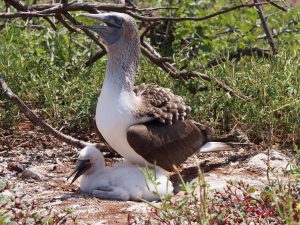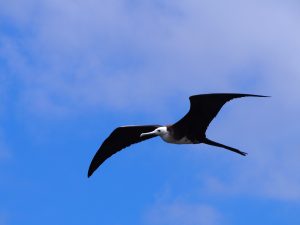 After our walk on the island we had lunch on the boat and then went to a beach at the northern end of Santa Cruz. There was a lagoon with a few flamingos and a good snorkeling spot. We even saw hammerhead shark babys here! We were more than excited about this. The guide said it was very rare to see them at this spot, and even right at the beach! We had been thinking about going on annother $130 snorkeling tour just to see hammerhead sharks, but we skipped that after this rare surprise.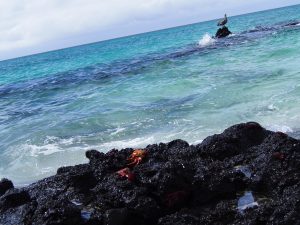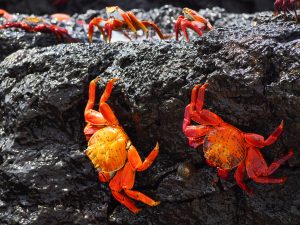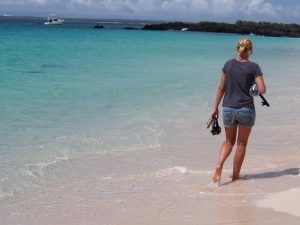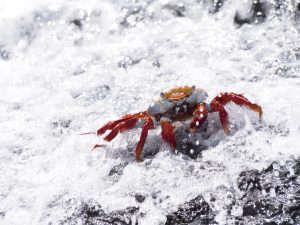 Tortuga Bay
This beach, 3km from town is one of the most beautiful beaches we have ever seen. It has really fine sand and clear blue water.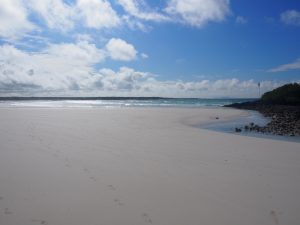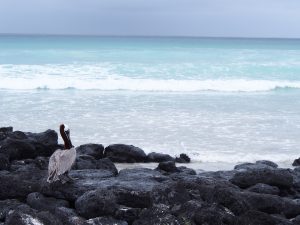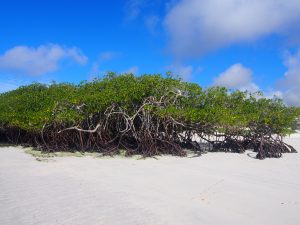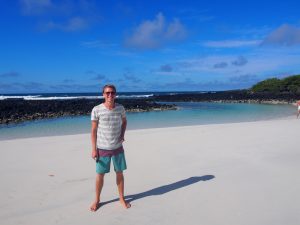 It is quite long and you can walk along the beach for a while, swim, kayak, surf or – of course – snorkel.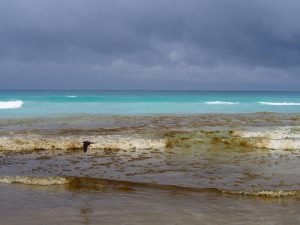 There are lots of marine iguanas, and you have to be careful not to step on them. They sometimes just look like rocks.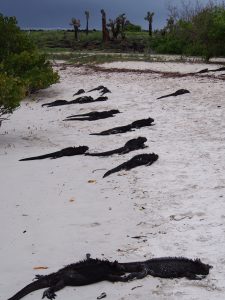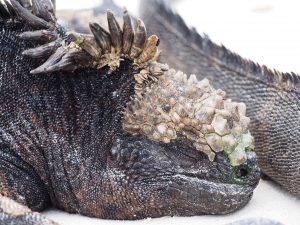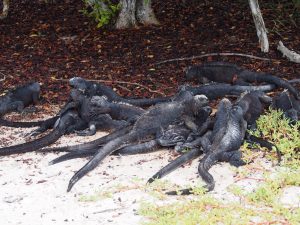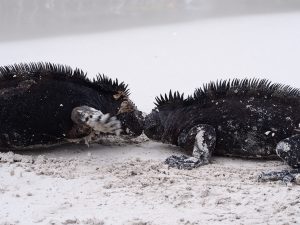 In the water you can see a lot of baby sharks and on our last day on Santa Cruz we even saw another baby hammerhead shark! This time we kind of got a picture, they are really hard to catch. Zoom in to see it: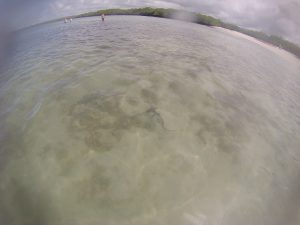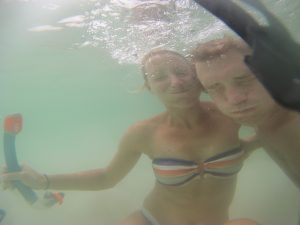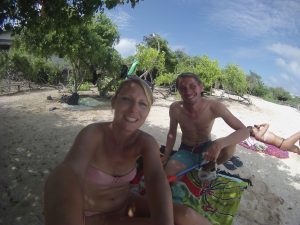 Charles Darwin Research Center
This center works together with the national park (governmental organisation) to conserve the islands´ unique life. Unfortunately they do not show much of the information about their efforts to tourists except another turtle breeding center. Here they also exhibit the turtle "Lonsome George" who was the last of his kind and died a few years ago at the age of approximately 110 years.
Las Grietas
A nice trail leads to this water-filled crevice in the rocks. The water is fresh and clear and you can see some fish here. Be there early, it gets crowded from 9 am.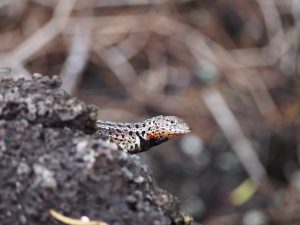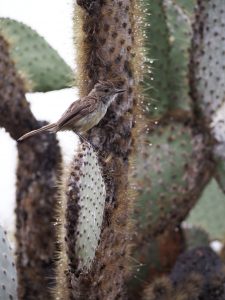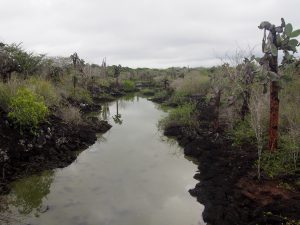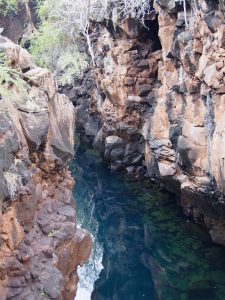 El Chato Tortoise Reserve
This private reserve is the nicest place to watch the giant tortoises in a more or less natural environment. There is a large park with different walking trails, and the turtles can enter and leave as they want. When we were there, about 20 turtles stayed at the place. We found one that was stuck in a fence and needed to be rescued – luckily it didn´t get hurt.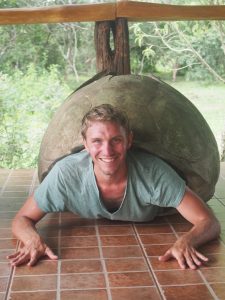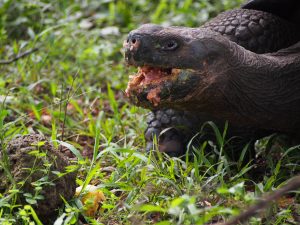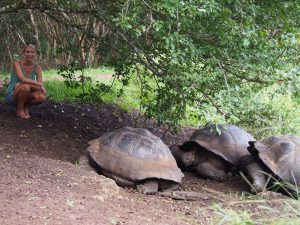 Laguna de las Ninfas
This small lagoon is surrounded by mangroves. On the path leading around the lagoon you can learn about the different kinds of mangroves that exist on the islands. In this case, white and red mangroves surround the lagoon. The water is a mix of fresh water from Las Grietas and salt water from the ocean. When you are lucky you can see sting rays, baby sharks, sea turtles and more here – we saw a sea turtle.
The fishmarket and the pier
The fishmarket in Puerto Ayora is a funny event. While the fishermen prepare their fresh fish, sea lions and pelicans wait around to steal some of it. Look at this pelican – first he stole some fish and then he couldn´t swallow it 😉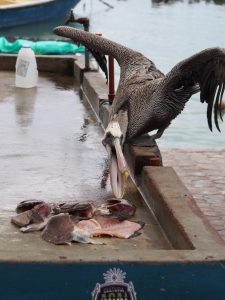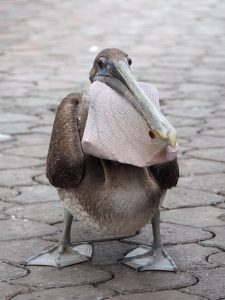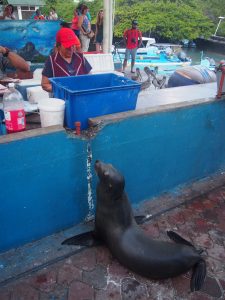 The pier turns into a huge aquarium at night. The lights attract all kinds of fish, and if you haven´t seen them while snorkeling already, you can see sharks, rays and many more here. Of course some sea lions are around as well.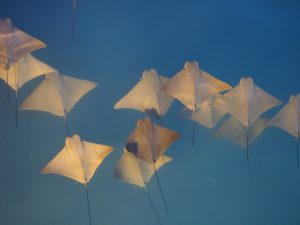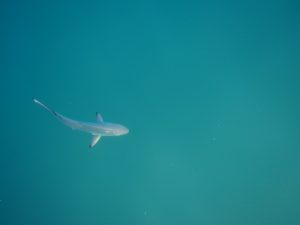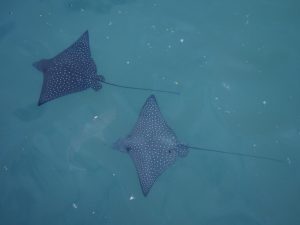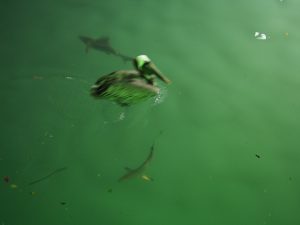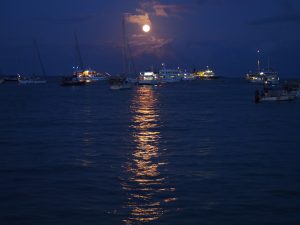 Visit Galapagos!…?
We don´t want to miss our visit to this beautiful paradise. But there is a downside. The number of tourists increases year by year with currently 225.000 visitors per year. This creates huge problems like water supply, energy and food supply. Not to mention the impacts on the very fragile ecosystem. Uncontrolled tourism and population growth were among the 15 issues identified by the World Heritage Committee when it recommended that Galapagos should be placed on the list of World Heritage in Danger. By visiting the islands we contributed to this problem. We also met many people that just came here for a beach holiday, and we don´t understand why you can´t do that somewhere else in the world. Others didn´t respect the most simple rules like not littering and getting too close to the animals. We do believe that limiting the number of visitors per year (allowing not even half the number of people) would be a good solution. We even consider the high prices, like the entrance fee of $100, to be correct. In fact, they should be even higher to prevent mass tourism. Most importantly, going to Galapagos should be a once in a lifetime experience. As hard as it is – we have seen it and shouldn´t be back. We definitely appreciated every second of it!