The "white city" and the official capital of Bolivia, Sucre is just a lovely city. We stayed here for a while and really enjoyed it. Here are some reasons to spent some time here:

Spanish lessons
The city is full of Spanish schools and it´s incredibly cheap to take lessons here. Jens took individual lessons (3 hours per day), and it cost only 45 Bolivianos (around 7€) per hour!  We will now keep practicing so that he will he can speak fluent Spanish at the end of this trip. While Jens took his classes, Sandra enjoyed doing nothing 🙂 She got a hair cut, met some girls for coffee and just walked through the city….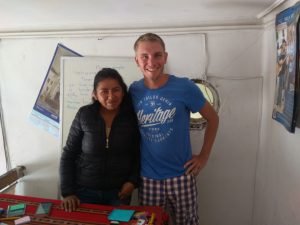 History
Sucre is the place where independence from the Spanish crown was declared in 1825 and Bolivia was founded. The country, formerly called Alto Peru was named after Simón Bolivar, liberator of many South American countries and a national hero. In Sucre´s Casa de la Libertad, where the country was founded, you can learn a lot about its history in a very entertaining tour.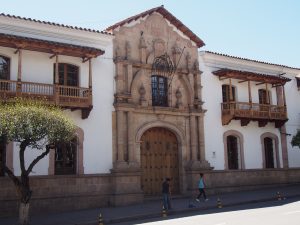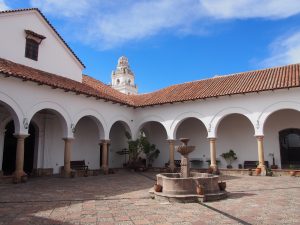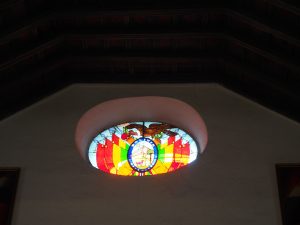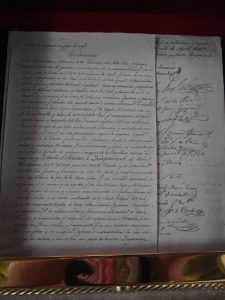 Markets
We absolutely loved the markets of Sucre! Mercado Central is right in the city center and was just two blocks from our hostel. Mercado Campesino is a bit further outside, but also worth a visit. It stretches through quite a few blocks and is huge. At both markets you can buy everything – meat, vegetables, fruits, pasta, spices, quinoa, lentils and beans, cheap home made Bolivian dishes, fruit juices, … And everything is so cheap that we felt like we were in paradise. Even though restaurants were very cheap as well, we really enjoyed shopping at Mercado Central and cooking ourselves with all these fresh ingredients.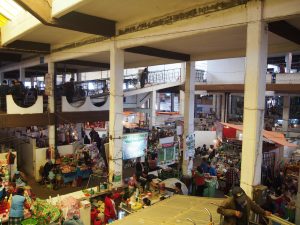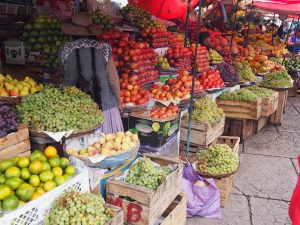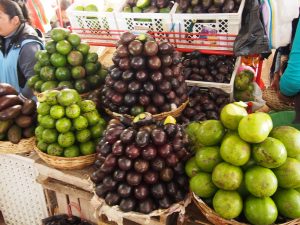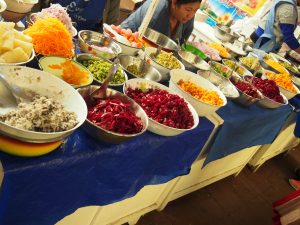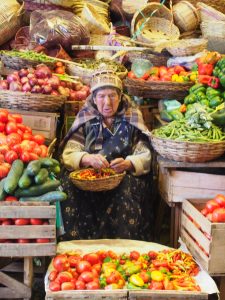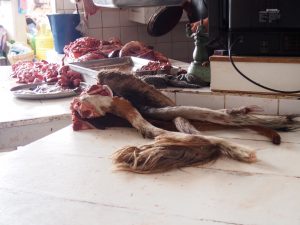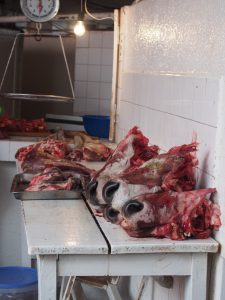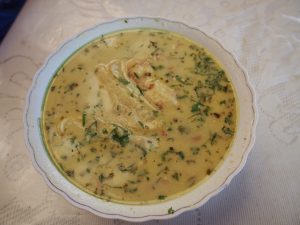 Churches & Museums
There are enough museums and churches to keep you busy for a few days. We only went to a few of them. We already talked about Casa de la Libertad. We also really enjoyed Museo de Artes Indígenas (museum of indigenous arts). When it comes to churches, do not miss climbing up to the top of Temple de la Merced. You get one of the best views of the city and can relax in the sun on the cupola.
Recoleta
Museo de Artes Indígenas is located in Recoleta. The steep climb up is also worth it for the city views. There is a beautiful cafe (Cafe Mirador) which is totally overpriced, but got the best location for a nice sunset.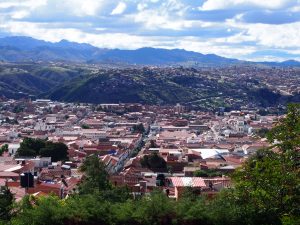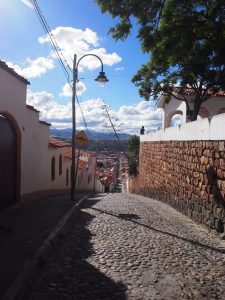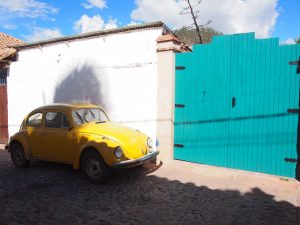 Chocolate Para Ti
A chocolate shop that has a small cafe where you can get some of the best chocolate in the world. Sandra was here every day during Jens´ Spanish lessons.
Condor Cafe
This vegetarian restaurant offers a "menu del dia" including three courses and a fresh juice for just 3€. It is really tasty and cheap enough to eat out every day.
Parque Cretácico
Did you know that the largest collection of real dinosaur footprints was found near Sucre? The footprints are 65 million years old and have been discovered in the 1980´s when a cement fabric tried to built their company here. We were lucky to get there for the tour (at 12 and 1 pm) to get really close. Apart from the footprints there is a collection of huge dinosaur models. It might be made for kids, but we still enjoyed it.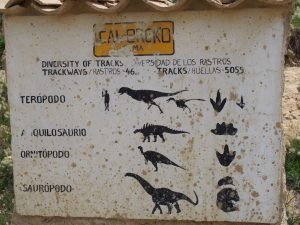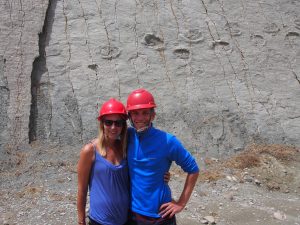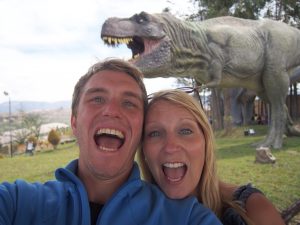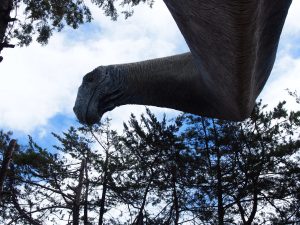 If you come here, don´t take the expensive tourist bus. There is a local colectivo (number 4 or H) from Mercado Central for just 1,50 Bs.
Sunday market in Tarabuco
65km southeast of Sucre lies the indigenous village of Tarabuco. It´s really small with not much to see, but every Sunday it opens up its colourful market, which almost spreads through the whole village. Everything is sold in the streets. Even though lots of tourists arrive every sunday from Sucre, the stands do not sell too many souvenirs.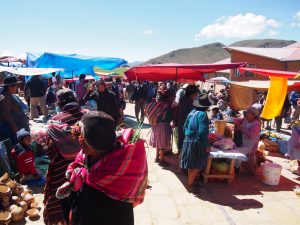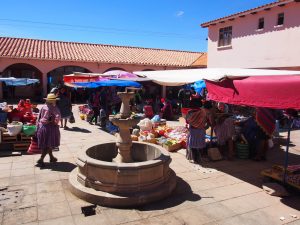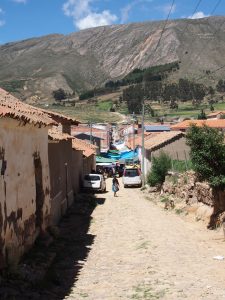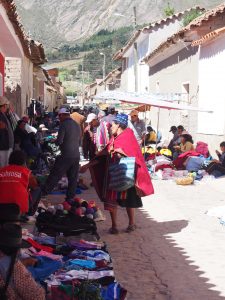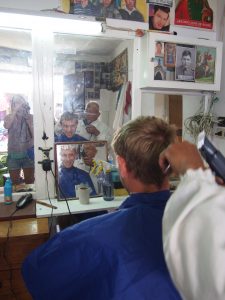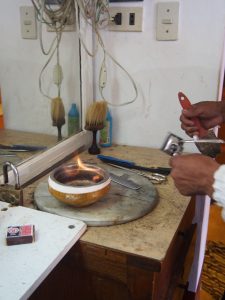 Again, take the local colectivo (10 Bs) instead of a tourist bus. It is really easy and fast to get here on your own.
Espacio Cultural Orígenes
This place shows a selection of traditional dances of each region in Bolivia. We were sceptical about going there because we thought it might be a tourist trap, but it was really entertaining. We went with Jens´ Spanish school and can highly recommend it! The costumes are really colourful and you learn a lot about the traditions of each region.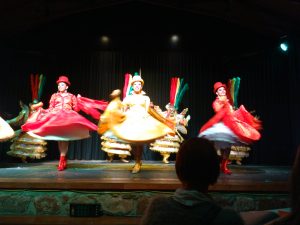 Cordillera de los Frailes
Unfortunately we din´t find the time for it, but there are some beautiful hikes in the area. Most have to be organized with a tour because no buses go there.