From Cairns to Sydney along Australia´s east coast – 2.645km. In total, we drove 4.100km in 21 days. We already wrote about some of the highlights, but this is the whole story.
We rented a small campervan called "Chubby Camper" from Travellers Autobarn for this trip. Finally we had a home again! No packing our bags or carrying them in the heat, a small home for at least three weeks. Travelling in a campervan is the ultimate freedom. You don´t have to worry about bus timetables, finding a hotel, or packing your bags. But it also showed us what "low budget" travelling really means. Compared to this, Asia was luxury 😉 Follow our roadtrip here:
The first part of our trip led us from Cairns to Hervey Bay – around 1.400km on Bruce Highway.  For the first two nights we stayed in Cairns, because the day after we got the car we went on our diving/snorkeling trip from here. So we booked a campsite right in the city. An easy start – it had a pool, a kitchen, bathrooms and showers. We would miss this comfort later on our trip. The first thing we noticed was that campsites in Australia are expensive – the costs vary from $15 (which would be fine, but is very rare) to $50 per night for an unpowered site at the east coast! Including the price for the camper rental that would be more expensive than a hotel. From Travellers Autobarn we got a very useful map showing all campsites in Australia – including free one´s. But forget about the map – the first and most important thing you need when camping in Australia is Wiki Camper – an app that shows you exactly which campsites are around you, including prices, comments, pictures and GPS. It saved us a lot of money when we finally found out about it on day 4 of our trip.
The next thing we noticed was the heat. After the cold days in Melbourne we now got the heat wave – 30 degrees and more, starting as soon as the sun rose in the morning. Our camper had only one side window, so not much air came in at night. The first two nights were so hot!!
When we left Cairns we had a great first day on the road. We drove around 250km to Mission Beach, stopping wherever we wanted. We found some nice spots like Babinda Boulders and Josephine Falls, both with refreshing cool water to swim in.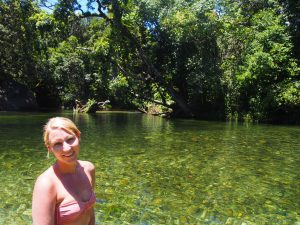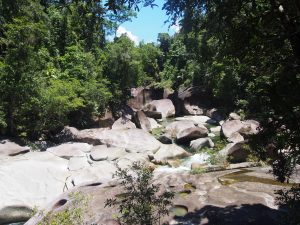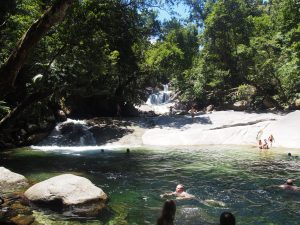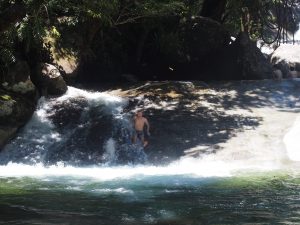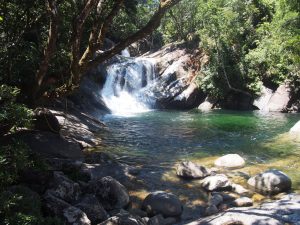 Shortly before reaching Mission Beach we stopped at Etty Bay, which is a small beach where you can usually spot wild cassowarries right at the beach. It must have been too hot that day, because we didn´t see any.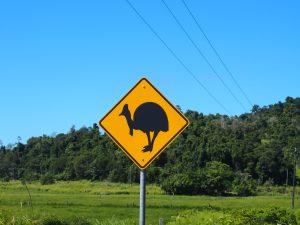 In Mission Beach we stayed at a beachfront campsite (with $20 very cheap as we would learn later). We heard that a few days ago a crocodile had been seen at the beach! When we had dinner at the beach we wondered what we would do if it showed up again?! Generally the beaches are beautiful up here, but because of stingers, sharks and crocodiles, swimming is never recommended at the northern part of the east coast. The next morning we woke up early and went for a nice walk along the coast in Mission Beach. We were warned that a crocodile lived under a bridge along the trail, so Sandra was a bit scared.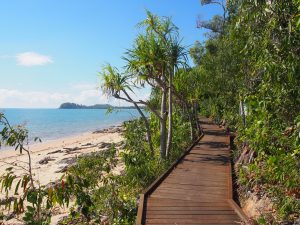 For the rest of the day we drove around 600km. Driving in Australia is so slow, you can´t go faster than 100km/h, so it took us 8 hours to arrive.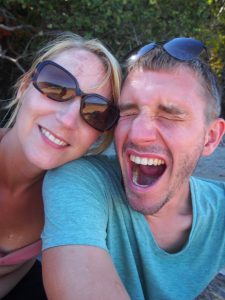 For the first time we found a free campsite along the highway close to Bowen. It was a nice spot with toilets, potable water and picnic areas. There were some other campers and we had a nice evening. The only problem – there was no shower!
The next morning we drove only one more hour to get to Airlie Beach. From here, the tours to the Whitsunday Islands start. We expected to spend one or two days here until we catch a boat, but as you can read in "Two days in paradies" we were lucky and got a free spot for the same day! Sadly, we already had to leave our camper for two days.
When we got back two days later we couldn´t wait to get on the road again. First we had to change a tire which Travellers Autobarn easily organized for us, it took only 30 minutes. We continued our trip to Eungella National Park, which is famous for spotting platypus in the morning and evening hours. We stayed at platypus bushcamp and arrived just before sunset, so we were lucky to spot one platypus at the river. Unfortunately it was gone in a second, so we can´t show you.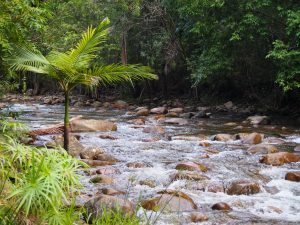 The bushcamp was very basic and had only an outdoor shower. Since it was dark already and there were many spiders and other creatures crawling around, we didn´t get a shower – again. Scared of all the spiders we didn´t dare to open our window that night, it didn´t have a fly screen. That was the hottest night ever! The next morning we got up at 5:30 again for some platypus watching, but we didn´t see any. Getting up early was still worth it, because we would drive another 9 hours to Agnes Water. The distances here are incredibly long, it gave us an idea of the enormous size of this country. Often there are no towns for a long time, then a small place turns up and you wonder – what do people do here? The next big city is 5 hours away…
Agnes Water is the most northern surf spot at the east coast and it has the cheapest surf lessons and surf board rentals. When you get to the more famous spots you pay up to $70 for a board or class, while here you get it for $20. So we thought it might be a good idea to stop. When we arrived it was already late. We went to a cheap campsite and had dinner.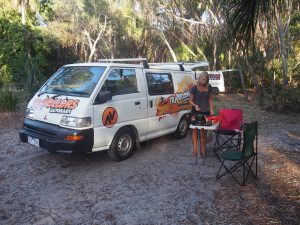 It got dark really quickly and there was no light at all. We were happy to be out of last nights bushcamp, because we thought there would be less animals here – definitely wrong! We went to the bathroom with one flashlight and when we returned, Sandra was holding it. Jens walked to the drivers door of the car and suddenly was attacked by a huge spider hanging from the trees! He quickly walked away to the other side of the camper and wanted to open the side door. Sandra, watching from a few meters away, suddenly saw him jumping and screaming. He stepped on a big snake! We both shouted and attracted some other campers. An Australian guy told us that this was a brown snake, one of the most dangerous snakes in Australia! We don´t know why it didn´t bite, but we were glad it didn´t because we were far from the next hospital. After this scary moment we spent another hot night with all windows closed and didn´t dare to leave the car again.
The next morning we rented a surf board for a day and went to the beach. Sadly, the waves were not good enough, even for beginners, to really have fun. But it was still a nice try.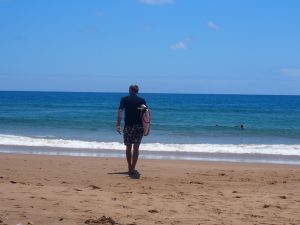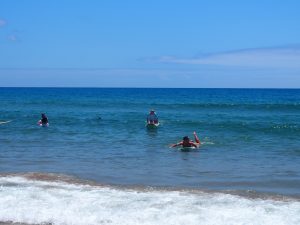 Right next to Agnes Water is the Town of 1770. It is the place where the first settlers arrived in – guess when? – 1770. There is not much to see but it got some nice lookouts and walks.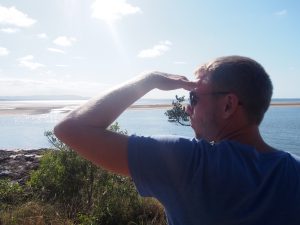 We decided to drive to Bundaberg this evening because we really wanted to get a fly screen for our window. We arrived at around 5:30pm on a friday and almost all shops were closed. A big warehouse was still open and we asked for "mosquito nets" there. They couldn´t help us so we left for a free camp site out of the city. The next morning we tried again in at least 5 shops until we learned that we had been asking for the wrong thing! We always talked about "mosquito nets", but the right word is "fly screen"! We went back to the warehouse again and finally got what we wanted. We should have looked up the right word before we left, that would have saved us half a day 😉
We went on to Hervey Bay where we found the nicest campsite ever(Scarness Beachfront Tourist Park). It was right at the beach, had all amenities you need including laundry and barbecue areas, and it cost only $15! Why aren´t all places like this?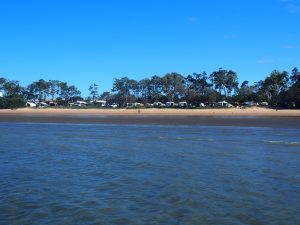 We booked our trip to Fraser Island here, had a barbecue in the evening and for the first time in a few nights it was relaxing because of the place and the fly screen!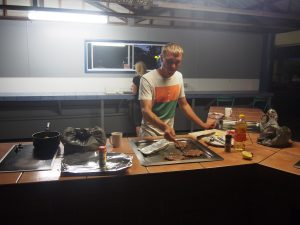 Read more about the rest of our roadtrip soon!