The second part of our road trip took us from Fraser Island down to Sydney. By now, we had learned how to find free campsites and where to find nice picnic spots. The most beautiful part of the east coast was our next destination:
The Sunshine Coast
"Back home" – Jens studied here five years ago, so it was a very special place to visit on our trip. While Jens visited Sandra in Buenos Aires back then, she never got to see where he lived during this time. The sunshine coast was the nicest part of our road trip. We started in Noosa which is a beautiful town right at the coast. We went for a three hour hike in the Noosa National Park along the coast and through rainforest.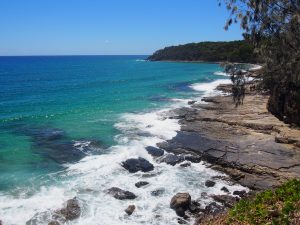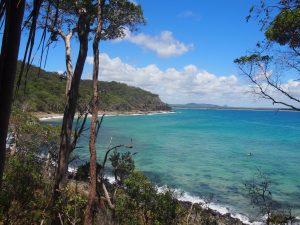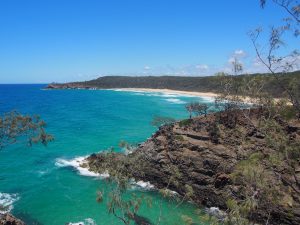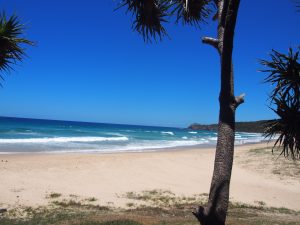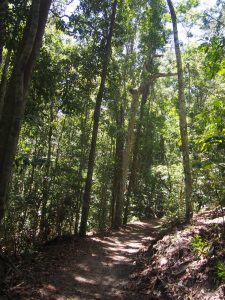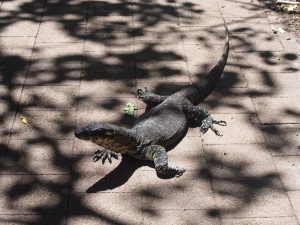 We spent a few hour at the beach and then found a beautiful barbecue spot in a park for sunset.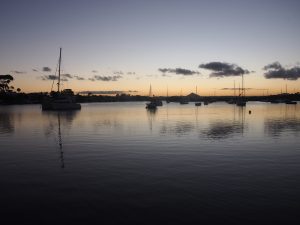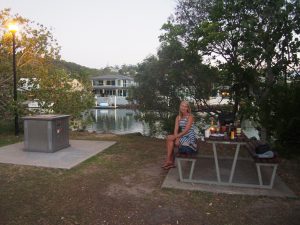 The next morning we had breakfast at the beach in Noosa and left for Maroochydore/Moolooloba. Jens showed Sandra where he lived, shopped and partied five years ago. We visited the University of the Sunshine Coast and were even able to have a look at his old apartment.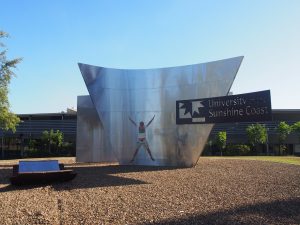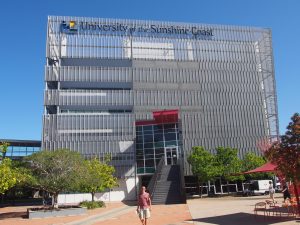 Thanks USC for the free shower 😉 We found a place to sneak in and get a nice shower. We had another barbecue at Mooloolaba´s esplanade and left for another free campsite only a short ride away.
Brisbane
Only a one hour drive from the Sunshine Coast is Brisbane. Visiting a city with a camper is annoying. Campsites are expensive and parking is even worse. We spent the afternoon of the next day at Southbank and had a picnic at the lagoon.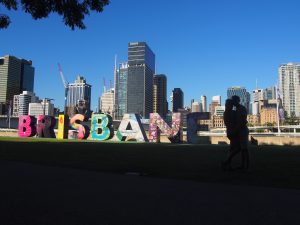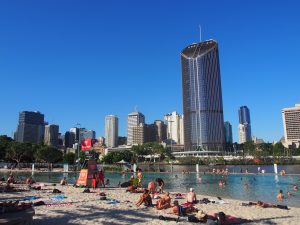 We stayed at a farm 30 minutes outside of the city to save some money. Look who visited us during breakfast in the morning: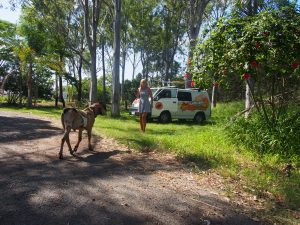 We drove back into the city and parked our car. When we closed the door we noticed we accidentally took a little friend from the farm: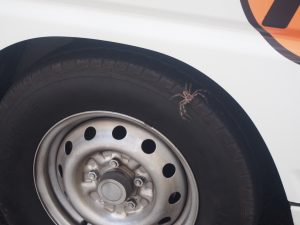 We walked through Brisbane for about 3 hours. But because of the heat and the unbelievably high parking costs it didn´t get the attention a city like this usually deserves. We should have stayed overnight in the center to experience at least one whole day and also the nightlife.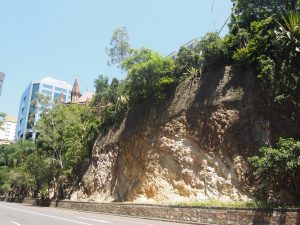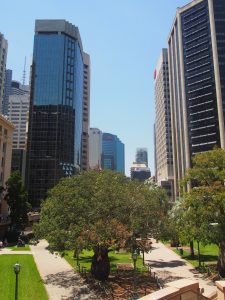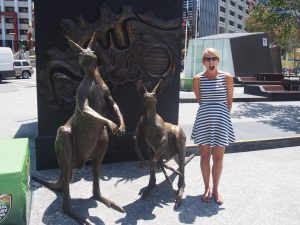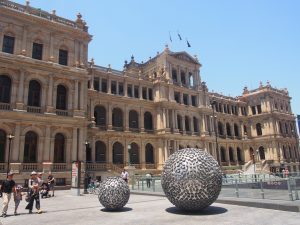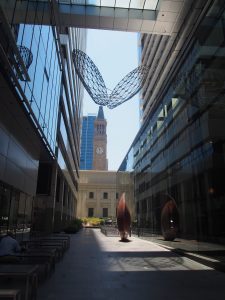 The Gold Coast to Byron Bay
One hour south of Brisbane lies the famous Gold Coast. We had planned to spend one or two days in Surfers Paradise. When we arrived, we were really disappointed. The beach is beautiful, but we didn´t like the city at all. Big skyscrapers are just behind the beach. Campsites cost almost $50, so it was impossible to stay here.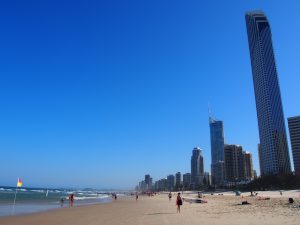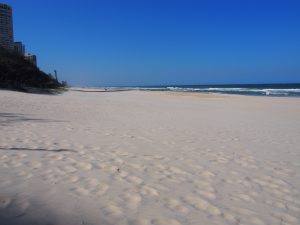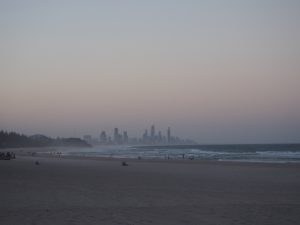 We stayed an afternoon and left for a free campsite about 50km away close to Byron Bay. That was the best decision! We immediately fell in love with the relaxed Byron Bay. It got a hippie and surfer vibe and is very easy-going. Not at all the hectic and busy party city like Surfers Paradise. Even though this was the only town with no public shower at all, we stayed for two days. We went to the beach, walked through town and did some shopping, and visited the beautiful lighthouse. We were so relaxed we didn´t even notice that we had crossed the border between Queensland and New South Wales and were in another time zone!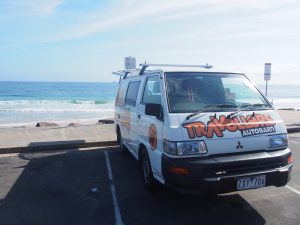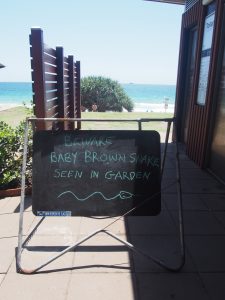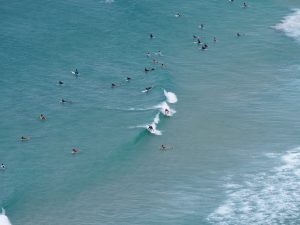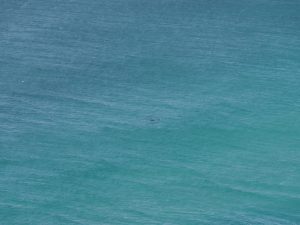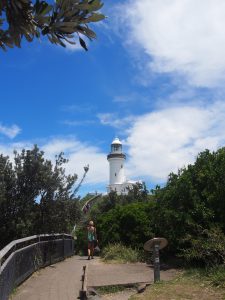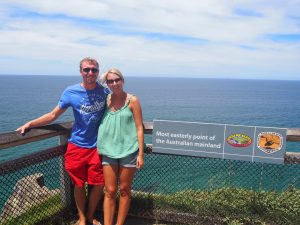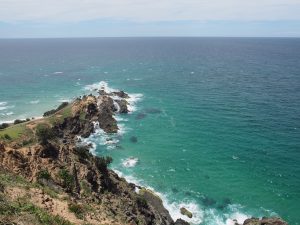 We had to leave Byron Bay after two days, because we wanted to meet Jens´ dad in Sydney. He would be there for one night on his way to New Zealand and we couldn´t miss that. It took us 1 1/2 days for the 800km drive.
On the way, we slept at another rest area at the highway. It´s funny, because nobody would ever sleep at such a place in Germany and take a shower at the gas station. But here, it´s normal and sometimes it is just a matter of having the right perspective: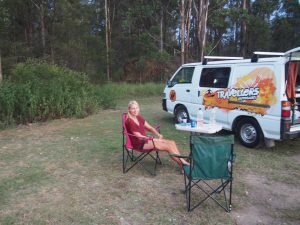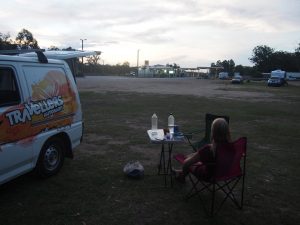 Finally we saw some kangaroos really close that evening.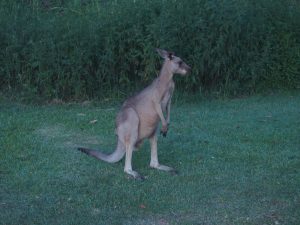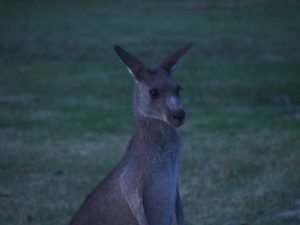 The next day we reached Sydney after a 9 hour drive and checked in to a hotel at the airport! What a luxury after almost three weeks of camping! Since Jens´ dad was only here for a few hours and arrived at 9:30pm, we didn´t want to find a campsite in the middle of the night.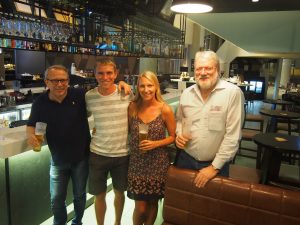 It was great to see a familiar face after such a long time away. It was a short visit, but we really enjoyed it!
Our roadtrip is now almost over. We spent our last days in the Blue Mountains and we will let you know more about it soon.