Water clearer than in a swimming pool. The perfect white sand that hurts your eyes while looking at it. Little lemon sharks around your feet. Swimming with turtles. Stand up paddling and kayaking. Watching the sunset with a glass of wine. Watching the stars at night out on the ocean. That´s sailing on a catamaran at Whitsunday Islands. If you are still not jealous, keep on reading the whole story.
The first part of our road trip took us from Cairns to Airlie Beach, the place where you leave for the Whitsunday Islands. Different tours are offered here, from day trips to the famous Whitehaven Beach to multi-day sailing tours. Jens has been here before and really wanted to take Sandra on an overnight trip. So we set ourselves a budget, arrived in Airlie Beach on monday morning, and checked out different travel agencies. Well – almost everything was sold out or was really expensive for the next days. After a short discussion we decided we would only be here once, so we booked a 2 day / 2 night catamaran trip leaving the same day. Dear readers, Australia will kill our budget, but it was worth it.
We took off at 4 pm the same day, which was perfect because we didn´t have too much time. The weather was a bit stormy that day, but we just hoped it would get better tomorrow. The catamaran was made for up to 10 guests and 2 crew members, so it would be a really small group. In the end we were only 8 guests in total. About our group – well, we were not lucky enough to have a fun group our age. We got a chinese family, 25 year old daughter to shy to talk without her parents, only the mother spoke english. Two Korean guys that lived in Australia for more than 5 months and didn´t speak any English. And a young french girl, in Australia for one year, who spoke very little English as well. Not the best group ever, but at least it was a romantic trip then 😉 We even had our own bedroom and bathroom on the boat, which was really great.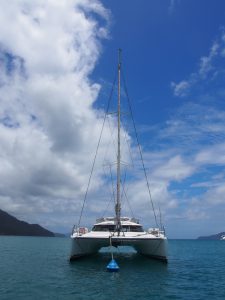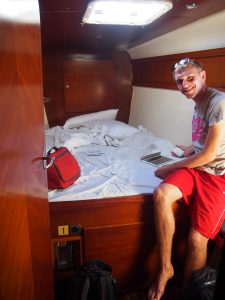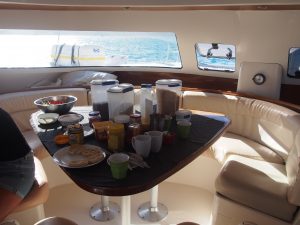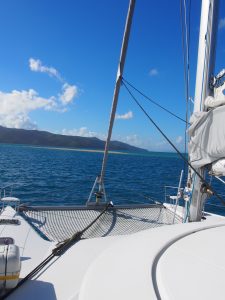 On day one we just sailed out to Hook Passage where we stayed for the night. It was raining but that was really nice as it made the cabins cooler for sleeping. We had a nice dinner and some wine and went to bed. There was a window right above our bed, so in the middle of the night the clouds were gone and we opened our eyes to watch one of the most beautiful skys ever and even some shooting stars.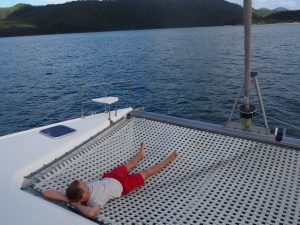 The next morning we had an early breakfast and set off right away to the highlight of this trip – famous Whitehaven Beach.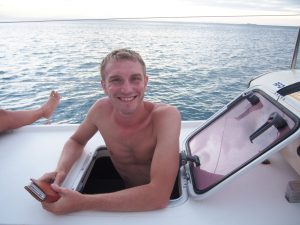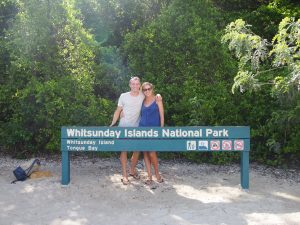 We arrived at the lookout at high tide and with a cloudy sky, so it was a bit disappointing. But as we walked along the beach it got nicer and nicer and in the end it was simply amazing. There are no words to describe this place, you have to see it yourself. Small lemon sharks swam around our feet in the shallow water and Jens almost stepped on a huge sting ray.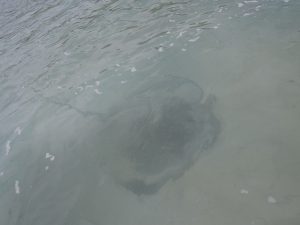 We spent about 2 1/2 hours at the beach and the lookout, but it felt like 5 minutes only. Unfortunately you can´t stay overnight at this place. I am sorry, but we have to give you the full picture overload now, it is impossible to decide for just one or two: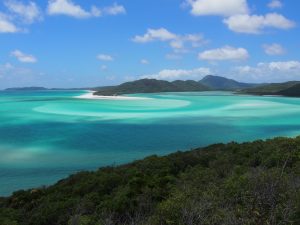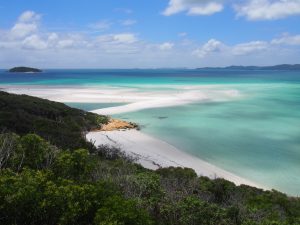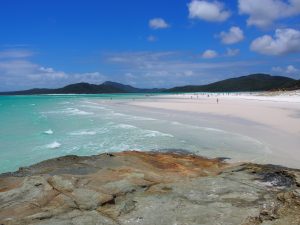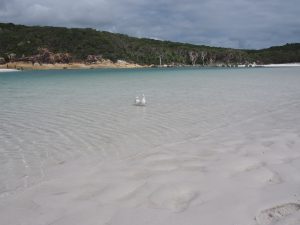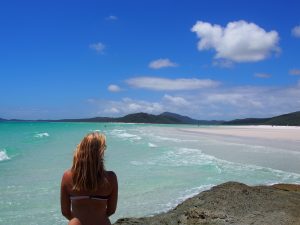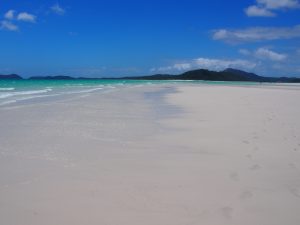 After a nice lunch on the boat we drove about 2 hours to our next stop. It was a bumpy ride and we got totally wet lying on the net in front of the boat. We went snorkeling at Blue Pearl Bay, which is supposed to be one of the best snorkeling spots in the world.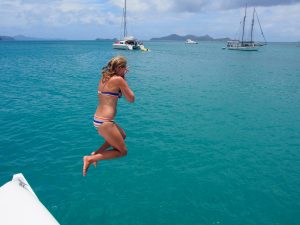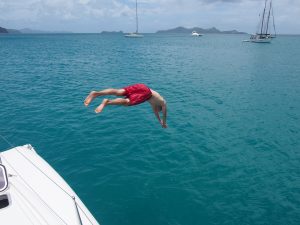 The corals here were amazing and colourful, even nicer than up in Cairns. We saw a lot of beautiful fish as well. We got really sad that the Go Pro broke in Cairns and we couldn´t tape any of this beauty. These guys were the only ones posing for a picture at the boat: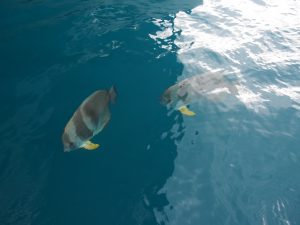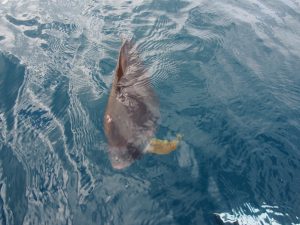 After the snorkeling we went to Stonehaven Bay where we stayed for the night. We went out in a kayak for the sunset. The kayak had a glass floor, so we were able to see some corals and fish as well. A turtle showed up right next to us, which was really nice. Later the Chinese mom and daughter tried the kayaking but they had no idea what they were doing, so the stream took them in a totally wrong direction and they had to be rescued. The Korean guys tried the SUP, but also didn´t know what they were doing, so the "rescue" boat set out again. It was really funny to watch. That night the sky was a bit cloudy, so we couldn´t see too many stars.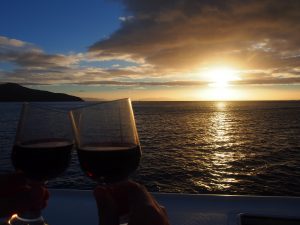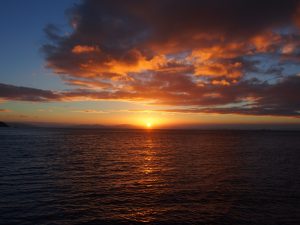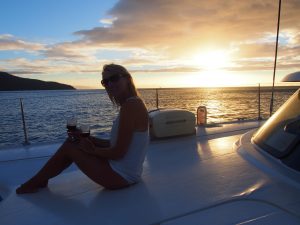 On our last day we left early again to swim with some turtles at Langford Spit very close to where we spent the night. We already saw some turtles really close to our boat when we stopped. We were told that the best way to find some would be to swim in a group from one island to another. The problem – the French girl was to scared of the fish to snorkel, the Korean and the Chinese almost drowned because the current was very strong. So we were the only ones out there fighting the current, while the rest of the group sat in a a boat and found a turtle. We didn´t 😉 But we swam with turtles in Cairns, so it was ok. We got back to the boat totally exhausted from the swim.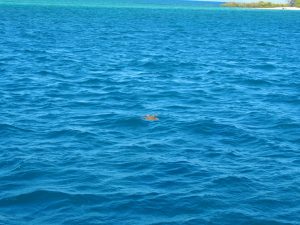 We left for our last stop Caves Cove where we first tried the SUP´s. This was much more fun out here with the wind and the waves than on the Alster in Hamburg!
Guess what? The rest of our group didn´t manage it at all again 😉 After that we went for some snorkeling again and it was just another beautiful place with the most beautiful corals of all our snorkel spots.
That was the end of one of the most amazing trips ever. It was worth every cent and rewarded us some memories we will never forget!