When we got to Cairns we couldn´t miss a day at Great Barrier Reef.Jens got his divers licence here 5 years ago, and whenever we went snorkeling somewhere else he said it´s not as good as at the Great Barrier Reef. So we booked a tour on Silverswift through Pro Dive. The best thing was that we could do both diving and snorkeling on that boat. Sandra doesn´t have a divers licence, so she could only go snorkeling.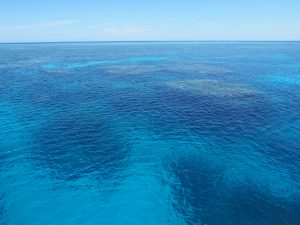 It was difficult to find the perfect boat, because many of them take up to 300 passengers and we didn´t want that. On Silverswift, we were only 50 people (even though they can take up to 70), so it wasn´t crowded at all.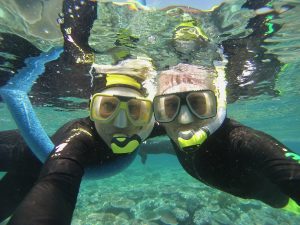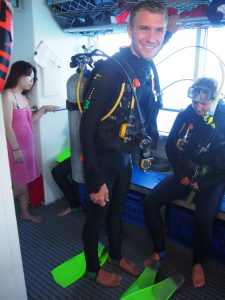 We went to 3 sites on the reef that day and we spent about one hour in the water at each of them: …. And it was perfect! We saw everything from sharks to turtles, baracudas, nemo and even some dolphins, unfortunately while we were not in the water. The pictures are not as good as reality, but here are some of them: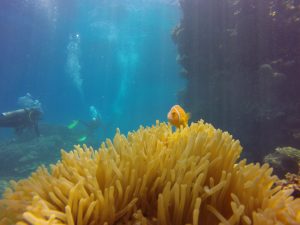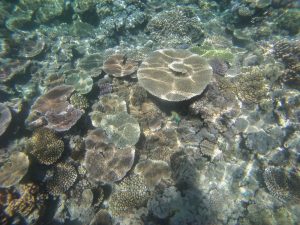 Jens says the reef has been a bit nicer and more colourful five years ago. We heard that 2016 was the year where more corals died than any other year before. We wished the tour guides would have told us more about sustainable ways to explore the reef. There were a few moments when we thought they were doing things they shouldn´t do. On one of the dives Jens and his group went to a very narrow place, where he said it was impossible not to touch the corals. So you easily damage the reef. And when we saw a turtle, they let people get really close and touch it, which isn´t really necessary.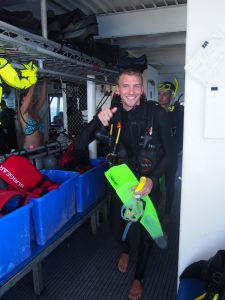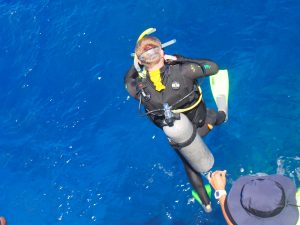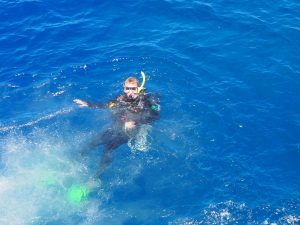 Apart from that, we had a perfect day at the reef! The tour was great, the guides were professional. Sandra finally learned which mistakes she had made while snorkeling in the past, and for the first time she stayed under water for an hour without having to adjust the snorkel equipment again and again. Jens enjoyed his first dives after 5 years as well, and with the help of the guides it was easy to remember everything he had learned back then.