Where to start describing this city? Luang Prabang is surrounded by Mekong and Nam Khan river and is a laid-back French colonial city. The French influence can be noticed in the buildings and especially in the amazing dining options. We fell in love with this place at first sight, especially because it was a relief compared to all the hectic Asian cities.
But later we started wondering if this really is an Asian city with European influence or if it is even more a European city in Asia. We are not so sure if we would have loved it if we would have come to Laos for a three week vacation. The city center became very touristic over the last years and it is definitely not cheap here! We talked to some people who fear it might become a second Chiang Mai soon.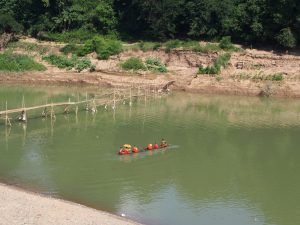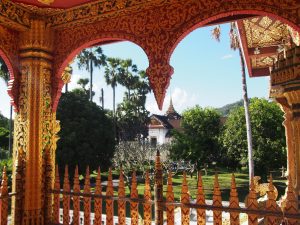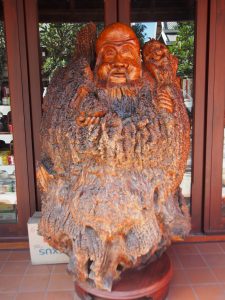 However, we enjoyed it a lot! We had some great dinners, watched an outdoor movie and drove to the waterfall. These are our favorites in the city:
Breakfast at Le Banneton – they have amazing Pain au Chocolat, Baguette and coffee
Elephant experience with Mandalao – check out http://aroundtheworld-sj.de/the-elephant-experience-an-ethical-decision/
Check out Luang Prabang´s library and their great project of donating childrens books to villages
Watching the "Chang" movie outdoor at changing locations. The movie has been filmed in 1927 by two English guys who lived with a local family in the jungle for 18 months.
Swimming at Kuang Si Waterfall. Just 30km out of town this beautiful waterfall has nice cool water. The walk to the top is also worth it!
TAEC (Traditional Arts and Ethnology Centre) – great place to learn about Northern Lao cultures
The night market – do not eat from the buffets! They have great grilled fish with sticky rice, that´s all you need.
Lao fondue at Dyen Sabai – on the other side of Nam Khan river wit great river views and a really good fondue. Not cheap, but great! Don´t miss the cocktail hour until 7pm for a Mango Daiquiri.
After two days we had spent too much of our budget for food, so we had to start saving again 😉 We spent five nights in total and enjoyed it very much. But then, it was time to move because it was just too touristic in the end.
Sandra´s personal nightmare
Despite the beautiful time we had here, we also went through the worst night ever. We had booked Phasith Guesthouse in advance. For the first night, they moved us somehwere else because they had a family wedding and forgot they needed the room for their cousin. Generally that is not too bad. But for us, a nice hotel is like our home, and we were really disappointed to be moved again and again. The next day we got a really nice room with balcony and river view. We were so happy about it! In the middle of the night Sandra woke up and noticed that there were bed bugs in the bed!! And it wasn´t just one – the whole bed was crawling with bugs in all stages. The worst nightmare ever! The people who know Sandra know that she has bad luck with this, and it happens to her again and again. Luckily the staff was awake and moved us to a terrible place around the corner in the middle of the night. We didn´t sleep much that night… Fun side fact: This was a sign in our "new" room. Can anyone please translate this?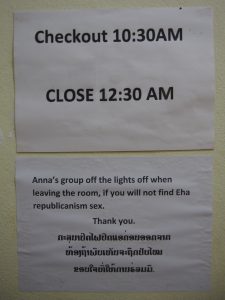 The worst thing about it was that the hotel knew about the bed bugs and didn´t do anything about it – they still let people sleep in these rooms. The next morning we decided to move to another place we had found the day before. It was cheaper and definitely clean. We had a long discussion with Phasith guesthouse because they wanted us to pay for the nights we spent there and even for the guesthouse we moved to in the middle of the night!