Vang Vieng – Lonely Planet describes it as a paradise to hell and back. In 1997 some foreigners had the idea to offer tubing trips along Nam Song river.A few years later, bars and raving plattforms were built along the river and young traveller came here for nothing but tubing, party, alcohol and drugs. It got so bad that even deads have been reported along the river. The impact on the city and the locals has been terrible. Only recently the government has closed some of the illegal bars. Slowly, Vang Vieng was slowing down again.
For a few days we were not sure if we should come here because of all the stories that we heard. But the landscape is supposed to be beautiful, so in the end we decided to go. To us it seemed like the party crowds are slowly coming back again and the town itself is a terrible place. Loud bars and totally wasted kids all day and night. But outside town, the area offers some of the most amazing scenery. There is a way to avoid this and just enjoy the beautiful surroundings. We have discovered the most peaceful places around here, and instead of just 4 days, we stayed for a week! This is how:
Stay in a hotel on the other side of Nam Song River. We stayed at Maylyn Guesthouse, beautiful bungalows and rooms overlooking the mountains. This was the most relaxed place we have been to on our whole trip! We got one of the nicer rooms with a balcony and bathroom for just 100.000 Kip (12€).
A trip on the river is still recommended, because it is beautiful. To escape the drunk crowds go tubing or kayaking in the morning.
Rent a scooter or bike and explore the amazing surroundings of Vang Vieng. Caves, mountains, cliffs, waterfalls, lagoons, this is what it is all about when you come here.
Dining: The options here are not great, with most restaurants offering everything from Lao food to Burger, Pasta and even Schnitzel! Outside town, just opposite Nam Song River, there are a few cheap and good places that offer mainly Lao food. Don´t expect Luang Prabang style great dining, but options are not bad. For the best restaurant however you have to get into town: Kitchen, the restaurant of Inthira hotel, offers great Lao dishes – the red coconut curry is the best! We also found a great local noodle soup. There was one small spot without a name, close to the hospital and opposite the German-Thai restaurant, if you ever get here…
We have spent some great and relaxing days here. On our first day we didn´t do much but sleeping, relaxing on our balcony and playing cards with our new friends Nicole and Daniel from Hamburg (http://www.everywhereandnowhere.net/). On the second day, we rented scooters again and explored the surroundings. We climbed Pha Ngeun Viewpoint, which was really worth the effort in the heat. We went swimming in a lagoon and tried to explore a cave.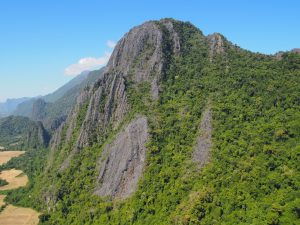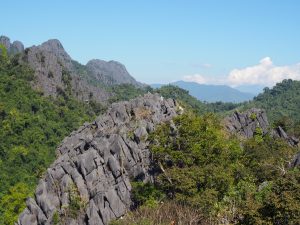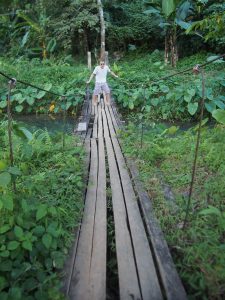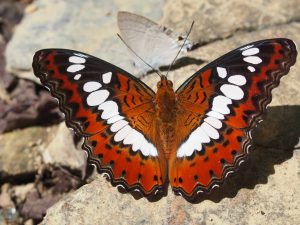 Another day we drove to Kaeng Nyui Waterfall. The waterfall is quite small but nice and the nature surrounding it made us think of Costa Rica.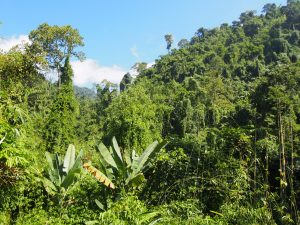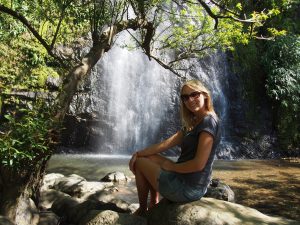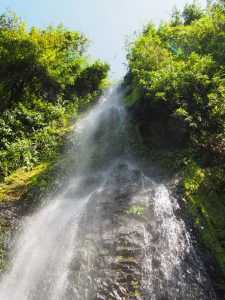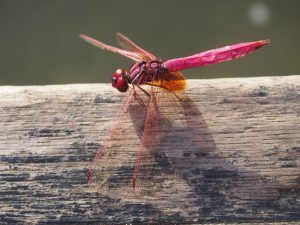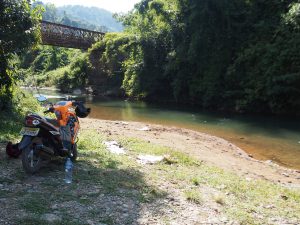 The accident
Our relaxing idyll was just interrupted by a small accident we had with our scooter one day. The roads towards Kaeng Nyui Waterfall were terrible, so we slipped on a stone and kissed the floor 😉 Sandra fell right on here knee and couldn´t walk very well for a few days. So unfortunately we had to extend our stay here a little more, rest the leg and just relax…
The caves
There are many caves in this area. From our trip to Hpa-An in Myanmar we remembered big caves, easy to discover, often with Buddha statues inside. Nicole had read before that the caves in Laos "do not meet Western standards". So we all wondered what that might mean. What is a Western cave standard? Well, now we know. The "caves" are often just some small holes in the rock, and you are expected to climb into the total dark, not knowing what´s inside. There isn´t even anybody to ask. We didn´t really enter, Sandra was too scared 😉