Bocas del Toro, Puerto Viejo and Cahuita – three tropical, caribbean paradises, each totally different than the other. This is our experience from travelling the coast from Panama to Costa Rica.
Bocas del Toro
From Panama City we went on one of the coldest night bus rides ever to Almirante at the caribbean coast of Panama. From here, a boat brought us to Isla Colón, the main island of Bocas del Toro. The region consists of six larger islands. Our main destination was Isla Bastimentos, another ten minute boat ride from Isla Colón. The boat dropped us off directly at the jetty of our hostel. It was so early that nobody was there yet to check us in, so we waited in the hammocks and watched the rain on the ocean.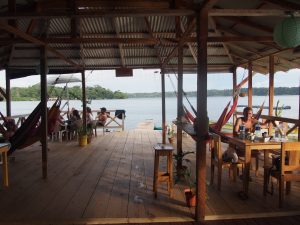 Sandra has been here 9 years ago when a terrible storm swept across the islands. Back then, the whole town was flooded and it took almost one week until her and her friends were flown out to Panama City. She was especially looking forward to come back here and see the paradise it is supposed to be. Arriving in the rain made her laugh, it was just like a deja vu. Luckily the rain stopped in the afternoon, so we were able to explore the island. Bastimentos Town is a small town of wooden houses at the waterfront. It is very peaceful and there isn´t much to see. The main reason to come here are the beaches. Getting there is a bit tricky… 😉 To get to Wizard Beach there are two walking trails. We went on one which passes an organic chocolate farm. Unfortunately the farm was closed on sundays. The trail was really muddy in flip flops and we were annoyed after a while. When we thought we were almost there, we arrived back in town! Somehow we walked in a circle instead of going to the beach 😉 So we just went back to the hostel and enjoyed the ocean view from there.
Day 2 was finally sunny and we rented a kayak to make our way to Red Frog Beach. It took us abut 2 hours to find the entrance to the park. Somehow we weren´t very lucky on this island. When we finally found it, it was a beautiful beach with a rather rough sea and the jungle right at the shore. Dear friends, please do not ever swim here! There are very strong riptides and there are no life guards or boats to rescue you.
On our third day we called a taxi boat from our hostel and moved to the main island for another two nights. The starfish beach here was truly paradise! The walk along the coast to get to starfish beach is already very beautiful and seeing all the starfish right at the beach is very special.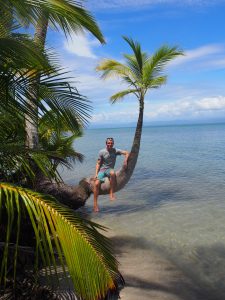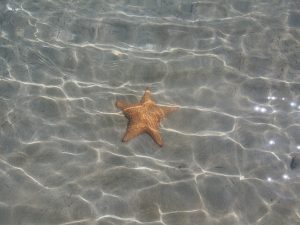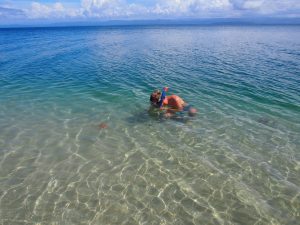 Because of one full day of rain, we didn´t do much more here. But it was nice to see our friends from our San Blas sailing tour again.
Puerto Viejo
A boatride, a bus, a boarder crossing and another bus later we finally arrived to Puerto Viejo in Costa Rica. Coming back to Sandra´s second home Costa Rica was especially exciting – more to come in a separate blog. The caribbean coast of Costa Rica has a big Afro-American influence and the relaxed reggae-vibe mixed with white or black beaches behind rain forest is incomparable. Unfortunately the weather was quite rainy again, so we only went to the black beach (Playa Negra) in town and enjoyed some nice Costa Rican food (finally some casados and gallo pintos) with cocktails.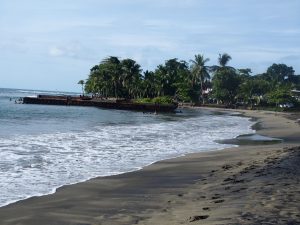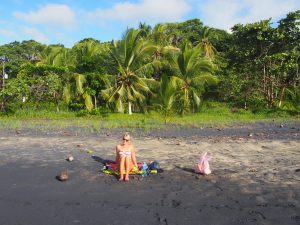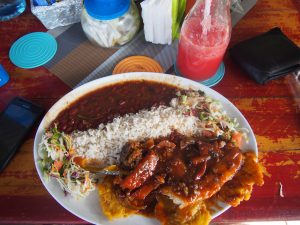 Cahuita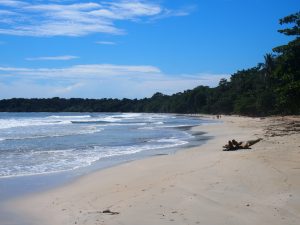 After a short stop in San José to pick up Sandra´s parents we went back to Cahuita, a town close to Puerto Viejo. Seeing our family after such a long time was very special, and the next three weeks of our trip will feel a bit like a holiday (a rest from travelling).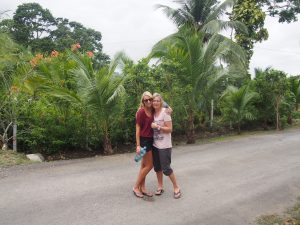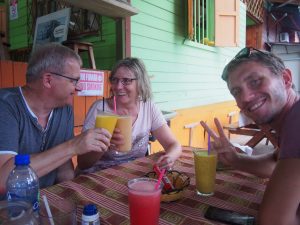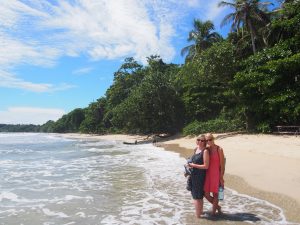 Cahuita is even smaller and more relaxed than Puerto Viejo. The main reason to come here is the small national park right next to the village. A beautiful 8km path leads through the park, mainly along the beach.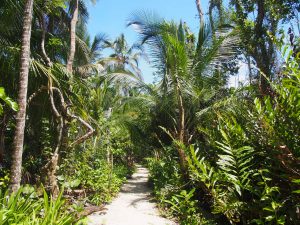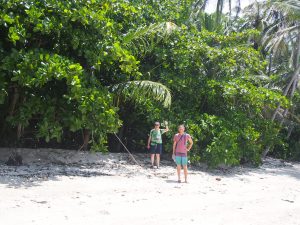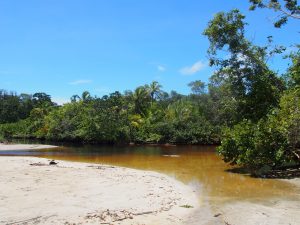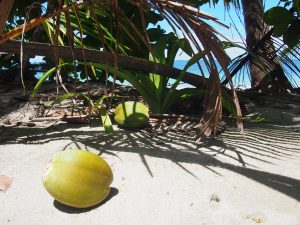 The jungle with its flora and fauna, wildlife and the white sand beaches with turquoise water are great.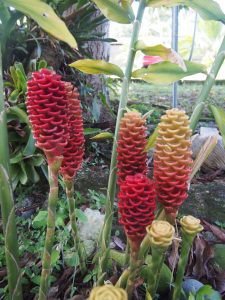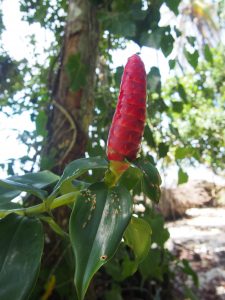 We saw a lot of animals in the wild, like sloths, howler monkeys (which also woke us up every morning), a racoon and even a cayman!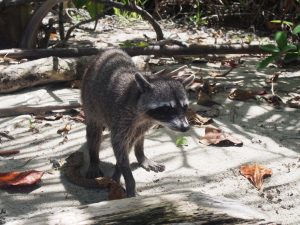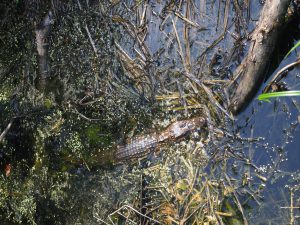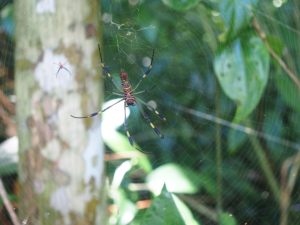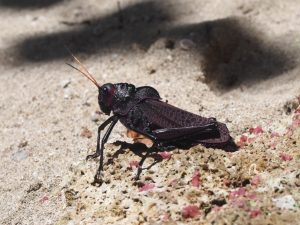 We spent a long time inside the park, swimming and walking along the trail. When we were thirsty, Jens tried to get us a coconut from the tree. He passed the test and can now live on his own island 😉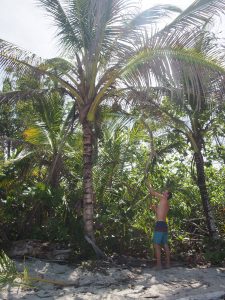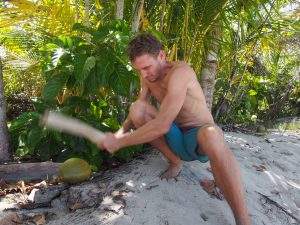 Sloth Sanctuary
Sandra´s special wish was to visit the sloth sanctuary just 10 km from Cahuita. At this place, injured sloths from the region are treated in the slothpital (haha) and rehabilited to be released into the wild. At the moment about 200 sloths live there. The one´s that are being rehabilitated are supposed to have as little human contact as possible, so we couldn´t visit them. The one´s we saw were those with disabilities like blindness or paralysis that would spend the rest of their lives in the sanctuary.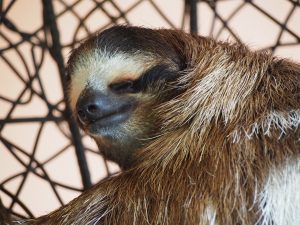 Many of them were injured in car accidents or by electric cables. Some babies have been abandoned by their moms and were brought to the sanctuary as well. To see them, you have to pay $150, so we didn´t go…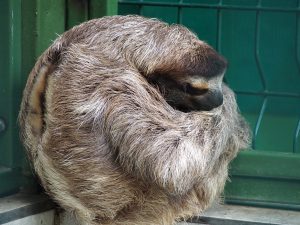 Did you know why sloths are so slow? They aren´t lazy, they just do not have much energy. They need about 50 days to digest their food through 4 stomaches. Due to their slow movements they also do not produce body heat, which is why they have long hair even though they live in the tropics.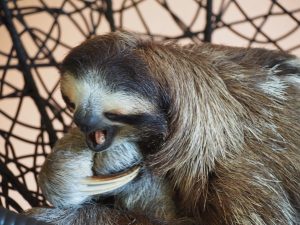 Fun fact: Sloths only go to the toilet once a week. They descend from the trees, which makes them extremely vulnerable. They dig a hole in the ground and get rid of up to 2 liter of urin and 1 kilo of poo.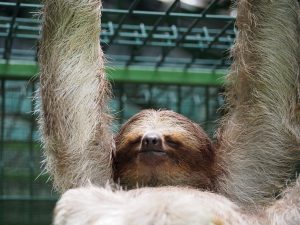 There predators are snakes, wild cats or caymans and crocodiles, but the number one predator is the harpy eagle. We were surprised to hear that this bird is huge! We didn´t even know it existed in Costa Rica.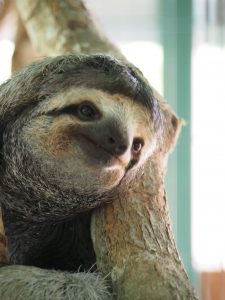 The sanctuary made a very good impression and we do believe they are doing a great job without any governmental support. They rescue the animals, employ only locals and educate both locals and tourists. You are not allowed to touch the sloths, which is hard but it is the right thing.
The tour also included a boat ride on a small river, where we also saw a small cayman and some howler monkeys.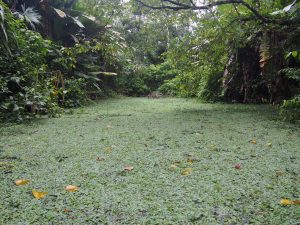 At the end we saw Sandra´s favorite sloth: