It was time to leave Colombia and South America. While we were quite sad about this fact we were also very excited about the way we would travel to Panama – on a sailing boat! Right off the Panamanian coast lies the turquoise tropical archipelago of San Blas. This paradise consists of 350 islands with white sand, palm trees, and nothing else.
The trip
We chose a small sailing boat with a capacity of 10 passengers and 2 crew members. The name of our boat was Perla del Caribe and it was really nice. We had our own cabin, a nice crew and also a nice group of travellers. We left Cartagena around 10pm and everyone watched the Colombian coast for the last time with a beer in hand.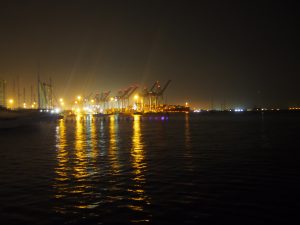 Our captain already went through Colombian migration with our passports and we would only get the stamp for Panama five days later – so for five days we were lost in the middle of nowhere with no proof 😉
The first day on the boat was hard – we had to cross the open sea for 36 hours and almost everyone got sea sick. We spent almost the whole day in bed without being able to move. Sandra´s attempt to use the bathroom ended with throwing up in the kitchen. We only made it out to the deck for the sunset.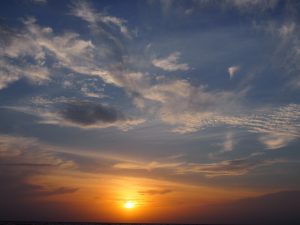 On the morning of the second day the sea was finally calmer and we were even able to eat breakfast.
Around midday we finally made it to the first islands and we immediately knew it was worth the day on the rough sea. We cast the anchor between three small islands and jumped into the water immediately. It was exactly as promised – crystal clear and three islands to play on with white sand and palm trees. The only diappointment was that there wasn´t much sea life for good snorkeling.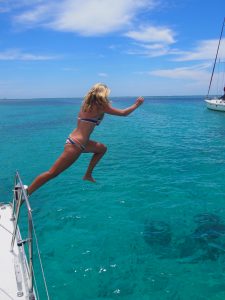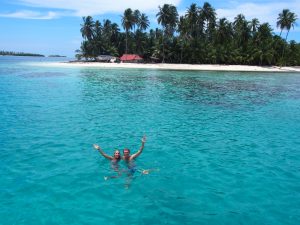 This night we had dinner and a bonfire at one of the islands. It was fresh lobster for those cruel enough to tolerate the preparation – the lobsters were thrown alive into a hot pan and than cold water was added. They were slowly cooked alive. Can you guess who did NOT eat it?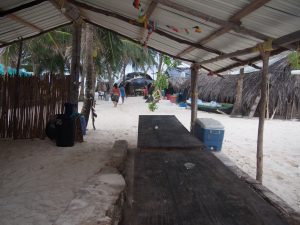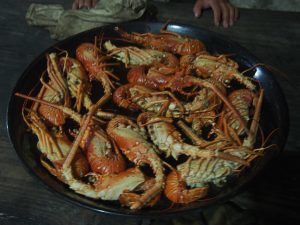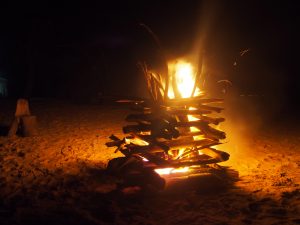 We spent two more days just going to different islands. All we did was swim, snorkel, read, eat and drink. To make you jealous, have a look at some more pictures 😉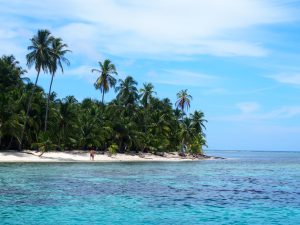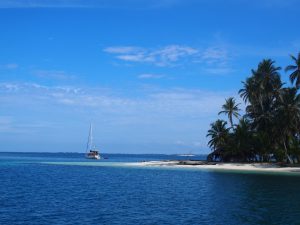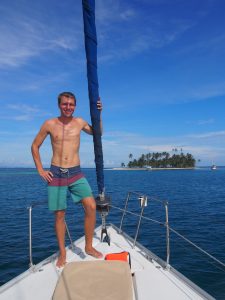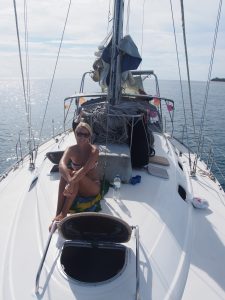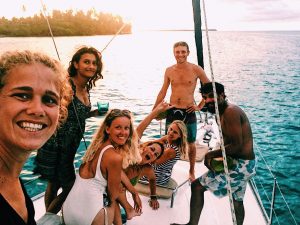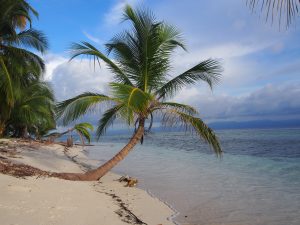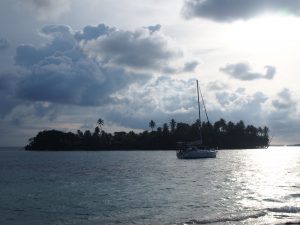 On the second day at San Blas we also enjoyed the most beautiful sunset. We had a coco loco (coconut with rum) in fresh coconuts which were bought at one of the islands.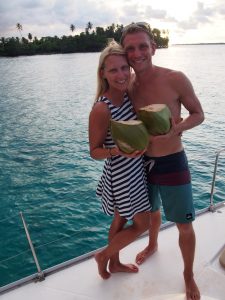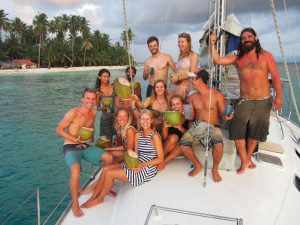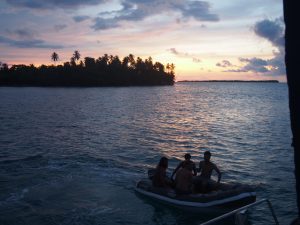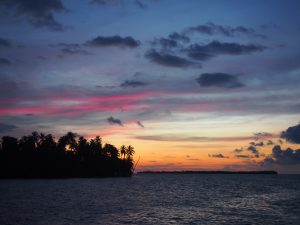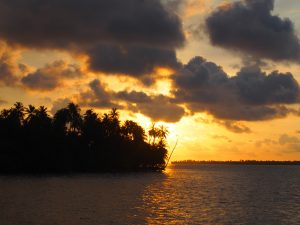 On our last day we went to one of the biggest islands. Due to a reef, the boats are very protected here. Due to that, there were many boats. We didn´t like it too much anymore, because it felt a bit "crowded".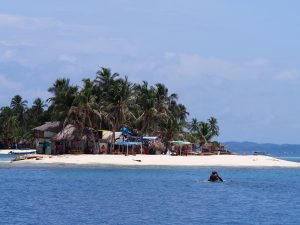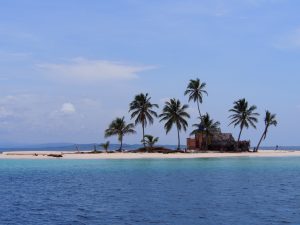 On the morning of day 6 we were picked up by a speedboat and had to say goodbye to Perla del Caribe. It was a 45 minutes ride to the mainland and another 2 hours in a jeep to Panama city. Arriving to this huge and modern city felt a bit weird after 5 Robinson Crusoe – days.
The Kuna people
The San Blas Islands are home to the Kuna, an indigenous tribe. All islands are owned by a family and when tourists get to the islands, they have to pay a fee. Kuna law prohibits non-Kunas to own property in the districts, so all accomodations on the islands are owned and ruled by the Kuna´s. They also cooked our dinner when we ate at the islands.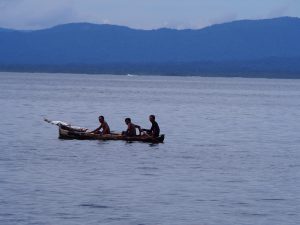 The Kuna women are easily recognized by their colorful clothes. They still wear the traditional clothes of their ancestors, while men adapted mainly to western clothes. Unfortunately we were not allowed to take a picture. Until the 1990´s, the Kuna´s currency was the coconut – sounds reasonable as it is the only produce on the islands (30 million in a good year). Coconuts are still exported to Colombia and traded for goods. Nowadays, tourism became an important source of income as well. We also heard rumors that a huge part of the Colombian drug trade passes the islands.
Fun fact: Only women are able to inherit an island from their ancestors. If a family doesn´t have a daughter, they turn their sons into some kind of ladyboys. Then the island can stay within the family.
Things we didn´t like
It wasn´t only sunshine in paradise. There was actually a lot of plastic in the water and on the islands. It was just terrible to see and Jens jumped in a few times to pick up a bottle.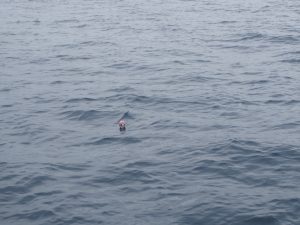 Furthermore, all the toilet waste was flushed into the ocean. First of all it is disgusting, because you jump of the boat for a swim as well. Secondly, we believe that the ocean should just not be used as a toilet. Imagine all the boats that might be here during high season. Who wants to swim here?
The crew also threw all the organic waste into the ocean. Yes, it is organic. But still it looks terrible, it is disgusting to swim in egg shells and again, imagine a lot of boats doing this at the same time.
From an ecological point of view we wouldn´t do this trip again.