We immediately fell in love with the romantic charme of Cartagena´s colourful colonial center. Sadly, there have been some bad experiences which impacted our time here negatively.
First of all, we would like to take some time to talk about the Caribbean Coast in general. We flew in to Santa Marta from Medellin, went to Ciudad Perdida, Palomino, Cartagena and Islas Rosario. As soon as we got of the plane we noticed one major difference to the rest of the country – heat and humidity. If you ever come here, book a hotel with air conditioning and a pool 😉 The second difference is the people at the coast. You suddenly get the Caribbean vibe that you expect. Everything seems to be more colourful, people seem happier, life is easier in the sun. Unfortunately the impact of tourism is much bigger than anywhere else in the country. Due to that, everything is more expensive, you can´t walk  very far without people trying to sell you something and sadly people are often not that friendly. We heard a lot of people calling us gringo, and it sounded like an insult.
However, our experience here was still great. When we arrived to Cartagena we immediately loved it. There aren´t too many sights to visit, but you can wander around the colourful streets of the old town for hours, enjoy some nice treats like good Colombian coffee or chocolate, and watch the sun set with a cool beer on the city wall.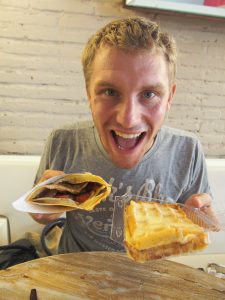 And that is what we did for almost five days 😉 After Ciudad Perdida we got kind of lazy, so we decided not to go anywhere else.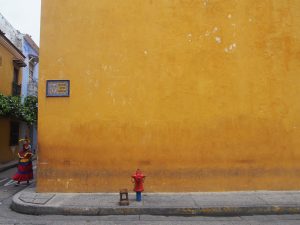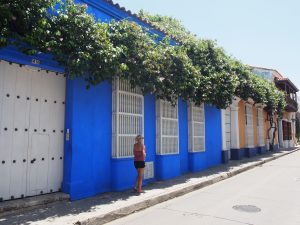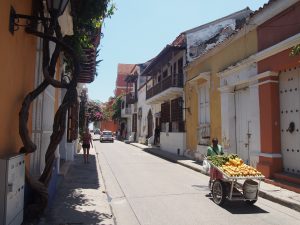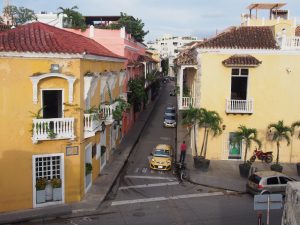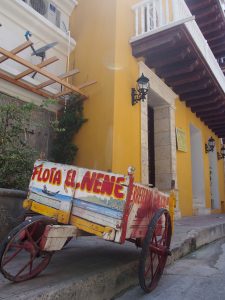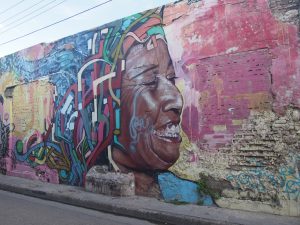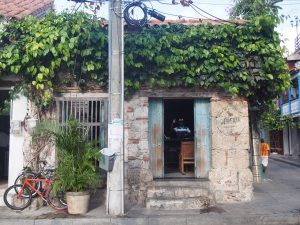 Our favorite spot was the city wall, from where you get beautiful sunsets and views over the city.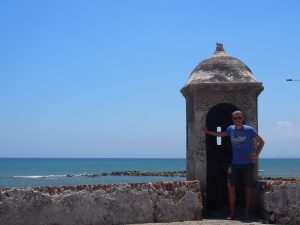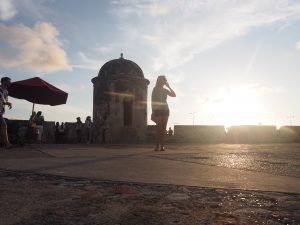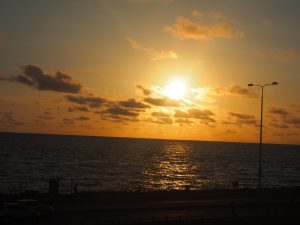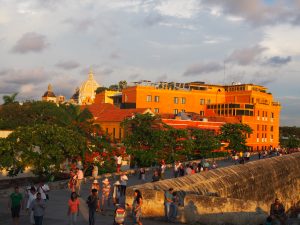 The only real sight we visited was the Castillo San Felipe de Barajas. It is a fortress located on a hill, overlooking both sea and land to protect the city. Constructions began in 1537 during the colonial era. Today, it provides nice city views and it is interesting to wander the narrow tunnels.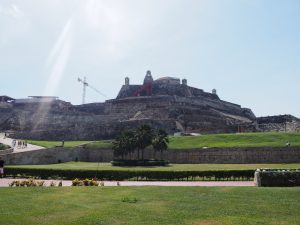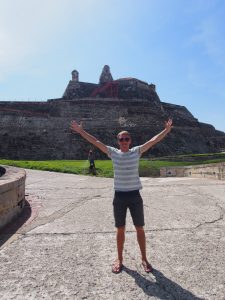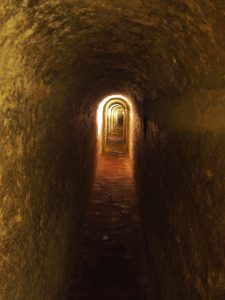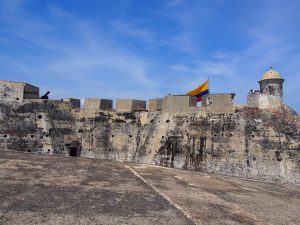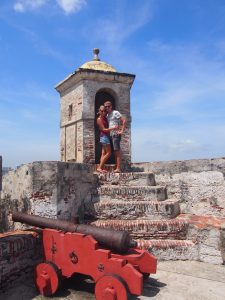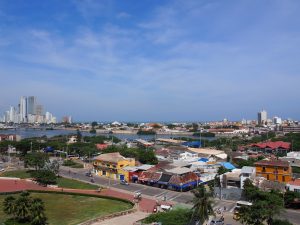 While we were here we celebrated our 9 months travel anniversary. Can you imagine it has been that long already? For us it feels like time went by much too fast. On the other hand, we have experienced so many things and have made so many incredible memories. We will talk about this for the rest of our lives. We celebrated the day with a sunset on the wall (of course), a really nice dinner and a cocktail.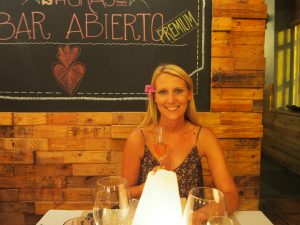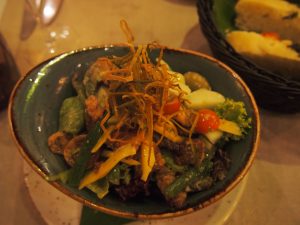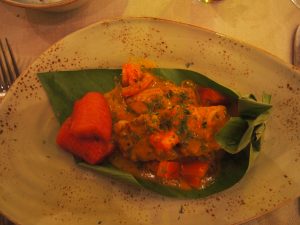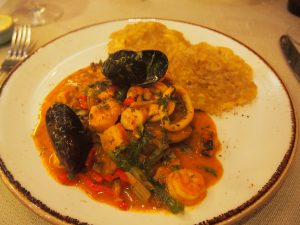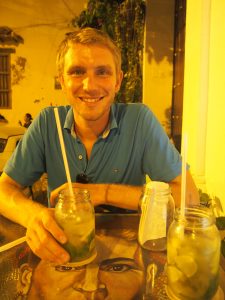 We also went on a day trip to the Rosario Islands, searching for the perfect beach. And we found it! Unfortunately all these beaches are totally overcrowded and full of garbage and people. When will people ever learn to conserve these paradises? Snorkeling wasn´t good because most corals were dead – maybe because the guide stepped on them all the time?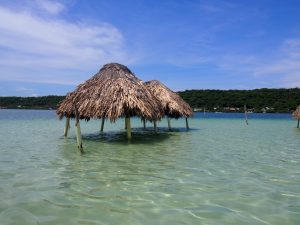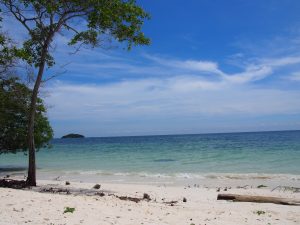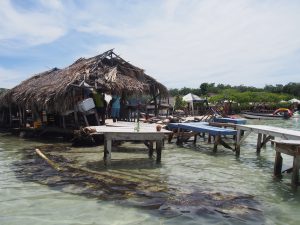 The downside of our time in Cartagena? The hostel we booked had bed bugs. We were lucky to notice before we went to bed, so they moved us to another place at 11:30 at night. The room was actually much better and bigger with its own bathroom. At first we were happy. We were out all of the next day. On the second morning we noticed that $40 and 100.000 Pesos ($30) were missing from our wallets! This time we were 100% sure it was taken from the hotel staff. The same happened in another room. We called the police, and the hotel told us a lot of lies, like they had only one key, which was definitely not true (we saw the second key). Of course we felt very unsafe now at this place and never wanted to leave our stuff. Moving to another place would have been like gambling – what´s next after bed bugs and stealing? So we stayed. After having lost over $100 in Colombia in the same stupid way, we wonder if these people understand which kind of impression they leave for their country. Our overall experience in Colombia was great, we loved its people and we always felt safe – except for the hostels, the place that is supposed to be our temporary home.