Happy new year to all our friends! We hope you have spent some great holidays with your families and friends!
Spending christmas away from home is strange. We absolutely love christmas markets, "Glühwein" and spending time with friends and family. So this is the time of the trip to feel a little homesick. Spending christmas at the beach is even stranger. It is like christmas isn´t happening at all. In Thailand, most people are Buddists or Muslims, so generally christmas isn´t celebrated at all.  In touristic areas however, christmas trees and decoration are set up everywhere, it just looks kind of strange at the beach right next to a palm tree. Despite all these new impressions during christmas season, we managed to have very special days for both christmas and new year´s eve.
Christmas in Khao Lak
We arrived in Khao Lak on the 22nd to meet Sandra´s godmother Ulli, her husband Peter, her daughter Eva and Eva´s boyfriend Max. They are spending their holidays in Thailand and it was very important for Sandra to meet them. We traditionally celebrate christmas together with a breakfast on the 24th every year, so having them here was a bit like being home.
Khao Lak wasn´t our favourite place in Thailand, it was just too touristic. But the beach was really nice and we had a very nice beachfront bungalow for christmas. The 23rd was Peter´s birthday, so we went out for a special dinner at the beach. After that we had some drinks on our terrace and spent a great evening. On christmas day, we had our traditional christmas breakfast – at the beach! Of course the rest of our families was missing, but they also met for breakfast back home and we joined them via Skype. We spent the day at the beach, where Ulli, Eva and Sandra treated themselves with a Thai massage while the guys had some beers at the bar.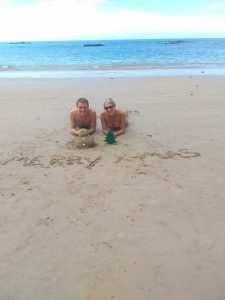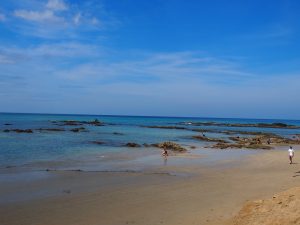 For dinner we had checked out a nice beachfront restaurant before, but when we got there it offered a special christmas buffett including Thai boxing and dances. We decided not to spent that much money on a dinner and went to a place in town. It didn´t look great from outside, but they served surprisingly good food and were so friendly, that we felt very welcome. The Thai kids were wearing christmas dresses and gave everyone their homemade dessert (oreo cookies with cereals and cream – a bit strange, but it was cute). That is where this funny picture was made: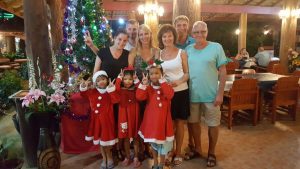 After dinner we went on for some cocktails and then finished the night with a bottle of wine at the beach. Even though it didn´t feel like christmas at home, it was a special night for everyone.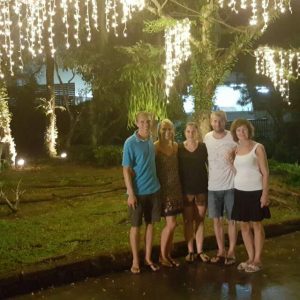 Khao Sok National Park
On December 25th we moved on to Khao Sok National Park. Travelling in a group of six people was nice for a while because we didn´t have to organize everything ourselves 😉 Ulli organized a private transfer from our hotel, so we arrived at Khao Sok just one our later. We easily found a place to stay – one of our cheapest in Thailand! Nung House in Khao Sok had nice little bungalows in a quiet location in the nature, and they served really good food at a great price. We generally noticed that prices decrease a lot once you leave the islands and beaches.
We booked a full day hike through the national park for the next day and spent a lazy day discovering our surroundings.
The next morning we got picked up by our guide Chok at 8:30 in the morning and started our hike in the national park.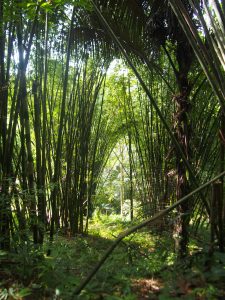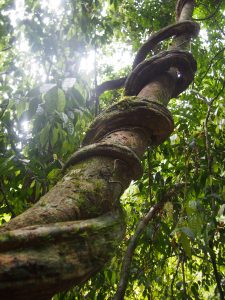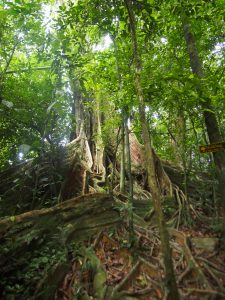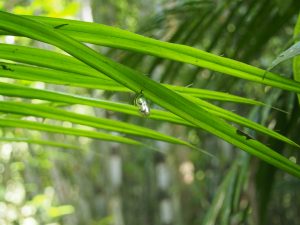 This was the most interesting hike we have ever been on. We learned which plants to eat in the jungle and where to get water from (for example out of bamboo trees).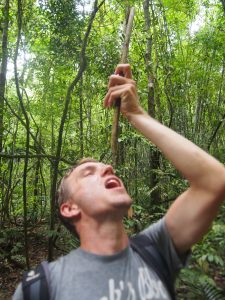 We had lunch wrapped in banana leafs and Chok made us coffee in the jungle. He filled bamboo with water and heated it over a fire. He then made cups and spoons out of bamboo which we took home after the day.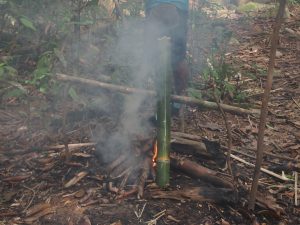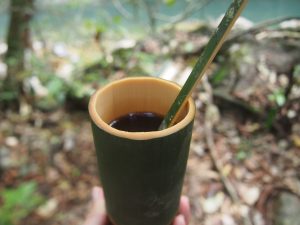 We returned tired but happy after an 8 hour hike.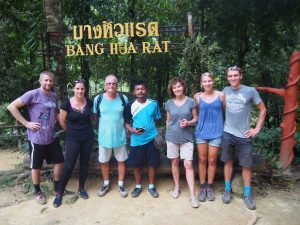 The next morning it was time to say goodbye to Ulli, Peter, Eva and Max as they moved on to Ko Lanta while we left for Ranong.