Ranong
Ranong is a city very close to the border to Myanmar. Not many people stay here. The city is mainly used to get to the islands around or for visa runs to Myanmar. We decided to stay for 2 nights just because we had booked an acoomodation at Ko Phayam for the 29th and did not want to arrive earlier. What a great decision! Ranong itself is not a beautiful city at all. But the most important thing is there isn´t much tourism, so it is a great place to get to know the real Thailand. People do not speak much English and have an even bigger smile on their face than anywhere else, and the food is real local Thai food, cheap and delicious. The influence of Myanmar is big here which you notice especially in food.
Besides good food and nice people Ranong is famous for its hot springs and waterfalls in the surroundings. So we rented a scooter and tried to explore this on our own. Unfortunately the weather was bad, cold, windy and rainy almost all day. We made it to Ngao Waterfall National Park 8km South of Rangon. Somehow we didn´t find the waterfall but only the hot springs. The water from the hot spring was so hot that it was used to boil eggs.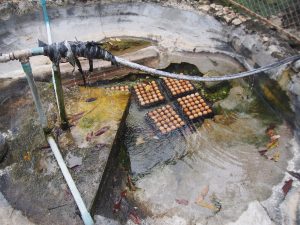 It takes around 18 hours for them to be ready. At the hot springs there were a lot of Thai people, bathing and having picnic. We were the only westerners and only then noticed one big mistake – Sandra didn´t bring any clothes for swimming except her bikini. All Thai women were wearing shorts and shirts in the water. So only Jens was able to really enjoy the hot springs.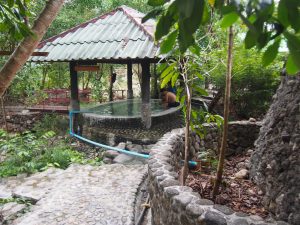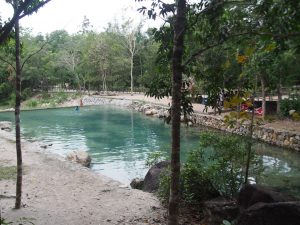 After that we tried to drive to another waterfall north of Rangon, but it started raining a lot so we returned. Luckily we found another hot spring in town – Rakswarin Hot Spring. These are a public place without entrance fee and they were great. First of all they had a hot floor where people were just sleeping for a while or working out.
The perfect spot to hang out on a rainy day! After that Sandra decided to just hop in the water with her t-shirt on, and we both enjoyed the 40° hot water.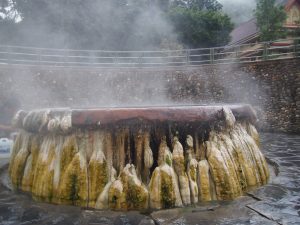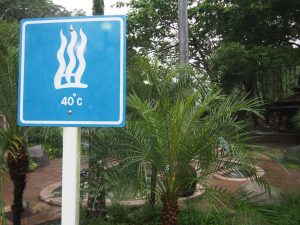 Ko Phayam
Finally we found the perfect island for us in Thailand! Ko Phayam is a laid back place, with perfect beaches (the finest sand ever and a perfect turquiose water). There are no streets and hence no cars at the island. The only way to get around is by bike or scooter.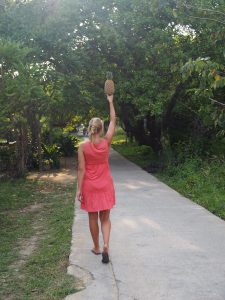 It has become a very touristic place over the last few years, but it kept a very laid back hippie vibe. The only thing that was a bit annoying was that the island was full of Germans – it felt like a vacation in Mallorca! How does everybody know about this place but nobody recommended it to us?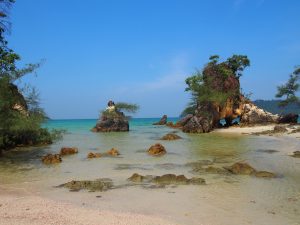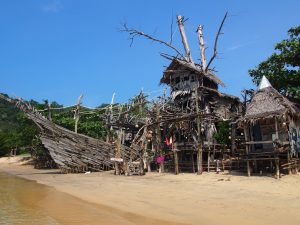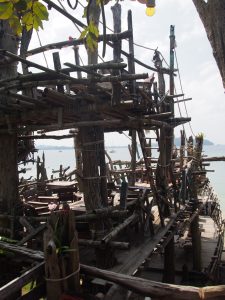 For us it was the perfect spot for new year´s eve, because it was quiet but at the same time busy enough for a nice party on the 31st. The night before new year´s eve we went to Irie Island Bar which has open mic jamming sessions twice a week. Don´t worry, we didn´t start singing! But it was great to watch other people there. A guy we met at our bungalow was singing there and he was very nervous before. On the 31st, we had dinner with him and his girlfriend as well as some other people at the beach. We then went to a party right at the beach as well. Spending new year´s eve at the beach is very special. Not worrying about the weather is the best, because spending the night freezing in the cold has always been annyoing. There was a small firework at 12 o´clock and almost everyone launched a "Khom Loy", the famous flying lanterns. Even though we know how bad they are for the environment, we couldn´t resist and got one as well which we launched together with our group of the night.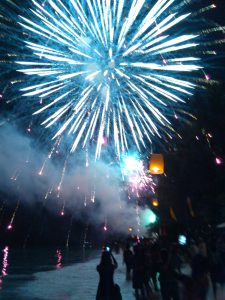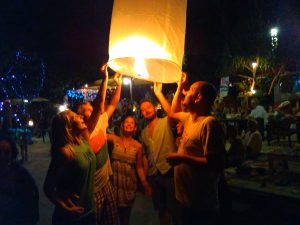 It was the perfect night which we started without any expectations. As you can imagine we were a little hangover the next day, so we spent it at the beach. The weather was clouded which was perfect for the day after the party.
We spent some lazy days at Ko Phayam, but now we are ready for some cities again – we return to Bangkok for a few days, then we are off to Singapur. And here our time in Asia will end – new year, new continent: Australia, here we come!