As we said before we are a bit tired of bad hotels and moving on every second day. So for Chiang Mai we booked a nice hotel for five nights.
Thanks to Sandra´s colleagues we had a nice hotel voucher we could use to get some more comfort and especially a pool 🙂  We had a flight from Yangon via Bangkok to Chiang Mai and arrived around 3pm. We checked in at the hotel and tried out the pool first – this was really nice! The hotel was a bit further outside the city. At night we walked to the old town of Chiang Mai and decided to get a motorbike for our time here to be more flexible.
Before we came here, we heard so many people talking about Chiang Mai and everybody loved it, so we had high expectations. When we arrived, we were a bit disappointed at first. First of all, there were just so many tourists! Coming from laid-back Myanmar, this was just too much. We arrived at the really touristic Night Bazar where they sell nothing but souvenirs and then we walked through one street which was full of bars with fat old western men and young Thai women. That night, we really wondered why everybody loves this city so much. Of course the food was amazing, especially at Talat Pratu Chiang Mai night market. We also had the first Thai massage right away. But apart from that we didn´t like it too much. It took a few days to really understand this city. It is very relaxed, got some really nice temples and especially the night markets are worth a visit.
We had one big problem during our stay here: Our pool was just so nice and we were so lazy that we just couldn´t get up and do much! The first day we slept long, had a nice breakfast and spent a few hours relaxing at the pool.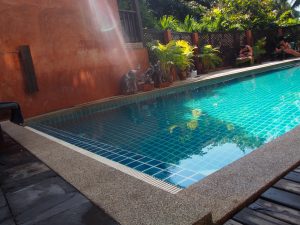 We also had to do some planning and organization for the next days and weeks, so the day passed too quickly. At night, we went to the night market again and had some more delicious food – that´s it. For the next day we had booked the amazing cooking class, which you can read about in http://aroundtheworld-sj.de/thai-cooking/.
For the next day, we had planned to finally get to know the city a little, but again we spent a lot of time at the pool. We got up in the afternoon and finally made it to town. And we must admit – we are glad we did it. Even though looking at more temples didn´t sound very interesting, the Thai temples are totally different to the one´s in Myanmar. They are much more colourful and each temple is different.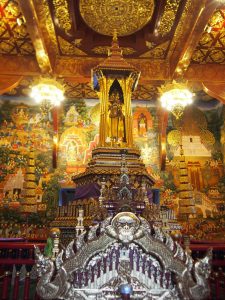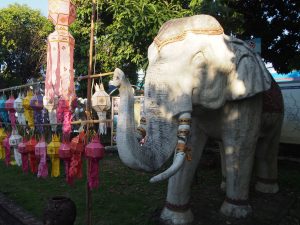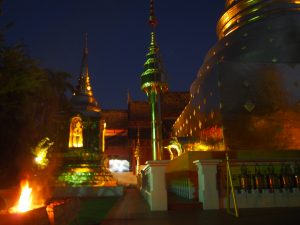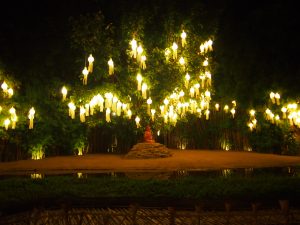 After a two hours city tour we had to get a massage 😉 We went to a center where blind people give Thai massages and it was so far the best massage we got. For dinner we went to the Saturday Walking Market, which is a huge night market where mainly souvenirs are sold, but there are also a few food stalls. The things sold at the market are really nice and it was especially hard for us not to buy anything – we can´t carry it!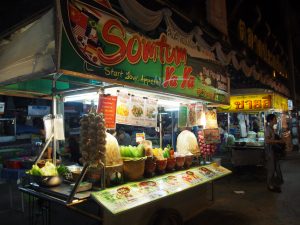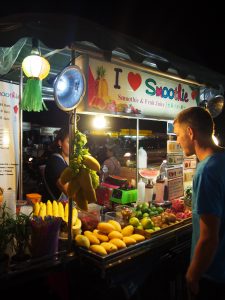 For our last day in Chiang Mai we had planned to drive to Doi Suthep Pui Nationalpark and visit some waterfalls there. And guess what, we really got up in time and left the hotel early! But unfortunately we had some problems with our navigation and got to a totally wrong place. We were in the National Park but just at the other end and it was at least a one hour drive to the waterfalls. So we decided to just drive around on this side of the park and then return. It is a really beautiful area and Jens especially enjoyed riding the motorbike in the mountains and on the curvy roads. Leaving the city behind and enjoying the beautiful surroundings is really worth a trip! At night we went to the Sunday night market. It is similar to the Saturday market, but more relaxed and in a nicer street. And again, Sandra had to close her eyes so that she wouldn´t see all the nice things to buy here – handbags, shoes, dresses and many more.
So to summarize our time in Chiang Mai – swim, eat, massages and a little bit of sightseeing 😉 We are now full of energy again for our trip to Laos!