Since we have been to Thailand – both in Bangkok and in Chiang Mai – all we did was eat. The food here is amazing and we especially love all the nightmarkets with their street food. So we knew we had to do a cooking class, to learn more about the flavors and spices of Thai cuisine.
We are spending a few relaxing days in Chiang Mai right now, so we decided it would be the perfect time for the cooking class. There are quite a few choices here as well. We decided to go for Asia Scenic – and it was the best choice!
We were picked up at our hotel and went to a local market first. We learned about different types of rice (sticky rice, white rice, brown rice,…), local specialties like sticky rice in bamboo as well as herbs and vegetables. From here we went to the farm of Asia Scenic. They have a beautiful farm just outside Chiang Mai with cooking spaces, hammocks and places to relax. They grow their own vegetables and rice, so we started with a tour through the garden to learn more about herbs like Thai basil, tumeric, different kinds of ginger and chili and many more.
When we finished our tour through the farm we started the day with a welcome snack – Meang Kum. You take a lettuce leaf and put a little bit of ginger, chilli, shallots, sliced lime with skin, roasted peanuts, toasted coconut meat and palm sugar syrup inside. Than you fold it and eat it in one piece. You get all kind of tastes in this small snack – sweet, sour and spicy.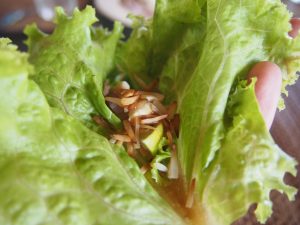 We were in a group of 10 people and each one of us had their own wok. Each one of us decided individually on the dishes we wanted to cook. We cooked dishes from 7 categories:
stir fried
salad
soup
curry paste
curry
spring rolls
dessert
Of course we also got to eat everything we cooked 🙂 Our guide was so lovely and it was a lot of fun to work with her as well as our group. Her name was Gayray. No, I am not kidding. Please check out our delicious Thai dishes:
We started with the "stir fried" dishes. These are made with fish and oyster sauce (for the veggie option these are replaced by soy and mushroom sauce). We learned that Pad Thai is actually more a touristic dish than a local one. Thai people rather eat stir fried hot basil. So we changed our plans and decided to cook the more local dishes.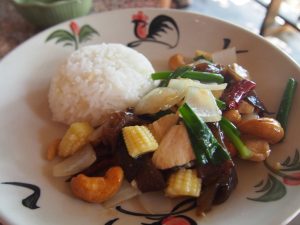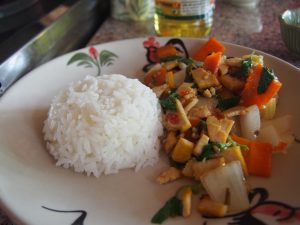 Next we tried out the salads. We had to do the Papaya Salad – we had one every day in Chiang Mai at the night market.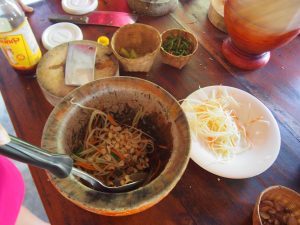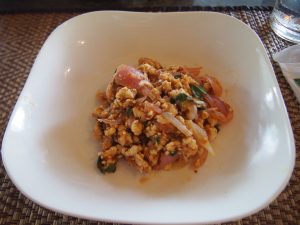 With the salad we also had the spring rolls. We must admit we prefer the Vietnamese ones. The Thai spring roll is made with wheat paper instead of rice paper and this is not as tasty. The Vietnamese ones also use more spices for the vegetables.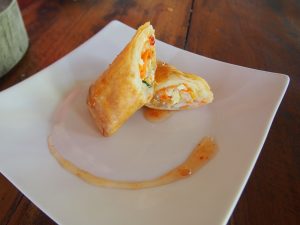 After a break we continued with the curry paste and curry as well as the soup section. Making our own curry paste was one of the most interesting parts of the day. We decided to do a green curry (the most spicy one) and a panang curry paste (red curry paste with peanuts).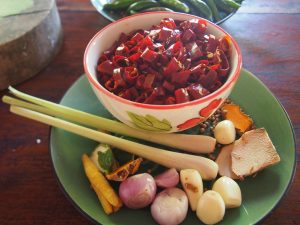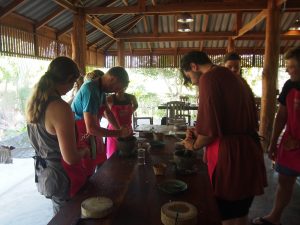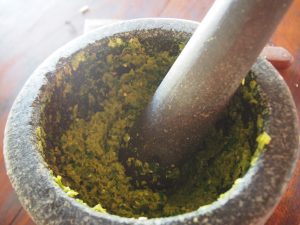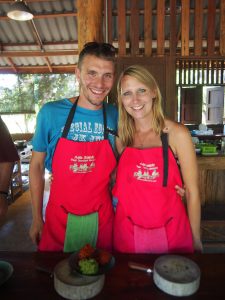 Of course we used our homemade curry paste to cook the curry as well: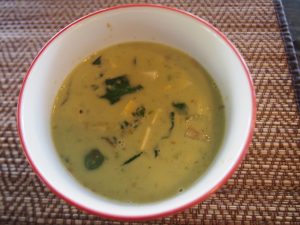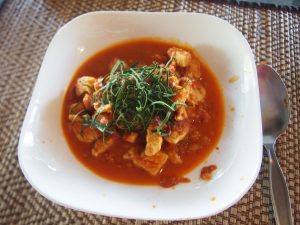 Our last dish was a Thai soup: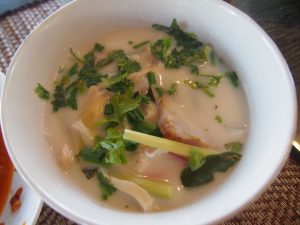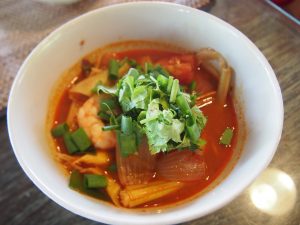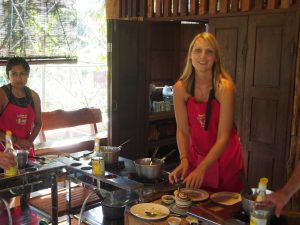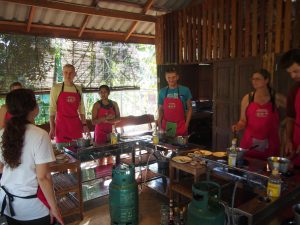 When we were already full and thought we couldn´t eat more we got to the best part: dessert 🙂 We made sticky rice with coconut milk and mango. One part of the rice was colored with the juice of a local flower from the garden.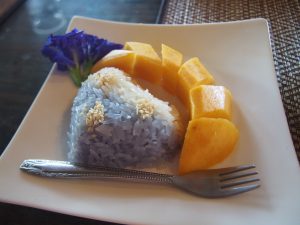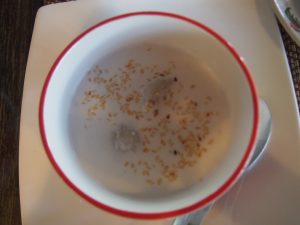 Even though we knew this before, we learned that most Thai dishes are quite healthy and low fat (ok, forget about the fried spring rolls). It was great to learn about all the local ingredients and we hope to find them in Asian supermarkets back home!
In the end we got the best cooking book, created with a lot of pictures, details and love. This is going to be a great help when we cook the dishes at home. If you ever make it to Chiang Mai try the cooking class yourself, we highly recommend it!
Our favorites:
Panang Curry
Papaya Salad
Sticky rice with mango