La Paz is located at an altitude of about 3.600 meter (depending where you are). It is based in a valley surrounded by the high mountains of the Altiplano. It is also the seat of the Bolivian government.
We spent 4 nights here, went to the Death Road and Coroico, and returned for another two days. We have done a lot and there are also some stories to tell.
The Killer-Mosquito
It all started with the morning we woke up in Cochabamba and got ready for a 9 hour bus journey. We were eaten by mosquitos the day before. When Jens woke up, one of his bites got huge and there was a red line on his arm up to his shoulder.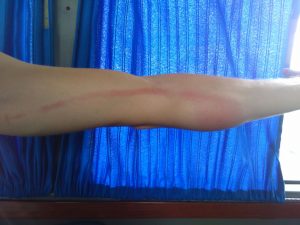 In the beginning we didn´t think about it too much. But when we got on the bus, we sent a picture to Jens´brother. He told us that he should immediately take antibiotics and this could be a serious infection. If he had a high temperature, we should go to the hospital as soon as possible. But we were stuck on a bus. It took a while to convince the driver that we needed our bags right now to take out our medicine. Luckily we carried some antibiotics. As soon as we got to La Paz we went to a hospital. We thought "Clinica Alemana" sounded quite good. Well… They took his temperature and blood pressure and said "Oh, it´s just an allergic reaction, just take a few pills and you´ll be fine". We contacted Jens brother again. He said that was definitely wrong and he should continue with the antibiotics. It´s just great when you can trust the local doctors 😉 Jens was lucky, the infection improved day by day, and we were really relieved…
Because of this, we had to take it slow in La Paz. However, we have seen a lot and we loved the city.
Los teleféricos
Walking in La Paz can be exhausting. At an altitude of 3.600meter you sometimes breath heavily after a small hill. And there are a lot of ups and downs in this city. So the best thing in the city are its cable cars 🙂 There are four different lines taking you to Zona Sur or to El Alto and further. We spent half a day just sitting in all of these cable cars and enjoying the views of the city. Unfortunately it was always a bit cloudy, so we could never see the surrounding mountains. But still, it was a lot of fun and the views were great!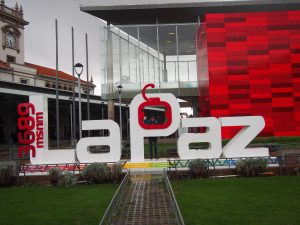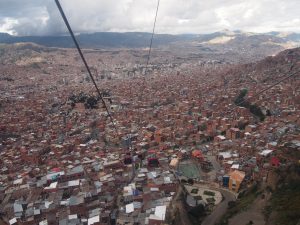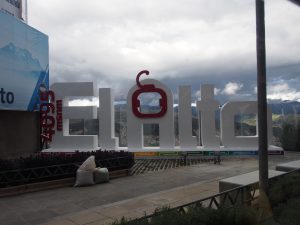 Valle de la Luna
The green and yellow cable cars take you to Zona Sur, from where it isn´t far to Valle de la Luna. Zona Sur is the richer part of the city, and you immediately notice that by the big houses, cars and the many Europeans. Valle de la Luna is a small canyon with nice views. It is an easy half day trip.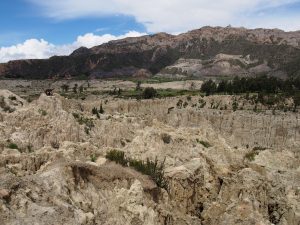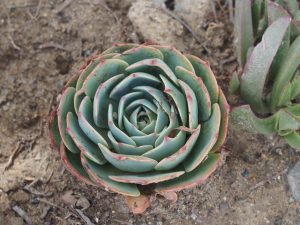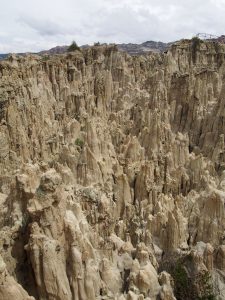 It was also warmer here because Zona Sur is at 3.200 meter only. We imagine now that getting from 3.200m to 3.600 was so exhausting in Nepal – here you just take a cable car and get there in 10 minutes!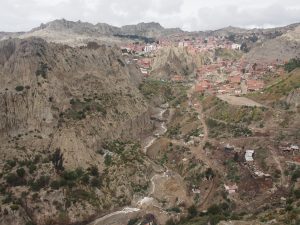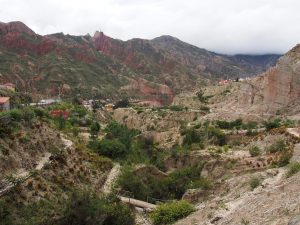 Dia del Mar – March 23rd
In 1879 Bolivia lost about 400km of its coast to Chile in a war. So Bolivia now does not have any access to the sea. Due to this their shipping costs are three times as high as for their neighbour countries. Every 23rd of March they commemorate this loss with celebrations and a huge parade at Plaza Alvaroa in La Paz. At the moment, Bolivia´s president Evo Morales is fighting at the International Court of Justice in The Hague to recover the access to the sea.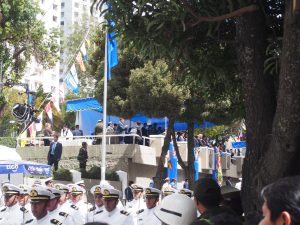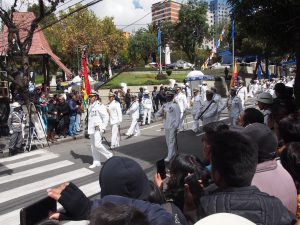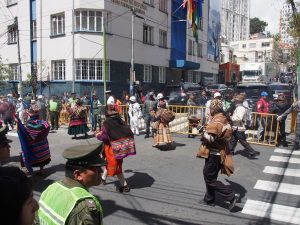 For the Bolivians this seems to be a sensible topic and we saw parades in Cochabamba and La Paz. Everyone we talked to told us that it was really important for them to recover the access to the sea.
Plaza San Francisco and around
Around Plaza San Francisco are the main markets and it is also the main tourist area.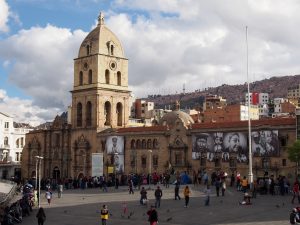 We went to the coca museum here. It explains every aspect of the plant – the good and bad influences and the local traditions. We tried the original Coca Cola recipe from 1885 here. It still contained cocaine!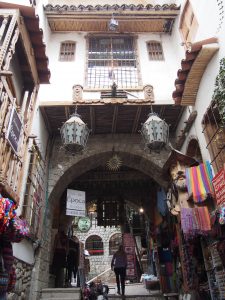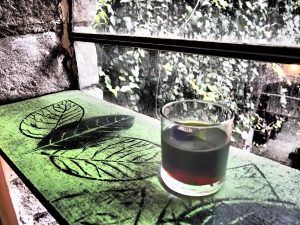 Bolivia vs. Argentina – Futbol Latino
When we heard that there would be a football game in La Paz right when we were there, we had to go! Four days in advance the tickets were sold at the stadion. So we got in line and waited three hours for our tickets. The system is really funny: They have a map of the stadion, and when you decide for your seats, they just cross out these seats on the map. That means it is sold! So tickets can only be sold in one place by one person. Of course this takes forever!
On the day of the game it rained heavily. We got to the stadion early and even saw the Bolivian team arrive. We just didn´t know any of the players. The stadion was almost full but we were a little disappointed by the atmosphere. We expected a lot of singing and more, but the only one´s in a good mood seemed to be the Argentinian fans. Bolivia won 2:0 – which is a miracle – but still nobody really celebrated. Sandra once went to see Boca Juniors in Buenos Aires and this was uncomparable to the Bolivian fans…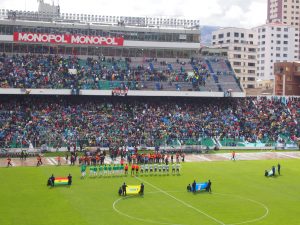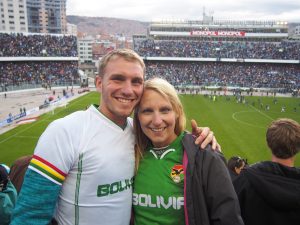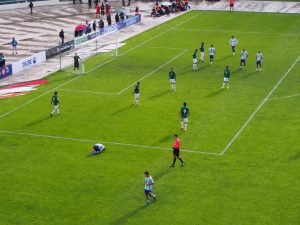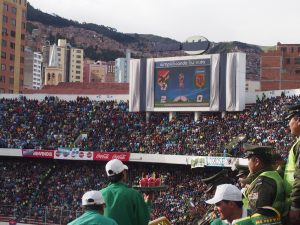 Markets
You can get everything in La Paz and it is all sold in the streets. Mercado Negro is one of the most famous markets. We went in just for a bit and saw a lot of clothes, shoes and more. Mercado Lanza is good for food, but much more than this is sold. Whatever you need, you will find it here and it is cheap. It was the best place for our phone to die, because it was easy to get a new one.
The witches market is especially strange. A lot of herbs and dead little lamas are sold here. We haven´t found out what they are used for.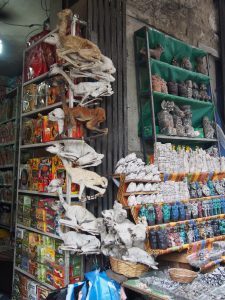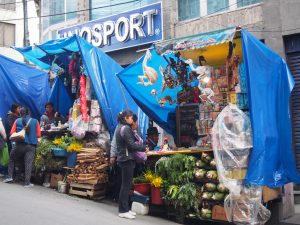 San Pedro prison & Crazy Dave
Right in the center of La Paz is San Pedro prison. This is not a normal prison. Around 3.000 inmates live here. There are no guards, it is guarded only by the inmates. They live in here with their families because very often the wives do not have any income and can´t afford living in the "real world". So every morning you see children leaving the prison to go to school. All inmates have to pay for their own cells by working inside the prison. There are market stalls inside and the place is like a city within the city. It is believed that some of the purest cocaine is produced and sold in here. A few years ago tourists were able to go on a tour through the prison with a guide. This was quite dangerous having in mind that the place is ruled by criminals and nobody guaranteed that you would get out. These tours are now forbidden because it became known that many tourists got in their to buy cheap cocaine.
Crazy Dave is an American who was sentenced for trying to smuggle drugs over the border. He got out after 14 years and was giving guided tours through the prison for a while. Since this is forbidden, he started to give talks just outside the prison to tourists. He is quite a crazy guy and his stories aren´t easy to follow. He is homeless and still loves his cocaine – and he never gets tired of saying so. By the end of his talk he even gave recommendations on where to buy the best cocaine, at which price and how to consume it.