Day 6 Dovan to M.B.C
We made it to Machhapuchhre Base Camp at 3.700m!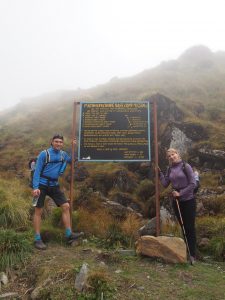 Today we wanted to leave Dovan early at 7am, but Raman was too slow so it was 7:30 again until we left. We knew that the day would be hard because we would have to climb 1.100m in altitude. The first part was to Himalaya at 2.900m, which is not even a village anymore but just one guesthouse. We made it up quickly in 1 ½ hours, even though the climb was steep up for most parts.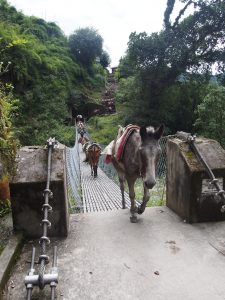 We had a short rest and moved on to Deuralia at 3.200m. Again it took only 1 ½ hours. We were now above the trees and the sun was out, so it got really hot. The view on Machhapuchhre was amazing and it now really felt like we were finally high up in the mountain.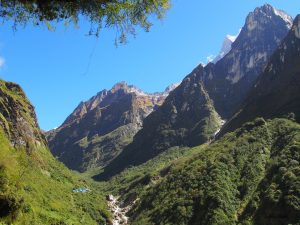 We had lunch in Deuralia and rested a little bit in the sun before we left for the final part of today´s trail to M.B.C and another 500 meter of altitude. This part got really hard, maybe it was because of the altitude, maybe lunch just made us tired. It was not too steep up, but every step was getting harder and harder. At least we were now in the middle of the clouds, so it was not as hot anymore. We made it to M.B.C after 2 hours and 15 minutes. At some point we didn´t think we would make it, especially because Sandra felt a little dizzy. There were some people that went all the way from Dovan to A.B.C, but we are really glad we didn´t do that. It would have been another 400m of altitude and we think it is better to acclimate a little longer if you haven´t done anything like this before.
We stayed at Fishtail Lodge with some other familiar faces from the trek. When we arrived it was really cloudy so we coudn´t see the mountain peaks. Usually the mornings are clear, so we hope for a good view tomorrow! Again we argued with our guide, because he wanted to have breakfast at 8am and leave to A.B.C quite late. We prefer to leave earlier because you never know for how long the sky is cloudless. In the end he agreed but it left us with a bad mood. Having a guide can be helpful, but it is really annoying that you can´t really do what you want. Raman is just too young for this trip, can´t really explain anything we see, and is unable to cope with a change of plans.
Day 7 M.B.C to A.B.C
We woke up early in the morning to a beautiful clear sky and could see the top of Machhapuchhre as well as Annapurna South.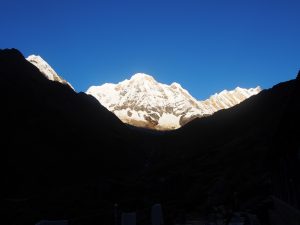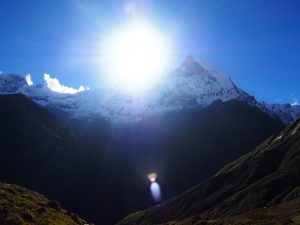 We left M.B.C after breakfast and slowly started ascending the final 400m in altitude to Annapurna Base Camp. The trail was again not too steep, but it gets more and more difficult to breath, so we stop a few times. The poor porters still have to carry peoples luggage all the way up here. We were wondering why they couldn´t leave some things at any of the guesthouses below?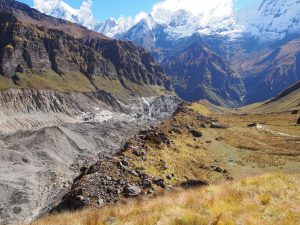 The view gets better and better with every step we get closer to the top. When we finally made it to 4.130m it is an incredible feeling and the views of the mountains are amazing. It was worth every day and every second of our ascend! We were the first to arrive to A.B.C this morning so we had this breathtaking panorama all for ourselves.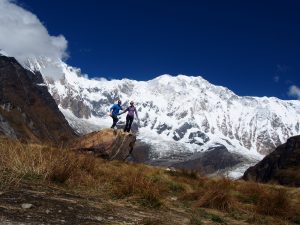 From up here we could finally see Annapurna I (8.091m), but also Baha Chuli (7.647m), Annapurna South (7.219m), Machhapuchhre (6.997m), Ghandarwa Chuli (6.248m). We really got a panoramic view of all these mountains and didn´t know what to look at first. Strangely Annapurna I doesn´t look like the highest mountain from this view. Have a look at the pictures and get an idea of what we saw: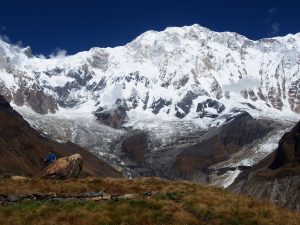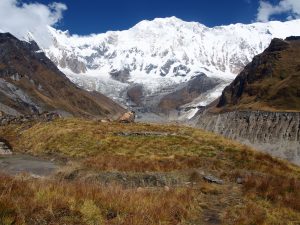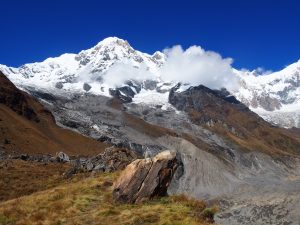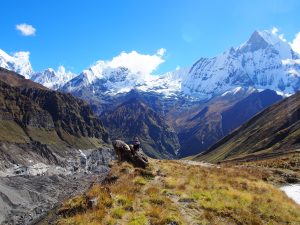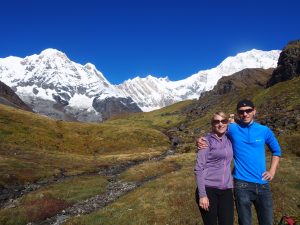 The weather stayed clear until noon so we sat outside in the sun and walked around a little bit to enjoy the panorama. Around lunch time altitude sickness kicked in and Sandra got a terrible headache. It stays like this all day, so we just drink a lot of water, rest and eat 😉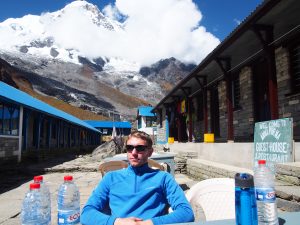 In the evening the sky cleared up again and we could see both the mountains and the stars. We couldn´t decide wether the mountains look more beautiful during the day or at night. There seemed to be a thunderstorm somewhere because the sky lightens up every few seconds.
We went to bed early (as every day) and set the alarm at 4:45am to watch the sunrise in the morning.
Day 8 A.B.C to Bamboo
At 3:45am it started raining!!! We were unlucky for the first time on this trip and couldn´t watch the sunrise at A.B.C. Luckily we had a very nice morning the day before, so we missed only the sunrise but still enjoyed the panorama for a few hours. When we left the sky cleared up a little and we had a nicer view again when we descended.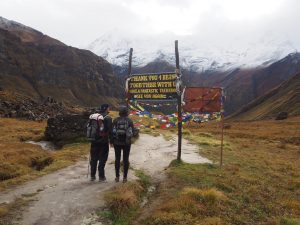 Today we went all the way from A.B.C at 4.130m down to Bamboo at 2.300m. Descending we noticed how many steps we went up the past two days and we can´t believe it. It was much easier to go down now and we wouldn´t want to switch with all the people we meet going up.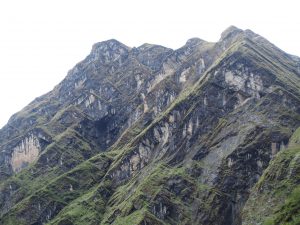 We had lunch in Himalaya and said goodbye to the American couples which we met every day during the last six days. Some nights we spent in the same guesthouses, so it almost felt like we travelled together. We always felt a little slow because we were going almost at the same speed as them, even though they were much older than us (sorry if you read this guys! and always remember the queen of "Hearts" 😉 ).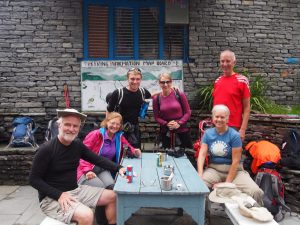 Down in Bamboo we stayed at Greenview Lodge where we had lunch three days ago.
Day 9 Bamboo to Jhinu Danda
Today was a horrible day! We left Bamboo early as always and made our way down through upper and lower Sinuwa down to the bridge, from where we had to go all the way up again to Chomrong. I (Sandra) hate this village! It is a hard climb in the heat and after all these days going up is just awful. In the end it is just your own mindset which makes it so hard, but it felt terrible. Up there we picked up the clothes we left behind a few days ago and had another best Dal Bhat in Nepal in the same place as a 5 days ago. It was a totally sunny day and in our back we could always see the top of Machapuchhre.
From Chomrong we made our way down (again! After all these ups and downs) to Jhinu Danda (1.780m). There we find the most beautiful guesthouse. It is more like a hotel with our own bathroom, a nice room and a nice sitting area outside. We rested a little and then went to the hot springs, which were right next to the river. It is the best feeling to relax in the hot water after all this effort of the last 9 days. It was so nice here in this village we could stay forever!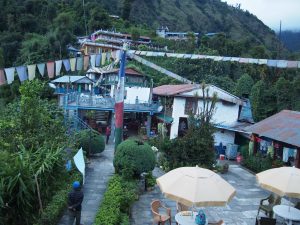 Day 10 Jhinu Danda to Birethanti
We are more and more tired and every time we have to climb up again is like hell. Today we had another six hours to go. The first three hours were up and down and along the river again.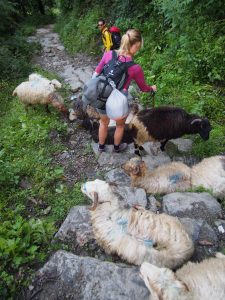 After almost three hours we left the trekking path and followed the street – yes there was really a street and there were cars!! We hadn´t seen that in 10 days! There was also the possibility to take a jeep back to Pokhara from there, but our plan was to keep walking, so we did! We walked all the way down to Birethanti (1.025m), which was almost were we started 10 days ago. We could have easily taken the bus back to Pokhara this day, but since we booked our hotel there from tomorrow we decided to spend one night in Birethanti. It is a village next to the river. It is not really beautiful, but it was nice to sit outside and watch the local life for a little while. It is also the starting and end point of most treks, so we watched all the other trekkers arrivig and leaving. When we arrived at our guesthouse we also knew that our trek was almost over and we had finally made it!
Day 11 Birethanti to Pokhara
Today was – short!  We walked 45 minutes from Birethanti to Nayapul, from where we took the local bus back to Pokhara. This really annoyed Raman again, he wanted us to pay for a taxi which is much faster and would take us directly to the hotel.
When we reached Pokhara it was just 10.30am and luckily our room was ready. Finally we could take of the dirty clothes and take a really nice and long shower. We will now relax for a few days in Pokhara before we move on. We are struggeling a little with all the noise and hectic of this place, after all these quiet days in the mountains. We will spent two nights at Butterfly Lodge before we go to a Yoga Retreat for two nights – another totally new experience.
About the Annapurna Sanctuary Trek in general:
It is supposed to be a medium level trek and we believe it is. However you can do it without much training, as we did as well. There are guesthouses and restaurant everywhere, which makes it quite comfortable. You get a private room in all guesthouses and there is hot water in the shower all the way up to M.B.C, you just need to pay for it. Just think about what you consume up there, including hot water, because everything needs to be carried up by donkeys or even by porters. Prices and menus are fixed, so you get the same food everywhere and prices only vary by altitude.
We find it important to mention that you can easily do this trek without a guide, even if you don´t have much experience. You will meet people on the way all the time, so even if you don´t know where to go or you are feeling bad, you will never be alone. Trekking without a guide also gives you more flexibility. If you decide to spend some more time somewhere or finish earlier, you can just do it. We have actually paid our guide for the last day where we didn´t need him anymore. You will also get much more in touch with the locals when you trek by yourself. A guide orders your meals, checks availability in the guesthouses and even fills up your water bottles! Some people might like this, we think it is totally unnecessary.
There are different routes to go. You could also do the whole trek in 8 days, but then you would miss the sunrise in Poon Hill, which is definitely worth it.
If you plan to do this trek yourself and need more information, please contact us!