Once in Nepal – the birthplace of Buddha (Siddartha Gautama, better known as Buddha, was born around 563 BC in Lumbini) – you can´t ignore the yoga and meditation classes.
So we decided that after our trek it would be a good time to join a yoga retreat. So we walk through Pokhara and check out several places. Up in A.B.C. we saw a sticker of Purna Yoga Retreat and as we check their website we decideto go there. Unfortunately our budget is low so we can only stay for 2 nights/1 day.
Purna Yoga Retreat it located on a hill in Pokhara with a beautiful view of Phewa Lake and Peace Pagoda. We climb up in the heat of the afternoon and enter a new world.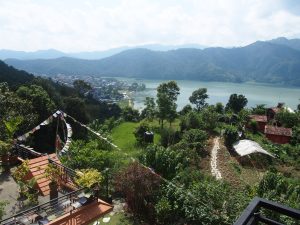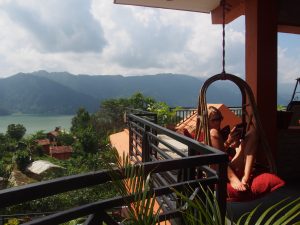 There are 10 rooms, so more or less 20 people can join. When we arrive, there is a big Russian group and three Germans. This is our schedule for the day:
6:00 – Wake up call
6:15 – Meditation
7:00 – Herbal Tea Time
7:30 – Yala Neti (yogic nasal cleaning)
8:00 – Morning Yoga
9:45 – Breakfast
11:00 – Wellness activities (we chose the mud bath)
12:30 – Sound bath (Sound immersion with gong, ancient singing bowls, bells and ocean drum)
13:00 – Yogic Lunch
16:00 – Herbal Tea Time
16:30 – Bhakti Yoga (Chanting of mantras and kirtan)
17:30 – Evening Yoga
18:30 – Yoga Nidra (guided relaxation and visualisation)
19:00 – Yogic Dinner
20:00 – Silent Meditation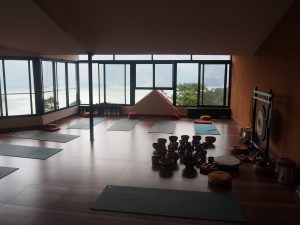 The yoga sessions are all very interesting and we learn a lot that we can apply in our daily life. We look forward to more yoga classes in other places and countries. We also learned the basics of meditation, which can also easily be practised by ourselves. Surprisingly it was really good and we (especially Sandra) will try to practise over the next months.
Bhakti Yoga was a bit strange, that is the only thing we wouldn´t need to do again. All the singing didn´t really make sense without a proper explanation. The best part of the retreat was their really delicious food! Everything, including the bread, is homemade, vegetarian and healthy. Alcohol is not allowed in the retreat. We believe that one or two weeks in the retreat would help to feel really healthy.
We would have loved to stay a little longer, to learn more things that we can practise in our daily lives, especially in the upcoming months. Purna Yoga Retreat can be highly recommended! If you are interested, check http://www.purnayoga.com.np/