We made it! It is unbelievable but we really trekked for almost 11 days and made it all the way up to Annapurna Base Camp at 4.130m!
This was the most exhausting and challenging, but also rewarding experience ever! The feeling when you finally made it up there, and you see the amazing panoramic view of the Himalaya, is just incredible.
This year is supposed to be about challenging ourselves and trying new things, and this was definitely a good start! It also helped to clear our minds because all you think about on the trek is walking, eating and sleeping.
If you are interested in hearing more about our trek, please keep on reading. We wrote a diary every day to keep it our daily feelings as authentic as possible. Sandra also gave some special insight on her worst days 😉
Day 1 Nayapul to Hille
At 8 am we took a taxi from Pokhara to Nayapul (1.070m) from where we started our trek.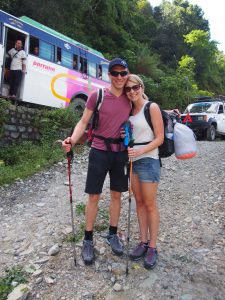 We went up to Hille at 1.430m. The trek took about 3 ½ hours. On the trek we passed small villages where we saw the local live in the mountains.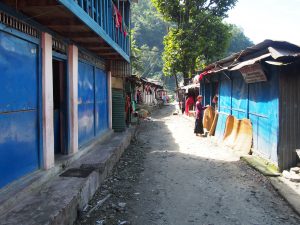 There were not too many people on the trek. But those we saw often trek with a porter. It is horrible to see how people easily walk up the mountain while some small Nepalese guys have to carry at least 2 huge backpacks! They carry up to 40kilo per person and it looks like that is almost their body weight! We can´t believe why people have to carry all their belongings on this trek.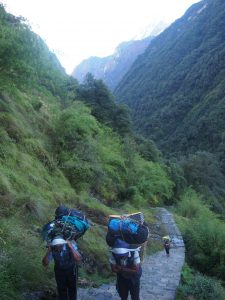 The scenery was green and beautiful as we walked alongside a river that comes from Annapurna. We will walk alongside this river until Annapurna Base Camp.
We reached our homestay Green View Guesthouse in Hille and are really happy and surprised that they have a western toilet and a hot shower. Apart from that it is a very basic lodge with nice views and friendly owners. We spent the whole afternoon and evening resting there. We were the only guests in the place until suddenly two Hungarian guys showed up. They were really rude and annoying and tried all evening to convince the girls from the homestay to give them a massage – disgusting!
Sandra:
It is hot! We are climbing up and down the hill in the sun and it is really hot! The trek itself would be fine, but with the backpacks it is  a nightmare! I would love to just throw it away and keep going without anything. Before we left I said, if I can´t carry my stuff by myself, I can´t go up the mountain – I really regret this! After 3 hours I am really happy to reach our homestay for the night and if you would have asked me the minute we arrived, I would have definitely denied to go one step further.
Two hours later, after having lunch, a rest and a shower we are wondering why we didn´t trek a little further. The trek for the next day will be up to an altitude of almost 2.900 meters and this sounds like another real nightmare! Why are we doing this?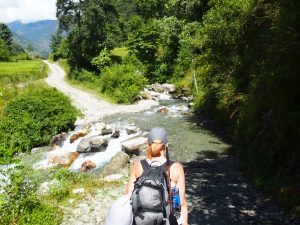 Day 2 Hille to Ghorepani
In the night it started to rain heavily, it sounded like a waterfall coming down on us and for some time we thought we wouldn´t be able to trek the next day. But at some point it stopped and the next morning the sky was totally clear. We had breakfast at 6.30 and started trekking full of energy around 7am. The first 30 minutes were quite easy, the sun wasn´t out yet and the backpacks were not as heavy as the day before. After that there was a very steep stone staircase which we had to climb for about 1 ½ hours in the full sun. It was extremely exhausting and we had to take breaks every few minutes. We reached Ulleri at 1.960m. Some people counted the stairs up to there and they said it were 3.354! We went a little more up to Banthani at around 2.200m and suddenly we felt so hungry that we needed to have lunch right away. The Dal Bhat never tasted that good!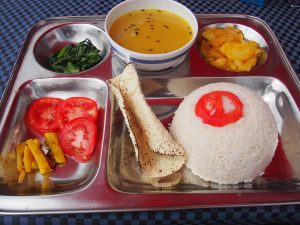 We rested for about 1 ½ hours and went on around 12 o´clock. Suddenly the backpacks felt much heavier again! We went on for another 3 hours up to Ghorepani at 2.860m. The trek on the second part was easier because we went mostly in the shade and it was a little cooler. It was also not as steep as the first three hours. However we really felt the backpacks heavy on our backs and Sandra even got blisters on her shoulders from carrying it. In the end we were so tired and our feet and backs hurt so bad that we were more than happy to make it to Ghorepani !
We had a hot shower in a really nice and big room with our own bathroom. We didn´t expect that much luxury in this altitude! The scenery today was similar to the day before. It was very green, a lot of small villages and mountain schools. There was some nice waterfalls on the way. There were also some viewpoints of the Annapurna range, but unfortunately it was too cloudy to see anything. In Ghorepani the clouds opened up a little and we were able to see Dhaulagiri (8.167m) for a few minutes, the fifth highest mountain in the world! It looks really amazing and we can´t wait for tomorrow.
In the evening we enjoyed a really nice dinner in our hotel around the oven. There were only five tourists with us in the place. The owners were extremely friendly and even spoke some German.
Day 3 Poon Hill and Ghorepani to Tadapani
We got up at 4:30am in the morning to hike up to Poon Hill, which is again a steep stairchase up to 3.193m. We almost ran up there in about 45 minutes so we would not miss the beautiful sunrise with an amazing cloudless view of the peaks of Dhaulagiri and Annapurna South. It is really amazing to see these huge mountain scenery.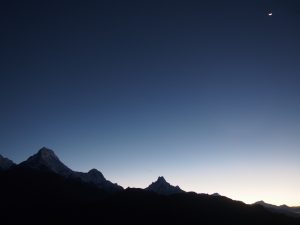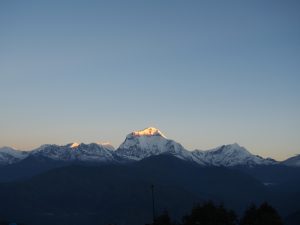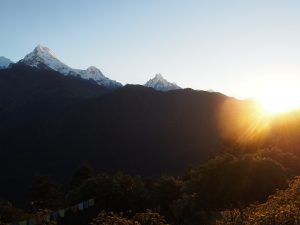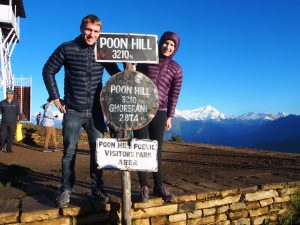 We could also see planes flying at the same altitude that we were. When we arrived and stood still for a few minutes it got really cold up there until the sun came out. We stayed for about an hour and walked back down to our hotel to have breakfast.
After that early morning hike we took some time to get ready because it was just too nice to sit outside in the sun and looking at the mountain range while enjoying a cup of coffee. We started trekking again quite late at around 8.45am. The trek today went up again crossing the Deurali Pass at 3.090m from where we still had amazing mountain views. After that we went on a nice and easy trek in the clouds. The whole day we were either above or in the clouds or in the sun. After a while we descended a little and got into a beautiful valley-like place which seemed almost tropical. We walked alongside a river and saw many waterfalls on the way. There were not as many restaurants on the way today, we had to walk for almost 2 hours for a restaurant or toilet. We had lunch after an almost 4 hour trek in Ban Thanti (3.180m) – yes, same name as yesterday but it is a different place ("same same but different" as our guide would say). From there it was quite an easy walk for another 1 ½ hours to our final destination of the day: Tadapani (2.630m). On the way we could see the village of Ulleri which we passed about 24 hours ago after the steep staircase. It looks so far away that we can´t believe we came that far in one day. We also saw some monkeys climbing in the trees and mountains. They were quite far away but nice to watch.
We reached Tadapani at almost 3 pm and stayed in Fishtail lodge, a small and simple lodge just like the first one in Hille. The afternoons here are all the same – resting, sitting around the oven having tea and chatting with the other trekkers and guides, a hot shower (yes there is still the luxury of a hot shower up here, but it costs around 1,20€), dinner and going to bed very early.
Sandra:
I almost ran up to Poon Hill because I didn´t want to miss the sunrise  – big mistake! I was so tired afterwards that I thought I couldn´t walk one more step. I think I almost cried for the first 45 minutes of the trek which were quite steep. I had to stop every 10 minutes. I couldn´t think of anything but puting one foot in front of the other. It was terrible and everything hurt – my feet, my back… I thought I would never make it until the end of the day or any further. Luckily Jens cheered me up, carried all our water bottles and let me use his walking stick. That saved my life! In the end it was a really nice and quite easy trek today. I was just so tired in the morning that it felt like hell. When we arrived at our lodge we met a Spanish couple who told us that they have done today´s trek in 3 ½ hours. Thats really not very motivating when I just arrived 2 hours later than them and am very happy I survived the day…
Day 4 Tadapani to Chomrong
Today was a good day. We got up early with beautiful clear views of Annapurna South and Machapuchhare and started trekking around 7:30 in the morning.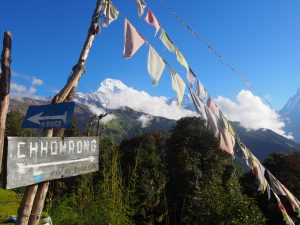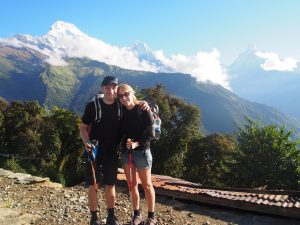 The trek today was going steep down for almost 1 ½ hours. Going down can be harder than going up, especially if your legs already hurt from descending the day before. We walked through some millet and corn fields down the hill. After that we reached a river and crossed the bridge. The second part of the trek was ascending again – up and down and up and down before we reached Chomrong.  Unfortunately Chomrong is down at 2.160m again. It seems a bit annoying to know you have been at 3.200m already and then descend again. In the end we have to reach 4.100m!
Today´s trek was nice and we are feeling a lot stronger. We finally found our own perfect speed for the trek, taking breaks whenever necessary. Our guide Raman seems to be a little annoyed today, but we can´t find out why. And in the end it doesn´t matter, we will keep going at our own speed. The scenery was not as nice as yesterday but still beautiful.
At 12:30 we finally reached Chomrong and all 3 of us were so hungry that we couldn´t go one step further. So we had lunch at Heavenview Lodge and enjoyed the best Dal Bhat of our whole time in Nepal so far! After lunch we keep walking 20 minutes more to the village of Chomrong, which is a quite big village compared to what we have seen in the last two days. We stayed at Excellent View Lodge where we also spent the rest of the day.
Our guide told us that the next day we were supposed to hike to Bamboo, which is a 4 hour hike. We heard from other people that they were going further up to Dovan and we wondered why we couldn´t go any further. So we asked our guide and he was not very amused by this idea. It took some time to convince him. When we asked why we couldn´t go further he said  because our itinerary was to go to Bamboo. This is the strange thing about having a guide. The agency told him that this was where he is supposed to go so that is where he goes. He doesn´t give us options and when we think we could go further or we don´t wan´t to go that far, or when we want to have a look at another guesthouse he gets really upset.
Day 5 Chomrong to Dovan
In the end we convinced our guide to go up to Dovan at 2.600m. We got up early and started trekking at 7.30. Unfortunately we didn´t have a good view this morning because it was cloudy. The beginning of the trek was going very steep down for 1 ½ hours and then it was going back up. But were were quite quick today and arrived to Bamboo at 11:30 for lunch. After that it was just one more hour to Dovan and we were really happy for the decision to get up to here.  We are getting closer to the mountain so it is getting colder. The scenery is still a little bit like a jungle. There a lot of really nice and huge waterfalls on the way. Trekking gets easier and easier every day, even though we are ascending again. We were able to leave our dirty laundry and some stuff we didn´t need up in the mountain in Chromrong, so we are carrying about 1 kilo less, which also makes it a lot easier.
We are staying in Dovan guesthouse, and there are a lot of people there that we have already met on the trek. There are two girls from the UK and two couples from the US which we have met more or less every day. The afternoon and evening pass by quickly in good company.
Read more about the second part of the trek in Part 2!