Nobody we met on our way to Colombia really liked its capital. So our expectations were really low when we got here. Surprisingly we liked it. But we have to admit we didn´t spend the time here that a city this size deserves. We only spent two days and didn´t leave the historic and touristic center Candelaria.
We arrived to Bogota at 5 am after a night bus from San Agustin. We found out later that the German Ministry of Foreign Affairs advises against this night bus. According to them, San Agustin is the most dangerous region in the country. Our experience was totally different, so we didn´t understand this advise.
La Candelaria, the historic center of Bogota, is a beautiful colonial place and with all the tourists it became a hip place to be. There are a lot of alternative shops and nice restaurants. When we get to the big cities, we always go crazy for the choices of restaurants. Right next to our hostel was a Swiss bakery and we had the best bread in months! That was a good start for the day after the long bus ride.
We wandered around the area for a day, visiting the main square (Plaza de Bolivar), the presidential palace and a few churches.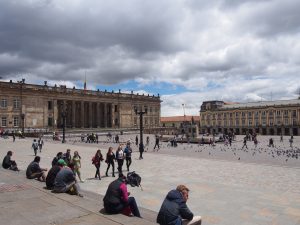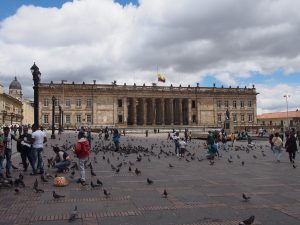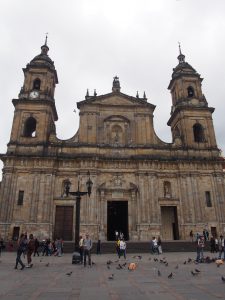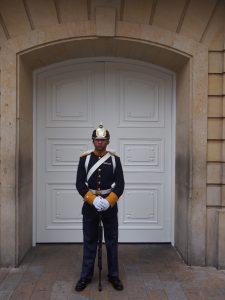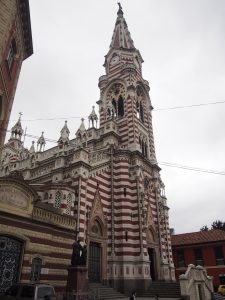 We also went to the Museo de la iglesia Santa Clara, a former church that has been turned into a museum and is beautifully restored.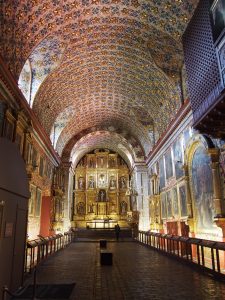 A really interesting museum was the Museo de Oro, Colombias gold museum. Long before the arrival of the Spanish the early Colombian civilizations had a lot of gold. On a guided tour we heard a lot about the myths of these times and it was very interesting. We spent hours inside the museum and couldn´t get enough of the statues and things found.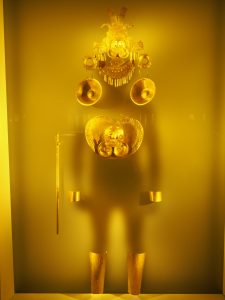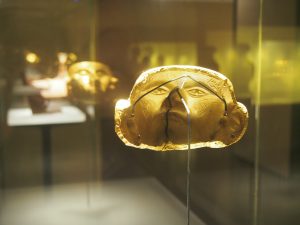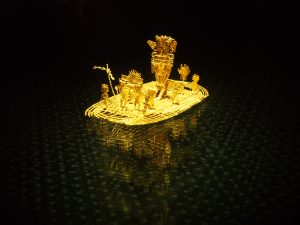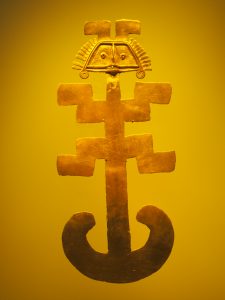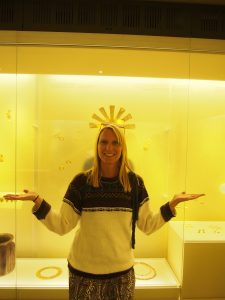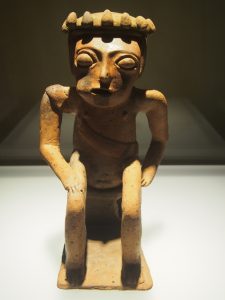 Sandra really needed a haircut, and the girl working in the hostel recommended a good place to go. The beauty salon was great, and when Sandra found out how cheap everything was, she got a haircut, a manicure and a pedicure for the first time in eight months! It took almost 2 hours and she spent only 12€ for everything! The haircut wasn´t as good as in Germany, but it was just so cheap….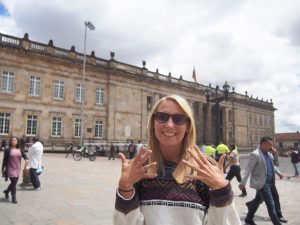 Bogota is famous for its street art and there are interesting things to see at every corner. A very recommended tour is the graffiti tour through the city. Unfortunately we missed it due to a lack of time.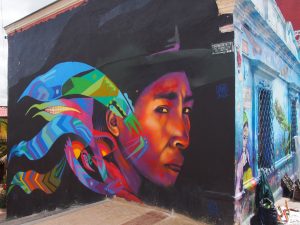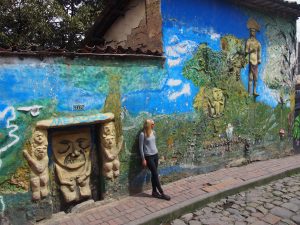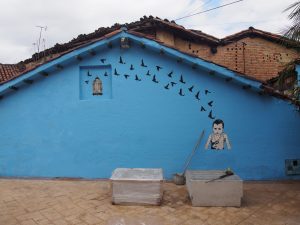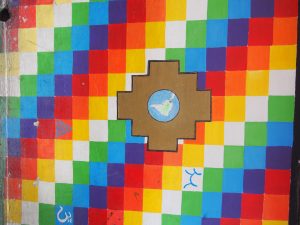 Apart from that, we enjoyed a lot of good food. Colombia is so cheap that we finally got to go to some really good restaurants. Capital Cocina is a very nice place and a set menu costs only around 8€.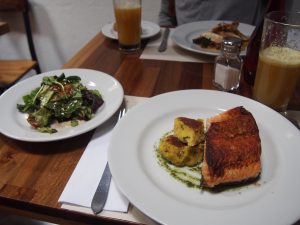 We also got to try some local fruits. Colombia has so many fresh fruits, and some of them we have never seen anywhere else in the world. Look at the picture below: In the middle you see a guayabana, which is often used to make juices. The orange fruit on the left is called lulo, a citric fruit also used for juices. Then we had two kinds of guaves (the second fruit on the left and the small one on the right), Sandra´s new favorite. The small fruit looking like a cucumber is called feijova and Jens loved it. He keeps saying it is like an explosion of flavors. First it tastes sweet and then sour. Right below the feijova is a huge passion fruit. All fruits are really cheap here and we love all of them. There is a lot more to discover, like the zapote which tastes a bit like a mix of potato and pumpkin. But it is also a fruit which they eat with honey and salt. It is delicious!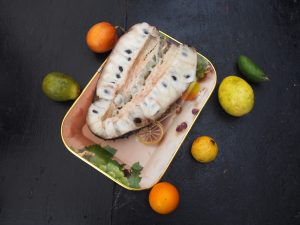 The chocolate is also great, similar to the one in Ecuador. We got used to drinking 100% cacao and just adding a little bit of sugar to make it sweeter. In Colombia it is common to have some cheese that you dip into the chocolate.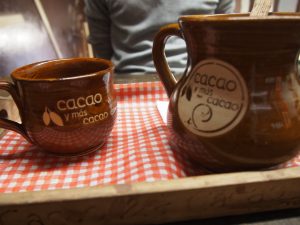 For local sweets, this is the place to go: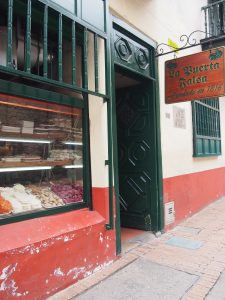 We left Bogota after two days already because there are so many places to see in Colombia and we didn´t want to waste more time in the city.