Our last country in Asia was Singapore. We stayed there for four nights and all we did was walk – we walked 8-12 hours a day and were totally exhausted every night.
Singapore – it is difficult to describe the city in a few words. It is very modern and much more western than Bangkok or any other place we have been to so far. You notice it is a melting pot, with many different cultural influences, especially in food. We loved it in the first place. But after a while we started to think it is a very unreal world in some parts with new buildings popping up everywhere and a Disneyland-like island (Sentosa). It is exchangeable in some parts like the financial district, and very unique in others with its hawker centers and places like Little India or Chinatown. This was our experience:
Met a space pod @Little India
The first thing we noticed before we came here – Singapore is expensive. Hotel prices are really high, so we knew we had to stay in a hostel. The cheapest one of those also looked terrible. But then we found Met a space pod. It is a capsule hotel, you might have heard about that from some Chinese cities. But it is not only a capsule, it is built like a space pod, as you might have guessed by the name.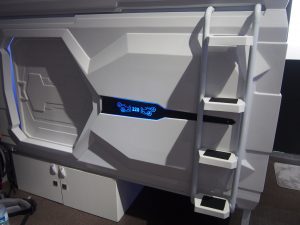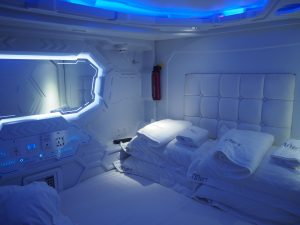 For being a hostel, it was quite fun to stay here. Even though you are in a dorm, you can close your door and have some more privacy and do not hear everyone and everything in the room. The double bed pod was a bit small. In the first night we had two individual beds, and even though it was strange to sleep in different "rooms", it was more comfortable.
Botanic Gardens
The first place we went to was the botanic gardens. This might sound strange, but after four days in Bangkok we needed a little city-break. And it definitely was! The garden is huge and you do not feel like in the city anymore. They have a rainforst area, a very informative healing garden, a huge orchid garden (which we didn´t enter as it was the only part with an entrance fee) and a ginger garden.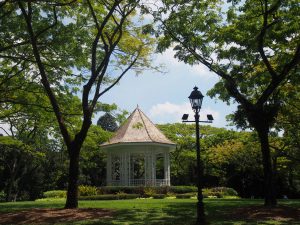 Orchard Road
Singapore´s main shopping street. Hell for us, because we couldn´t buy anything, but it was fun to walk around for a while and pretend we could shop at Chanel 😉 The main mall is ION Orchid Mall and it is huge, but not as impressive as the Siam Paragon in Bangkok.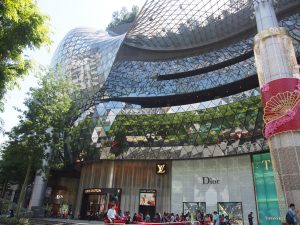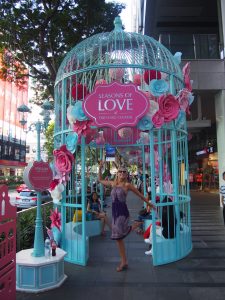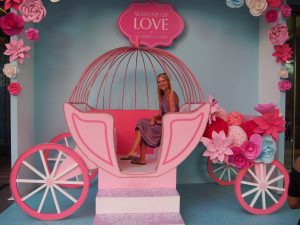 Little India
We wanted to spend the evening close to our hostel because we were already exhausted. So we went to Little India. If you ever come to Singapore, try to make it to Little India on a sunday. In the afternoon and evening, the streets are full of Indian men (yes, only men!) who just hang out in the street, eat out or buy stuff at the small shops and markets. It was crazy!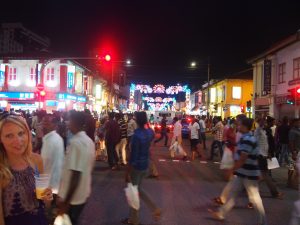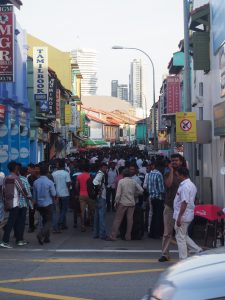 We had dinner at the Tekka hawker center, where they sell all kinds of local Indian food. This was the best place in Singapore for food! In the center and around there are unlimited choices of all kinds of Indian food. Our new favorite is Dosai which is like a thin pancake covered with all kinds of sauces. Eating it with your hands is a little challenge because everything is covered in sauce, but it is delicious.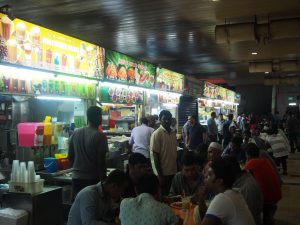 This was our first day. We walked about 12 hours and when we finally got home we were so tired we fell asleep immediately.
Colonial District
On day 2 we woke up and went to the Colonial District. As you might have guessed it has a lot of colonial buildings 😉 But the most impressive part of it was getting of the metro at Singapore Flyer (a big wheel like London Eye) and walk along Marina Bay to see the city´s skyline as well as a first view on the impressive Marina Bay Sands Hotel. We spent a long time there taking pictures and walking around.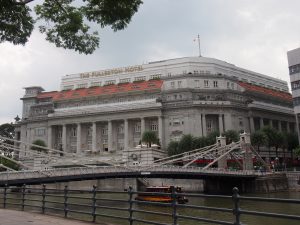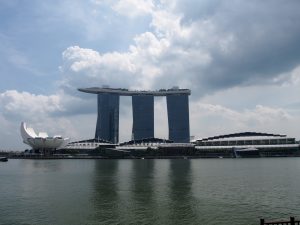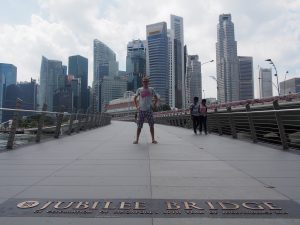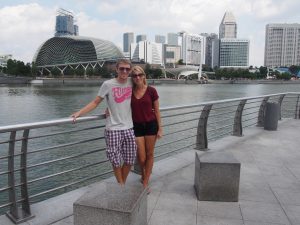 Chinatown
Getting off the metro and entering Chinatown was a totally different world to what we saw in the morning. The buildings here are really small but you can still see the contrast of the skyscrapers in the background. Since Chinese New Year will be at the end of January we were lucky to see part of the celebration area being built up in the streets already. There are special nuts and candies being sold only at this time of the year and we got to try a few of those.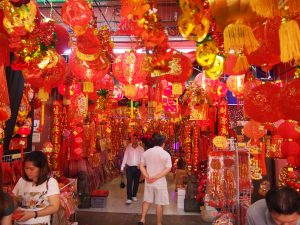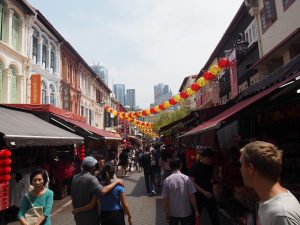 But our real highlight in Chinatown was the michelin-star lunch:
Chan Hon Meng Hawker Stall
In 2016 the first hawker stall in the world was rewarded with a michelin star. That stall is located in Chinatown Complex hawker center and serves "Hong Kong Soya Sauce Chicken with Rice". There is a waiting line of up to two hours almost every day. We were lucky and waited aroung 45 minutes. Shortly after that, the chicken was sold out for the day. The best part of it – one dish costs 2 SGD! Jens was of course the only one to enjoy the whole dish, Sandra just tried the sauce and rice, as well as the soya sprouts we ordered. The food was nice, but it was difficult to say why it got the michelin star. Chan Hon Meng now opened a fast food style restaurant just across the street, but a dish is still below 5€! This was our first Michelin restaurant ever!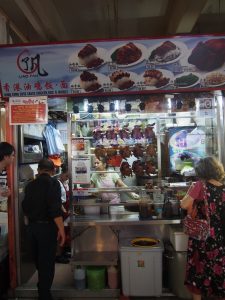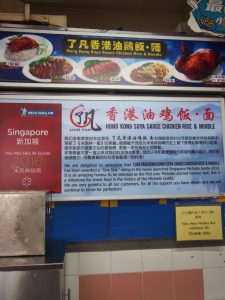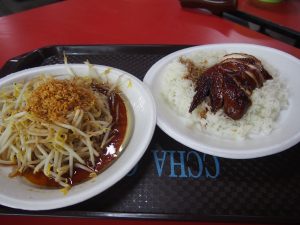 Marina Bay Sands
After a short break we went to Marina Bay Sands´ observation deck – what a great view! We stayed there for hours and watched the sun set and saw how all the lights in the city got turned on.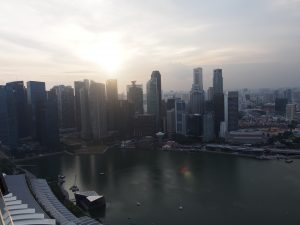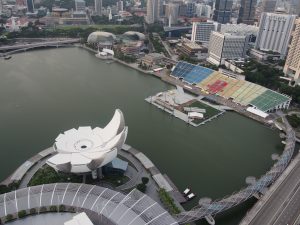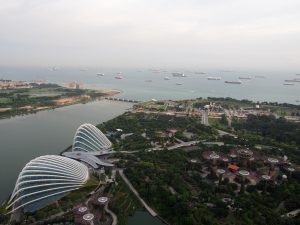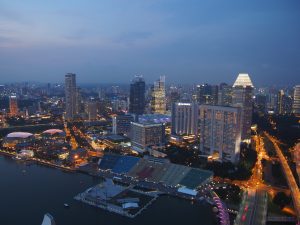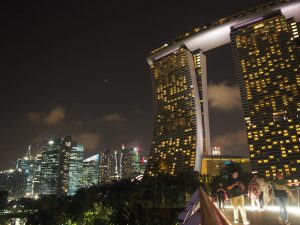 There is a lightshow at 8pm in front of the hotel, but it is better to watch it from down there. We saw it from the top and you can´t see much. The hotel got the highest hotel pool in the world on the roof, but unfortunately it is only for hotel guests. We also couldn´t see it very well from the observation desk. Our new goal is set – spend a night in this hotel to swim in this pool!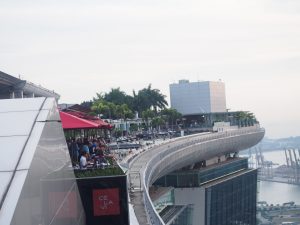 Gardens by the bay
Right after the lightshow we rushed down to Gardens by the bay to watch the lightshow they got. Gardens by the bay is a park area that has been set up a few years ago directly behind Marina Bay Sands. The main area looks like you are in the Avatar movie 🙂 The lightshow there was great. The showed "a journey through Asia" with music from diffferent Asian countries. The perfect ending to our four months in Asia!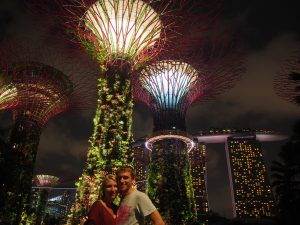 Financial District
We started third day at the financial district, just wandering around these skyscrapers we watched the night before from the top. We felt a bit underdressed in our shorts here, everyone else was wearing suits and business outfits.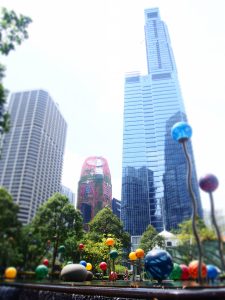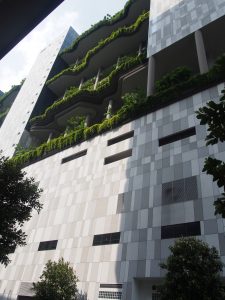 One of the most famous hawker centers, Lau Pa Sat is in that area. We had dinner here later that day. For us, it wasn´t the nicest center of the city. It got all kinds of food, but the one´s in Little India or Chinatown that specialize in the same things were much better.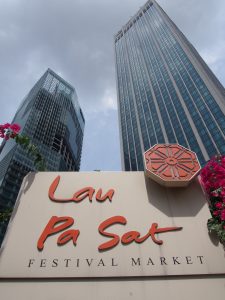 Raffles Hotel
One of the oldest hotels in the city, visiting the Raffles Hotel is like entering another world. This colonial building has some great charme and it is also the place where the Singapore Sling was invented. We didn´t have one, it was too expensive (31 SGD for a cocktail!).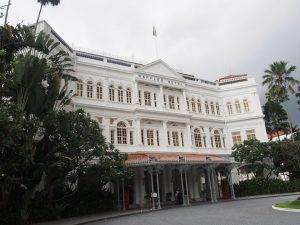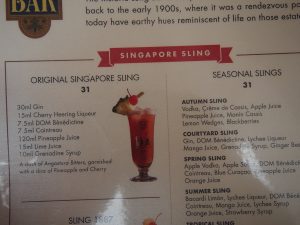 Later that day we met Lisa, who is living in Singapore. Jens met her when he studied in Australia and it was great to catch up. We couldn´t resist enjoying the beautiful skyline again that night, here are some more pictures: