The Amazon – home to incredible flora and fauna as well as different cultures. On our trip through South America we couldn´t miss coming here. Our life on the Amazon consisted of fishing piranha, looking for dolphins, anacondas, caimans, tarantulas, sloths, monkeys and many more. And mosquitos.
We had almost given up on going to the Amazon or Amazon Basin in Bolivia or Peru because it was always really expensive or very difficult to reach. But then we got a recommendation to contact a guy on Facebook who runs a small lodge on the Amazon, close to Iquitos in the north of Peru. His name: Cristobal Hitler. Yes, this is not a joke. This guys second name was Hitler. Now we really wanted to go, just to ask him how it was possible that he got this name.
So we booked a flight to Iquitos and the tour for four days. When we arrived to Iquitos, there was nobody at the airport to pick us up. After the drama at the rainbow mountain we were quite annoyed and feared this would happen again. Luckily a taxi driver helped us. He said "oh, you are looking for Hitler, let me call him". So finally we were picked up, brought to the office, where we had to pay and then we drove to the harbour. We got on a small boat and started our trip on the Amazon. The river is enormous! Just crossing it in a slow boat can take around 15 minutes. The current was also very strong, so going with the current was really quick, but driving against it was really slow. After 30 minutes we stopped at a fish farm, where we got to know all the fishes and reptiles that live in the Amazon. The most impressive one was the paiche, which is the biggest freshwater fish, becoming up to 4 meter long. We also saw piranhas, caimans and some turtles.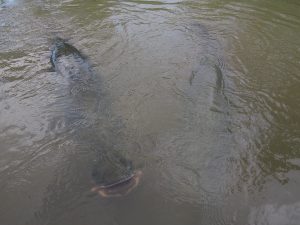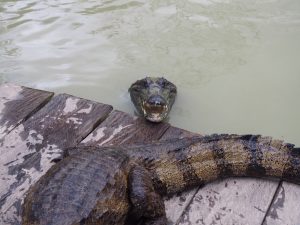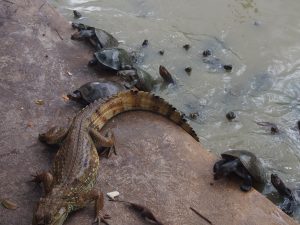 Afterwards we continued our journey on the Amazon for another two hours to our home for the next four days. We arrived to some very simple houses on stilts in the water. During dry season, there is no water around the houses. But at this time of the year you can only move in boats. There were two small houses with beds, linked to a hammock-area and bathrooms. About 50m away was the kitchen and communal area.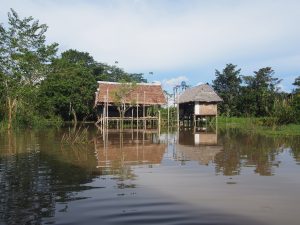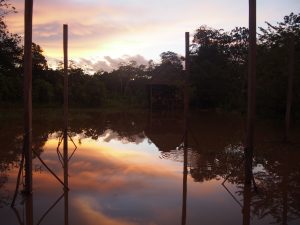 When we got there we were greated by Alfredo, the parrot, as well as Cristobal, Hitler´s dad. He explained us right away that this was a very common name here. Well…
After a delicious lunch we set off in search for dolphins. There are grey and pink dolphins in the area. We were lucky to spot a pink one, and we couldn´t believe how colorful they were! We couldn´t catch them with the camera, so you will have to google them to find out.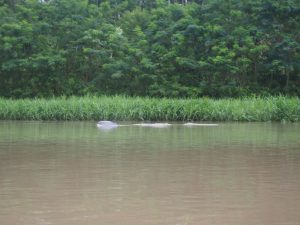 Afterwards we jumped into the water on a branch of the river. It is quite scary when you remember all the piranhas and caimans and anacondas that live here… But they seem to be more common in small lagoons, so it is safe on the river. So, swimming in the Amazon is off the bucket list!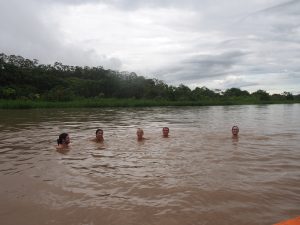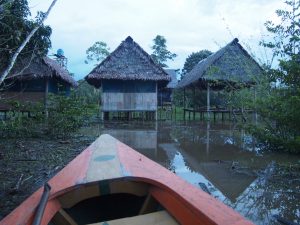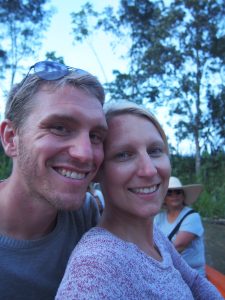 When the sun sets, it is mosquito time. Luckily there was no light at all in our lodge, so at least they were not attracted to much. We used one bottle of repellent in two days. But night time was also the time for the beautiful jungle sounds. We heard thousands of frogs and insects around us and we both think this is the most beautiful noise in the world. We went to the kitchen for dinner where they unfortunately started a really loud motor to turn on the light during dinner. We tought this was totally unnecessary and two small candles would have been much better to enjoy the jungle sounds. It also attracted the insects and we definitely ate a few of them with our dinner. After dinner we got on the boat again to get some beers in the nearby village. We had to jump out of the boat and into the water in our gum boots. It was a little strange because it was totally dark and we couldn´t see. When we turned on the flashlights it attracted too many mosquitos. After a beer in the hammock we went to bed really early and had an amazing night surrounded by the jungle noises.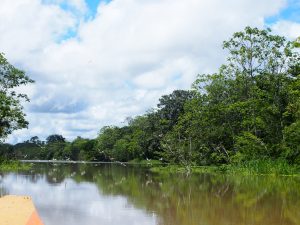 Every morning we woke up early when the jungle went silent and the sun came out. And every day was similar – we had a rainwater shower, breakfast and then went out on the river for the morning, returned for lunch and left again. After dinner everyone went to bed at 9pm latest. Without electricity and wifi it was the most relaxing time!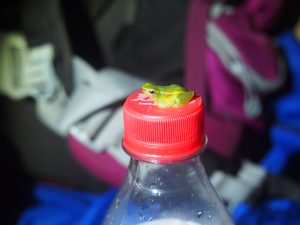 There are several reserves which protect the Amazon wildlife. Many people hunt caimans, anacondas, turtles, sloths, monkeys and many more to sell and very often eat them. These reserves find the animals in the wild, keep them in the reserve for a while and release them to protected areas. We visited two reserves. One felt more like a zoo and we were not sure if their main purpose was the protection of the animals or rather making money with tourists. We didn´t like how they let big groups surround the animals and touch them like pets. We do not think this is necessary. The second reserve was great and really made us feel like they cared. They also had some projects of educating school children in the area. It was a great place to see all kinds of animals. Sandra especially fell in love with the little sloths, who were extremely cute. It was funny to see how slow they move.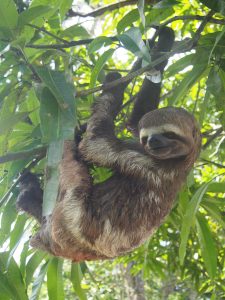 We also loved the tucan, a beautiful bird.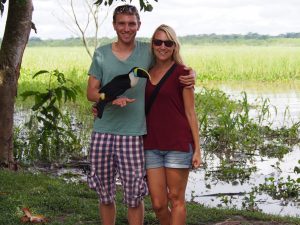 The one animal we also wanted to touch was the anaconda. It was a "small" 2 meter long animal and having it around our neck was really scary (as you can see in Sandra´s face).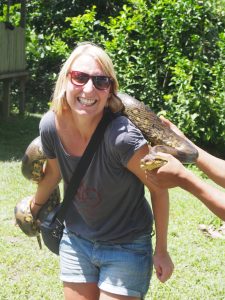 The monkeys and the racoon were cute, but we both don´t like them as they get aggresive and steal anything that you don´t hold on to in search for food.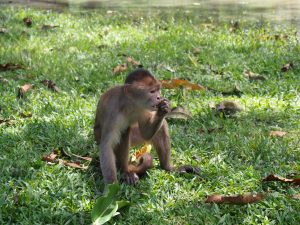 Please enjoy some more animal pictures, we think they are amazing: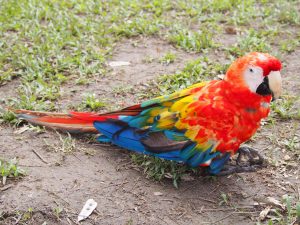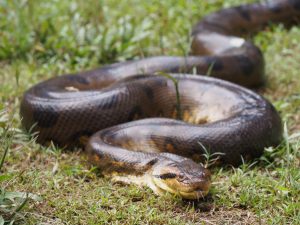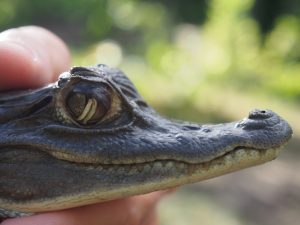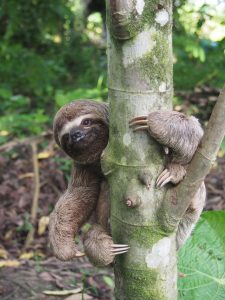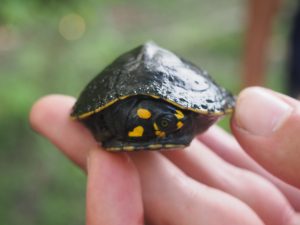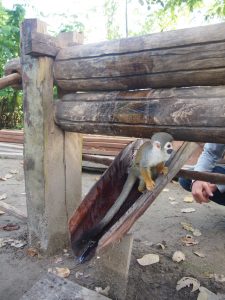 One day we went for a boat ride through the jungle. In dry season it is possible to walk here, but now we had to take the boat. When our guide told us we should be careful about snakes falling from the trees, Sandra was a bit nervous.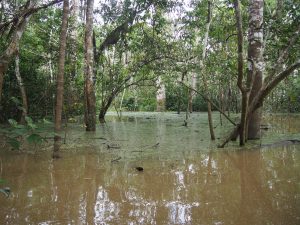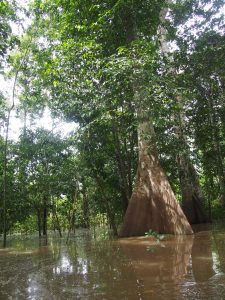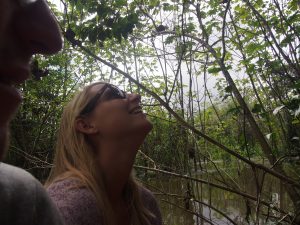 We learned a lot about medicinal plant in the jungle. The one we remembered the most was a natural repellent – termites. We had to hold our hands into a termite nest and then rub them on our body like creme. That was really disgusting! We prefer artificial repellents.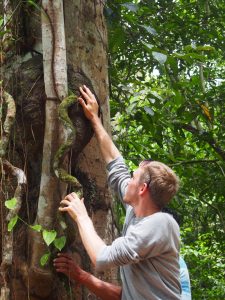 Jens especially looked forward to the day we went piranha fishing. He was really excited. We went to a small lagoon and parked our boat under a tree.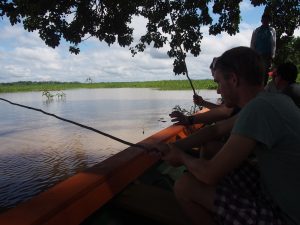 Unfortunately we didn´t see the stupid monkey approaching us and steeling our bait. So after half an hour and with only one baby piranha the adventure was over – and Jens was disappointed.
One our last night we went out for a little night walk in the nearby village in search for a tarantula. We found one in a banana trea (watch out, that´s where they hide in the leaves!). Our guide took it as if it was nothing. He gave it to one of the guys in our group. It moved a lot and he got scared and kind of threw it of his hand. It immediately spit out its poison on him and Jens. Luckily nothing happened. After that, Jens took the aggresive spider and held it for a few minutes. Sandra preferred to stay far away.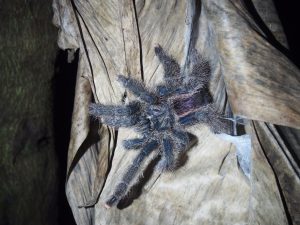 The four days passed really quickly. We were sad to leave. The only thing we won´t miss are the mosquitos, we have been biten too many times.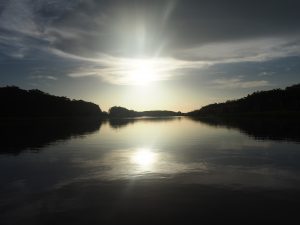 We took a speed boat to Iquitos to be on time for our flight back to Lima. Unfortunately there was a problem with the plane and we left with three hours delay. We boarded, the captain tried to start the plane, still noticed problems and made us disembark again. Many people got scared and didn´t want to get on the plane again. In the end it was fine and we were able to leave, but with a strange feeling. We arrived at our hostel in Lima at 2 am.
If you are interested in this tour, please contact Cristobal Hitler through his facebook page or check out his website Selvaventura. On the website prices are much higher, so we recommend the facebook contact.