Our last stop in Australia and definitely a highlight we have been looking for – Sydney! As a contrast to the cold weather in the Blue Mountains during the last days, we got up to 47 degrees during our four days in Sydney! Can you imagine that? Sightseeing was almost impossible – but luckily sightseeing in Sydney includes a lot of beaches.
We forgot to book a hotel in advance, so when we checked one day before our arrival, all the central, cheap places were sold out. We booked a stay at an Air BnB apartement in Drummoyne, a 20 minutes bus or 30 minutes ferry drive to the city center. We stayed in the most beautiful apartment and had a great host! Finally a good experience with Air BnB. Taking the ferry into the city every day was actually really nice, as seeing Harbour Bridge and the Opera House from the water was our daily highlight.
We both fell in love with this city. The quality of life must be amazing here, with everything you need in a big city, but at the same time some great beaches only half an hour away. We would definitely love to live here!
Harbour and City Center
On our first day we did the most obvious – we visited The Rocks, the harbour, walked across the Harbour Bridge and went to the Opera House.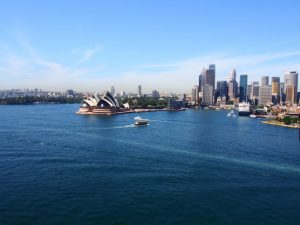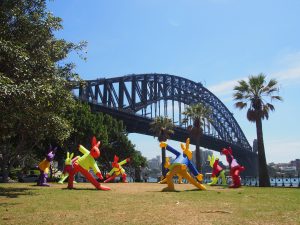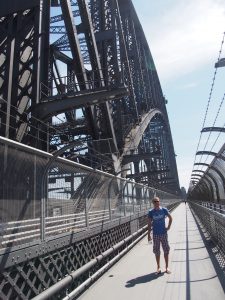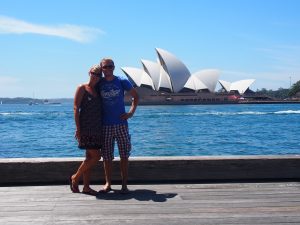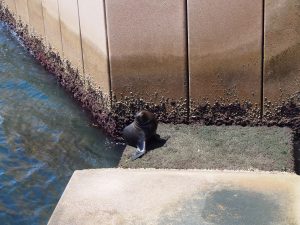 All the time we tried to avoid the sun, which was almost impossible. It was so hot that we moved slower than ever and were totally exhausted after two hours.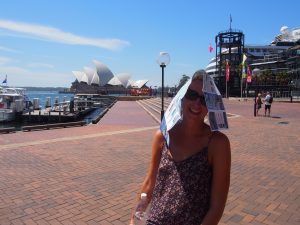 But we had no choice, the next day was supposed to be even hotter. We definitely didn´t see as much as we wanted. We walked from the Opera to Botanic Garden (almost no shade!) and enjoyed another harbour view from there.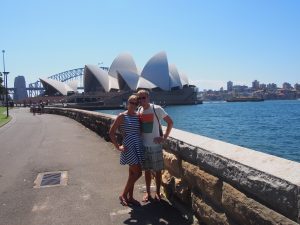 We cooled off in the State Library of NSW, which isn´t as nice as the one in Melbourne. From there we walked to the shopping district, because all we could do was spend the rest of the day in an air-conditioned place. We discovered the most beautiful mall we have ever seen – Queen Victoria Building. This historic building has been restored and was turned into a really nice shopping mall.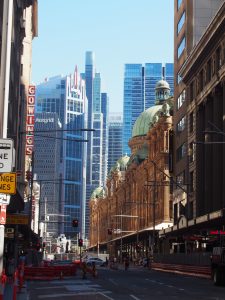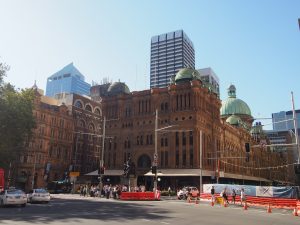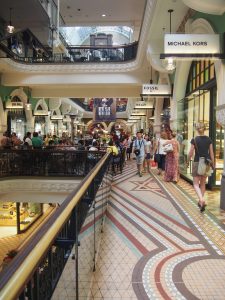 After a long day of walking we got home really tired and just couldn´t get up again for a night out in Sydney.
Darlinghurst, Surry Hills and Kings Cross
On day two we visited the hip neighbourhoods of Darlinghurst and Surry Hills. We quickly decided that this would be where we would like to live in Sydney 🙂 With a lot of small bars, shops and restaurants it attracts a lot of young people. We walked around these neighbourhoods for almost 3 hours, and it was still hot! But as always, we never stop walking and didn´t take a train because we wanted to experience every part of the city.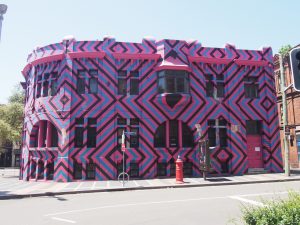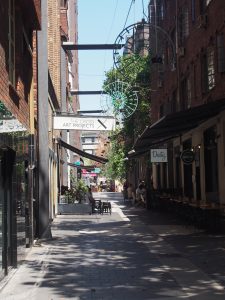 Manly
We slowly made our way to Circula Quay to take the famous ferry to Manly. The ferry takes you all the way through the harbour with great city views.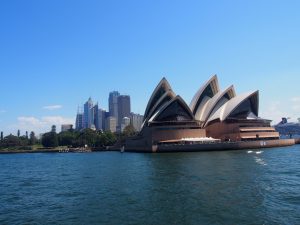 In Manly there is a nice beach where we hopped into the waves to cool down a little bit.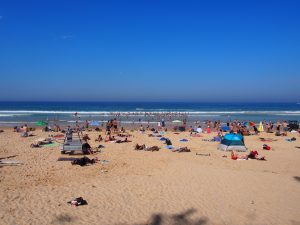 We took the ferry back to the city around sunset and got a really nice view of the harbour – again.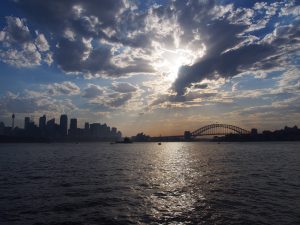 We bought a pizza and sat down at the harbour to watch the lights turn on in the city. It was full moon today so we saw a huge moon rising over the Opera House.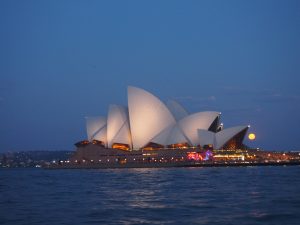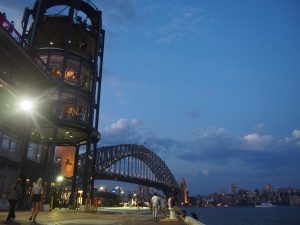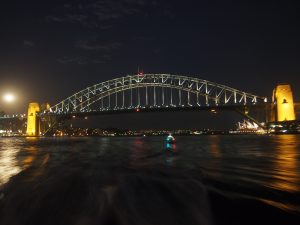 Bondi Beach
The next day we finally made it to Bondi Beach. The perfect place to spend a hot day! We went to the Iceberg´s salt water pool. It is so much fun to sit by the pool and wait for the big waves of the ocean to wash you away. No water park with big slides can compare to this!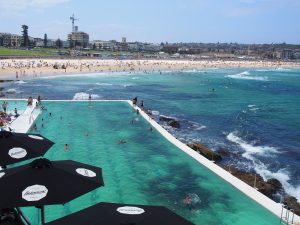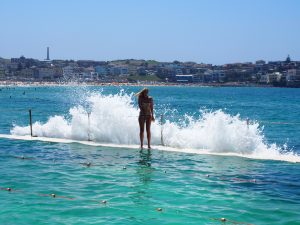 We had planned to do the 3.5km coastal walk from Bondi to Bronte Beach, but we just couldn´t stay any more minute in the sun. We still don´t understand how Australians can spend hours at the beach, a pool or anywhere else in the sun without any shade.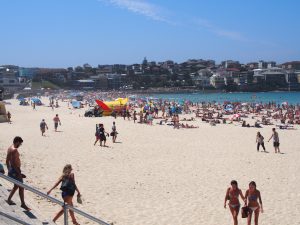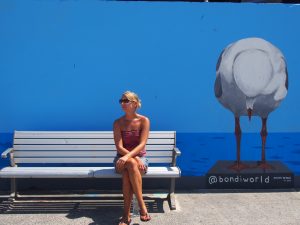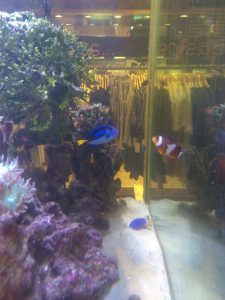 We celebrated our last night in Australia at the Opera Bar. We will definitely come back to Sydney some day, it is a great city!