Compared to its neighbours Vientiane seems to be the smallest capital in the world. We checked this, it isn´t true. In international comparison it is quite big with around 700.000 inhabitants (did you know that Melekeok, the capital of Palao, has only 390 inhabitants?). Still, Vientiane feels very small when you first arrive here and have four days to kill before your flight.

Since we had decided to take it slow in Laos we had a lot of time here before flying back to Thailand. And we noticed that it is actually nice to take the time to get to know places more than on the usual sightseeing tours that you would do in one or two days. There is always more to see and explore.
Vientiane, like everything else we have seen from Laos on this trip, is surprisingly European and developed. It is also a very clean city, which is worth mentioning if you look at other Asian cities (Kathmandu is the worst!). And, it is really relaxed, and not at all as hectic as any other Asian city. But this is not very surprising, it seems like people in Lao are never stressed or hectic at all. Whatever they do, they do it slowly and avoiding stress 😉 We walked a lot here through the city, but also north and south and any possible direction we could go outside the city. These are our favorite places:
Walking Street Night Market
Jens discovered this place by accident. This is the hippest night market we have ever seen in Asia, but still there are almost no tourists and the food is cheap. We had some amazing Lao fondues here. On our first night here, we met to people from Laos and had a nice dinner with them. Communication was difficult because they did not speak much English, but they drank a lot of beer and showed us some local dishes we didn´t know before.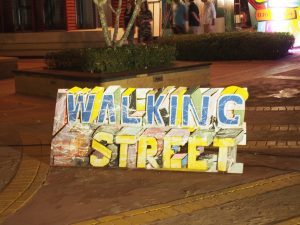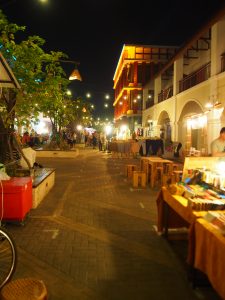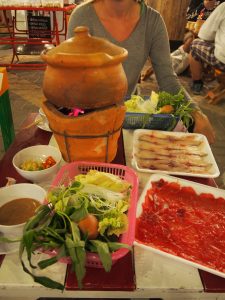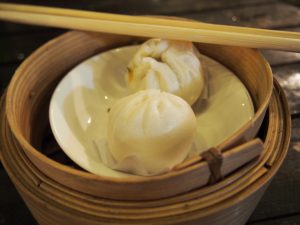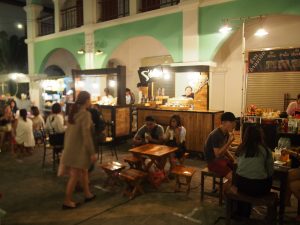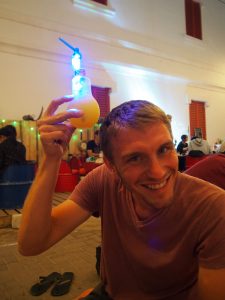 Herbal Sauna
A local spa is a very different experience to anything we know. There is one place right next to Wat Sok Pa Luang just 3 km from the city centre. It is supposed to have the best herbal steam baths and massages in the city. Unfortunately it was closed when we got there, and nobody really knows if it was closed only for the day or forever. We wasted half a day to walk there and back, but luckily we had time. We found another place in the city centre. For just about 2€, you can enjoy the herbal steam bath. Women have to rent a sarong and men have to wear a towel. There is one common area for everyone, but the steam bath and showers are separate. The whole place is in the backyard of a building. It is not as comfortable and clean as you expect a spa back at home, but it is definitely relaxing. The steam bath is so hot that it is almost impossible to breath, and the herbs used are mainly eucalyptus and lemongrass. During the breaks you get herbal tea. We felt very relaxed after almost two hours here!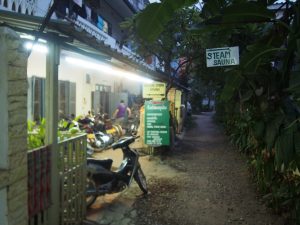 Pha That Luang
The biggest temple of the city is 4km from the city centre, but it is worth going. Even though we have seen many temples already, this was quite impressive.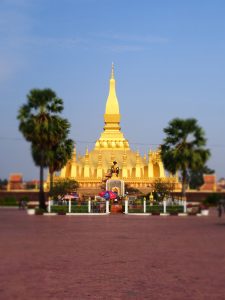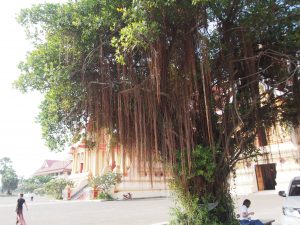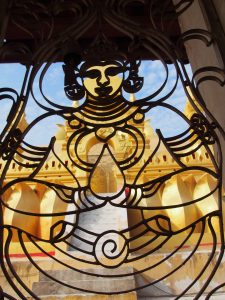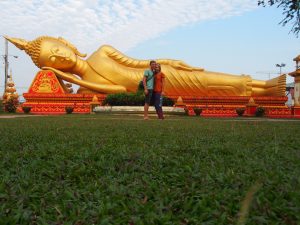 Restaurant Makphet
This restaurant is educating children from poor and rural areas to work in gastronomy. They learn to become waiters or chefs. The food is local food at a very high standard and it was delicious! It was really expensive, but worth it!
Mekong riverside
Looking at Thailand on the other side of the river, the riverside of Vientiane is lively, exciting and beautiful. Every evening at 6, many open-air sport courses take place here. It is funny to watch Asians do Zumba 😉 There is a local night market, where people buy mainly clothes and electronics. Further north, restaurants pop up every evening and offer great barbecues. The street is closed for cars during the evening, so it is easy to walk around.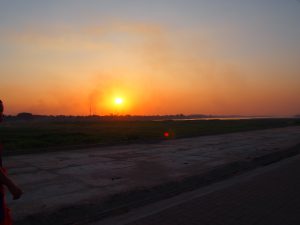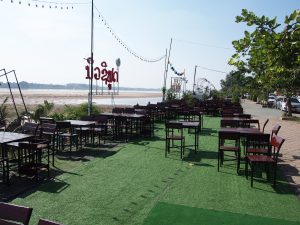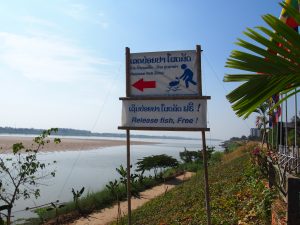 Here some more pictures from the city: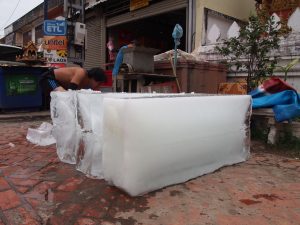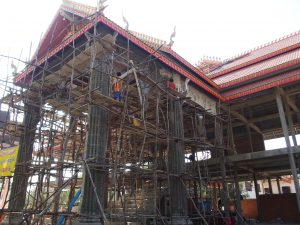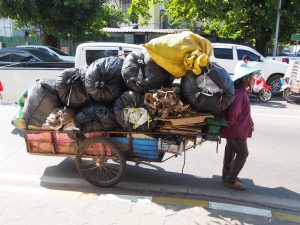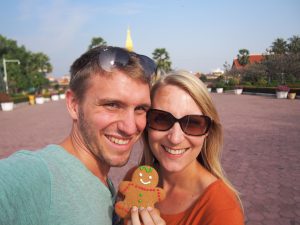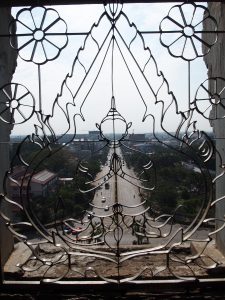 From here we are flying to Krabi, Thailand for some island hopping!