For Sandra´s birthday we wanted to do something special.
So we decided to go to The Last Resort, an adventure camp close to the Tibetian border. Here you can do anything you want, from Bungee to Rafting or Canyoning. We chose canyoning for Sandra´s birthday and then we decided to spend two nights here to relax.
The camp is located right at a canyon with a river below. To get there you have to cross the scary bridge from which they do the bungee and canyon swing. It was even scary just to cross the bridge, unbelievable that people jump down from it and rely on this really old bridge to really hold thousands of bungee jumps and hundreds of people crossing it every day! The camp itself is set in the forest and totally green. You sleep in big tents with comfortable beds and have a lot of space for yourself. The perfect place to relax!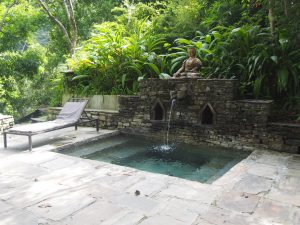 When we arrived the canyoning started right away. We went down 8 walls below waterfalls, the biggest one 45meters high. We were a small group of 5 people and it was a lot of fun. For the first time ever, Sandra was better than Jens at an athletic activity 🙂 This was the best birthday gift ever! She moved like a snail, but still she didn´t slip as much as Jens. We are fighting over every word we write right now 😉
For the rest of our time here we just relaxed and watched the bungee jumpers at the bridge. There was only one who went back and didn´t jump! Most people didn´t even hesitate at all…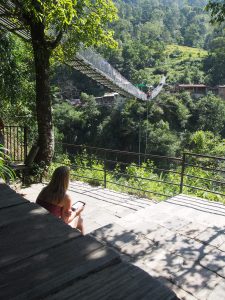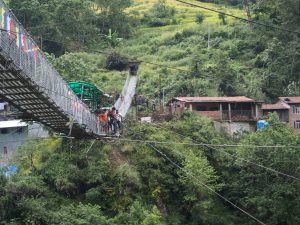 One the night of Sandra´s birthday we had a bottle of wine as a surprise in our room and we had some beer and cocktails at night. It was a perfect way to spend the day and the following two days as well!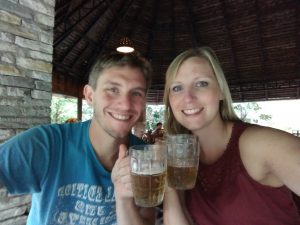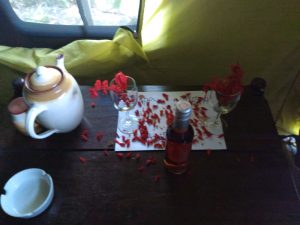 The pre-birthday dinner we spent at Third Eye – an Indian restaurant in Kathmandu. The food was amazing and we had a great time there as well!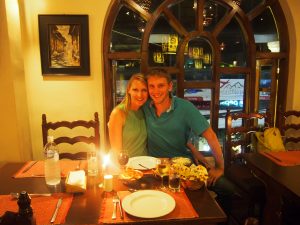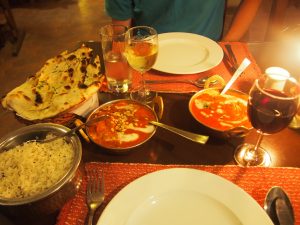 The only problem of the resort is the bumpy road to get there. The first two hours were fine, but after that the road condition was so bad that we got shaken like crazy. We saw someone throwing up in a local bus in front of us and all buses were shaking dangerously, as if they would fall over any minute. We are not looking forward to the way back!
For our last day here Sandra might treat herself with a massage (it is still the birthday trip, even two days later!) and then we head back to Kathmandu for our last three days in Nepal.