Nepalese food is influenced by Indian and Tibetian food.
It  is quite good, but it is not the best in Asia. The best thing about it – it is a vegetarian´s paradies! Sandra never had any problems to get vegetarian food, and there are even a lot of purely vegetarian restaurants. Food can also be quite spicy, at least there is always a chili sauce to add to you meal.
The main Nepalese dish is Dal Bhat, which most people here have both for lunch and dinner. Especially while trekking it becomes the most important dish of the day. It consists of rice, a lentil soup, a potato curry, spinach and papadam. When you are lucky, it also comes with pickles. The best about it – there is a free refill of everything if you are still hungry. And we always had our plates refilled 😉 Nepalese people eat it with their hand (the right one of course, as the left one is used for the toilet), but as a foreigner you usually get a fork and a spoon.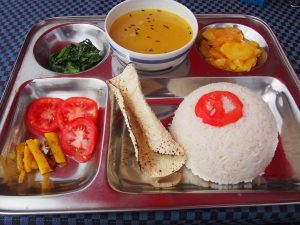 Our favorite dish here are Momos. These are small dumplings usually filled with vegetables or chicken. The best restaurant ever for Momos in Nepal is Momo Hut in Kathmandu.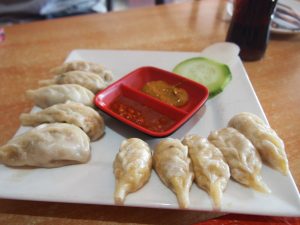 Pakoda – vegetables fried in gram flour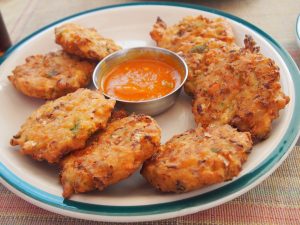 Peanut Sadeko – a peanut salad with lime juice, chili, tomato and onions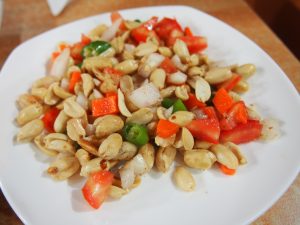 Paneer cheese, especially Paneer chili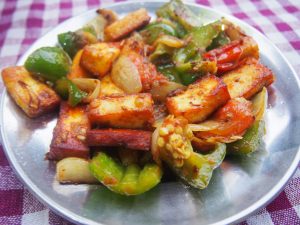 Gurung bread or Tibetian bread – tastes best with honey or with melted Yak cheese
Lassis! Plain Lassi, Mango Lassi, Papaya Lassi… they all taste good!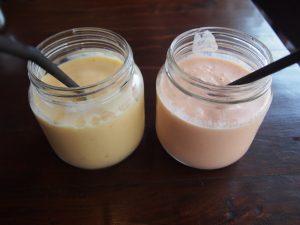 Tibetian Hot Beer – not recommended as you can see in Jens face 😉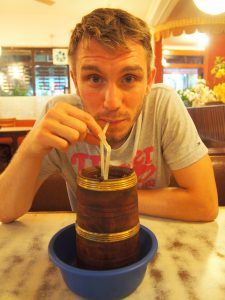 We also got very used to a cup of ginger lemon tea a day. There is a lot of ginger here which is used for tea and also for cooking.
The best food in the country we had at a small place called Tara´s vegetarian restaurant in Pokhara. She made delicious veg Momo´s as well as a dish called Simi Nariwal. We have no idea if this is really Nepalese, but it was amazing! It is made with fresh coconut slices, beans, sesame paste, garlic, ginger and served with rice.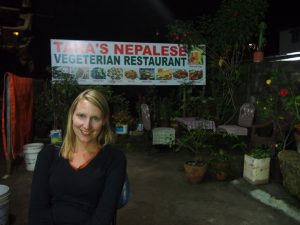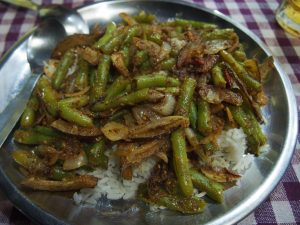 There are a lot of very good Indian restaurants in Nepal as well. Third Eye in Kathmandu can be highly recommended.