The Elqui Valley – a place known for its pisco destilleries and observatories from where to watch the stars.
Sandra has been here before with a day tour from La Serena, so this time we wanted to go the valley ourselves and explore it on our own. There was just one problem – Chile is to expensive! We couldn´t find any guesthouse in the valley cheaper than 60€. There might be some, but they all seemed to be fully booked because of the Chilean holiday season. So we had to go to La Serena and try our best from there. We had the brilliant idea to do things quickly to save money: We took a 7 hours night bus from Valparaiso to La Serena, arrived at 6am to drop off our bags at the hostel, took another bus to Vicuna, got a transport up to a small village called Pisco Elqui, got mountain bikes, drove 45km back to Vicuna, and returned to La Serena. Sounds crazy? Yes it was.
When we arrived to the starting point of our mountain bike tour we were totally exhausted and tired. But we had no choice. We started with a tour of the pisco destillery Los Nichos, an old and traditional destillery. Did you know there is a war between Peru and Chile about who invented the Pisco and who produces the better one? Of course we were told here that it has been invented in Chile. Let´s see what they say in Peru…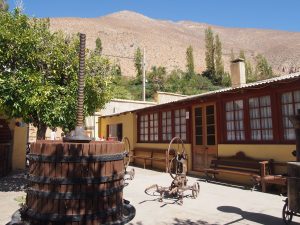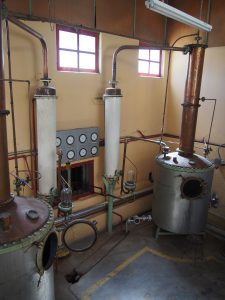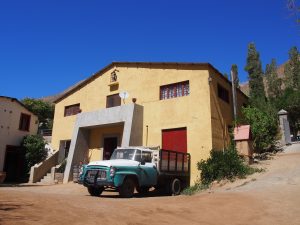 The destillery´s name was Los Nichos. That name originated from the funders´ big dream to bury himself and his closest friends in the basement of the destillery in niches in the wall behind some bottles of wine and pisco. He couldn´t realize it in the end, but he built the niches and filled them with bottles. He dedicated each niche to one of his friends. The wine bottles in there are now over 100 years old and the funder´s family still keeps them there as a memory.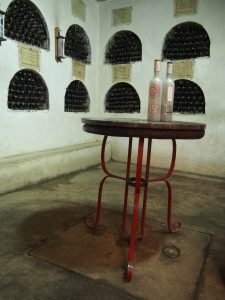 After a pisco tasting we were awake again and started our descend. The biggest part of the ride is down the hill, so you rather roll down than drive with effort. There are a few small villages on the way, including the most famous Pisco Elqui. But the most beautiful part of the trip is actually the great views. The landscape is so dry, it reminded us of another planet. The green spots on the way are mostly men-made plantations.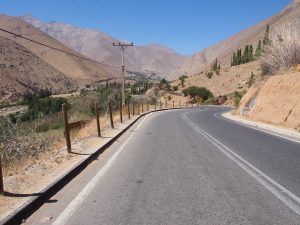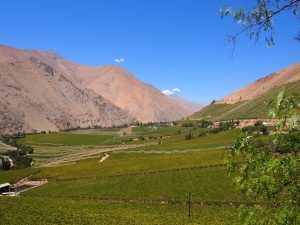 After 20km we reached a flat part with a lot of headwind – the hardest part of the trip. We needed to cycle really hard and were really happy when it was over.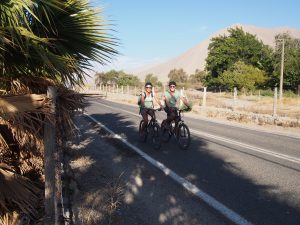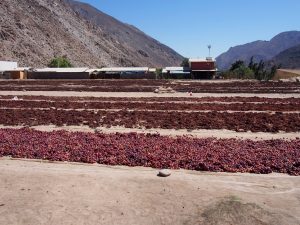 But then it got even harder. We really wanted to have dinner in one of the solar kitchens, where all meals are prepared using only the energy of the sun. But they close at 6:30 and we were still 8km away. So we had to push hard again, and by that time we were exhausted and hungry. We made it just in time. The food was ok, but seeing how it was prepared was worth it.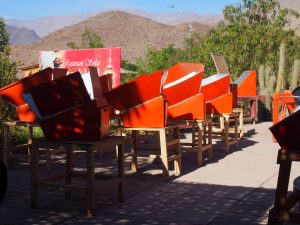 We slowly cycled back into town and made our way back to La Serena. We arrived at 11pm and fell asleep immediately after this long day.
In case you ever come here: Magic Elki rents bikes and drives you to the top of the mountain. They can also organize cheap hostels in Vicuna, just in case.