We have talked so much about Momos these days, here is how you make them. Try them at home! Thanks to socialtours.com for the recipe.
In a large bowl combine 1 kg of flour and about 3 cups of water. Mix well, knead until the dough becomes homogeneous in texture, about 10-15 min. Cover and let stand for at least 20 min. Knead well again before making wrappers.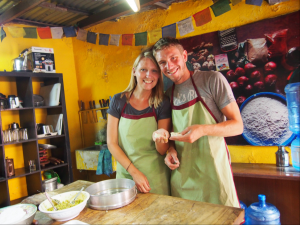 Give the dough a final knead. Take a ball, roll between your palms to spherical shape. Dust working board with dry flour.  On the board gently flatten the ball with your palm to about 2-in circle. Make a few semi-flattened circles, cover with a bowl. Use a rolling pin to roll out each flattened circle into a wrapper.
The art in momos is in the packing. For packing hold wrapper on one palm, put one tablespoon of filling mixture and with the other hand bring all edges together to the center, making the pleats. Pinch and twist the pleats to ensure the absolute closure of the stuffed dumpling. This holds the key to good tasting, juicy dumplings.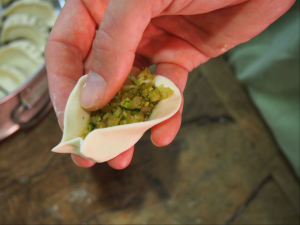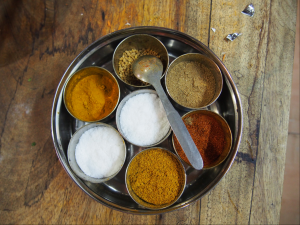 Veg Momo ingredients:
5 Red onion, finely chopped
2 budles green onion, finely chopped
3 teaspoon garlic, minced
3 teaspoon fresh ginger, minced
1 teaspoon turmeric
2 teaspoon cumin powder
1 teaspoon coriander powder
1 teaspoon red chilies powder
2 teaspoon MoMo Masala
3 teaspoon sunflower oil / 3-4
tablespoon ghee/butter
Salt
Mix everything well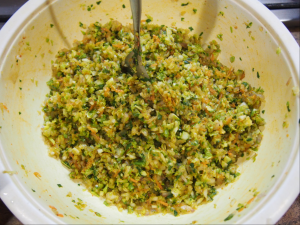 Cheese and spinach Momo ingredients:
200gm Cheese (grated)
5-6 bunch of spinach washed and boiled for 5-10 min and finely chopped
1 tablespoon garlic paste
2-3 tablespoon melted ghee/butter
Salt
Mix everything well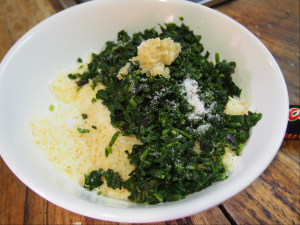 Cooking the Momos:
Heat up a steamer, oil the steamer rack well. This is critical because it will prevent momos from sticking. Arrange uncooked momos in the steamer. Close the lid, and allow steaming until the momos are cooked through, about 10-15 min. Take the momos off the steamer, and serve immediately.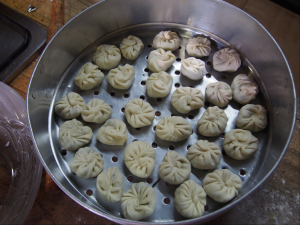 Tomato-Chili Sauce & Peanut Sauce
Roast 1/2 teaspoon of fenugreek until it is black
Add 2 teaspoon garlic and 1 teaspoon chopped ginger
Add 1 kg of tomatos, 1 teaspoon of cumin powder and one teaspoon of corriander powder and cook for 15 minutes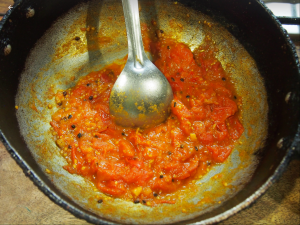 For the peanut sauce take 1/3 of the sauce out and mix it with roasted and grounded peanuts. Blend and add a little water.
For the chili sauce take the remaining tomatos, add as much chili as you like, blend and add a little water.
Now enjoy your homemade momos!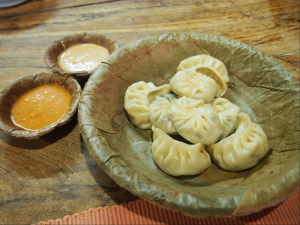 About Social Tours
We have booked a cooking class as well as a walking tour in Kathmandu on our last day in the country. Apart from that the company offer a trips throughout the country, like hiking and other activities. But they can´t be compared to the various other companies you might find in Kathmandu. We talked to the owner for a while after our cooking class and he explained us how he is playing a leading role in the country in responsible tourism. They encourage trips to more remote areas and help local communities with their work. We haven´t booked any major trip with them, but we definitely consider it for the next time we come to Nepal and we recommend you to have a look as well in case you plan visiting Nepal.