After our overnight flight with Air Asia from Kathmandu to Kuala Lumpur and then to Bangkok, we are spending two days in the city before we move on to Myanmar.
On October 13th the Thai king Bhumibol Adulyadej had died, so it is a strange time to spend in the city. The first thing you notice when you get out the airport and hop on the local bus is that everybody is wearing black. The government asked the people to wear black in this period, and if people do not have black clothes, they are provided to them very cheap or it is even offered to dye their clothes. The government proclaimed a one year period of mourning.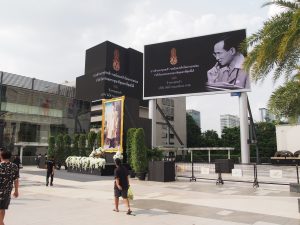 As every other tourist we make our way to Wat Phra Kaew & the Grand Palace.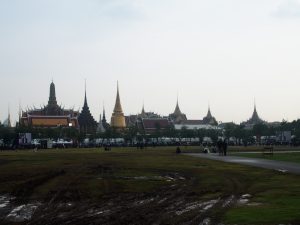 It is closed for one month, but luckily we will come back to Bangkok later on our trip. There is also much more to see in the area. The area is very busy now. The Thai government is providing free food and drinks in the area to everyone who came to pay their respect to the king. We even heard that they offered free travel and accomodation for people who do not live in the city.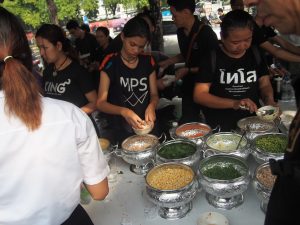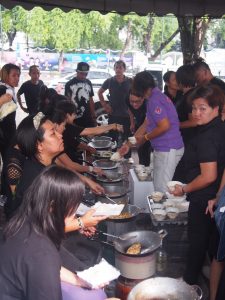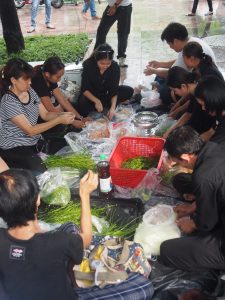 A lot of people came and they watch videos of the king, just sit in front of the palace or line up for the free food. You easily spot all the tourists who – like us – didn´t know they should wear black. "Entertainment" is not supposed to be performed in the streets. We are not sure what that means, bars are open as far as we can see. The normal life is also not affected apart from the region around the Grand Palace. You just notice pictures of the king in the whole city.
We went on the typical sightseeing trip through the area but with no rush, as we know we are coming back soon. Bangkok is just too big to discover in 1 ½ days. The first thing we notice is that it is a very clean and organized city. This might sound strange to some people, but coming from Kathmandu and Nepal in general we entered another world. It is just now that we really note how poor Nepal was. And there is one more thing we found surprising – seeing the first American fast food chains and Starbucks, we notice that you couldn´t find any of those in Nepal. It is only the second country apart from Cuba where we haven´t found these places. We haven´t noticed when we where there and we didn´t miss it 😉 On our first day in Bangkok we walked around and had just a little cultural shock from all these huge shopping malls and the luxury in this place.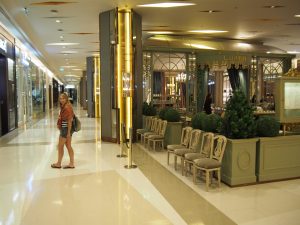 So what else did we do in Bangkok? Eat, eat, eat 🙂 We tried almost every food stall we found, starting with Chinatown´s nightmarket. The food here is amazing and surprisingly cheap. We had Pad Thai, noodle soups, Thai curry, fried noodles with Thai basil, sticky rice with mango and coconut, coconut pancakes, fresh fruit juices with pineapple, water melon and passion fruit and many many more. We can´t wait to come back for more!